It may come as no surprise that rajma, Indian kidney bean curry, is one of my favorite dishes since I've posted about it a couple times already – how to make it & how to make rajma enchiladas. It's one of the unsung heroes of North Indian cuisine, often overshadowed by the chickpea in chana masala.  And I know what you're thinking – kidneys beans get a bad wrap because they always look so gross in the salad bar, but they really shine when cooked the right way with onion, garlic, ginger, chilies and flavorful spices. Anyway, I hope you consider the humble kidney bean the next time you grab for your usual chickpeas!
This weekend, when my friend Aparna suggested making a rajma veggie burger at her barbecue, I jumped at the chance.  And it being summer, I topped it off with a corn relish made with dill pickles, fresh parsley and lemon.  The sweet and sour of the corn relish really worked well with the rajma burger and salty feta. The relish came out so well, we were eating it straight from the bowl.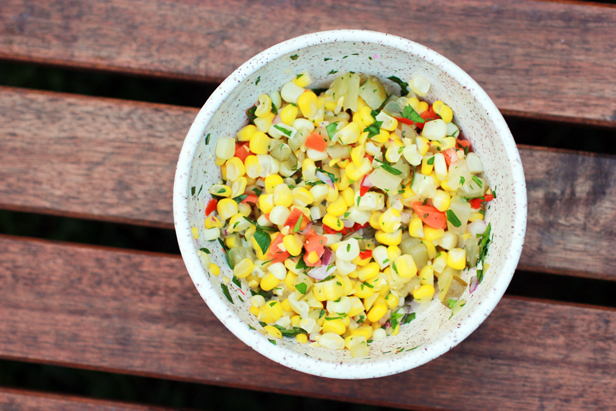 For my corn relish, I used dill chips from a new line of Vlasic pickles called Farmer's Garden.  The pickles in the Farmer's Garden line are made with no artificial flavors and are hand-packed into traditional mason jars that you can re-use (am a jar horder:). Besides the dill chips used in my recipe, they also make kosher dill spears, zesty garlic chips, bread and butter chips and kosher dill halves. This line of pickles are inspired by pickling pioneer Joseph Vlasic who started making pickles the old-fashioned way 70 years ago.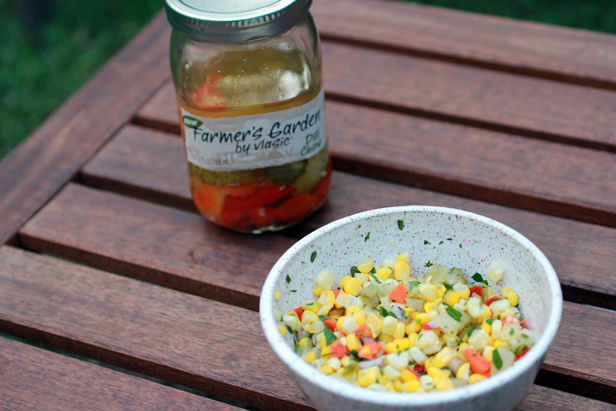 For the burger, I made my rajma recipe (without the spinach) and then sought the guidance of my friend and veggie burger extraordinaire, Lukas Volger on the topic. Lukas just launched his own line of veggie burgers called Made by Lukas that really put those gross frozen dry veggie patties in the freezer aisle to shame. His burgers are made from fresh ingredients that you actually get to shape into burgers and cook. It makes for a veggie burger experience that is a lot more fun than just unwrapping one from a plastic pouch and throwing it on the grill.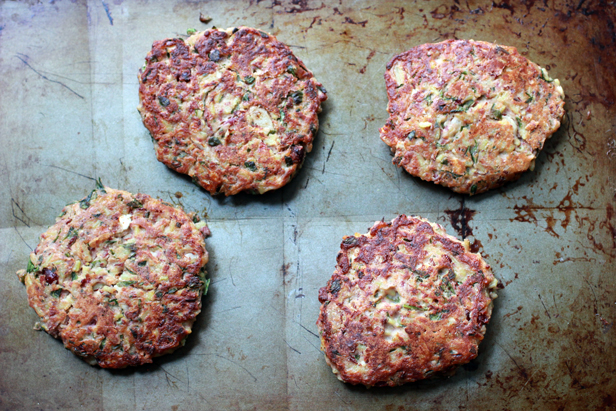 Lukas also wrote a cookbook all about veggie burgers called Veggie Burgers Every Which Way.  I found one recipe of his called 'Easy Bean Burgers,' which I adapted using my rajma curry. If you have leftover rajma, this is also a perfect way to transform it into a totally new dish.  I was worried that because I had just made the rajma and it was a bit soupy that it wouldn't hold together, but I added in some cooked rice and the bread crumbs from the recipe and they really held together well.  My first homemade veggie burgers were a success!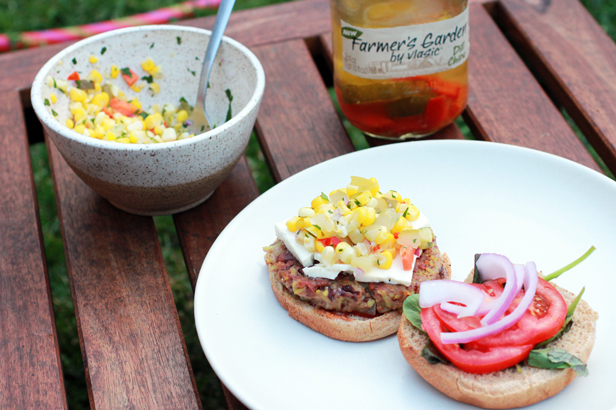 Rajma Veggie Burger w/ Feta and Corn Relish
adapted from Lukas Volger's 'Easy Bean Burger' in Veggie Burgers Every Which Way
Ingredients
For the Rajma Veggie Burger:
1 1/2 cups rajma curry (pick up mostly beans or use leftover rajma which is thicker)
2 eggs, beaten
1/2 cup roughly chopped fresh parsley
1/4 cup grated Parmesan
2 teaspoons Dijon mustard
1/2 teaspoon salt
1/4 teaspoon freshly ground black pepper
squeeze of fresh lemon juice
3/4 cup toasted bread crumbs, plus more if needed
1/4 cup cooked rice – optional if you're burger is not solidifying
2 tablespoons olive oil
For the Corn Relish:
1 corn cob, boiled & kernels shaved off with knife
1/4 cup of Farmer's Garden Dill Chips, finely chopped
1-2 tablespoons chopped parsley
couple squeezes of fresh lemon juice
Toppings (some are optional)
mixed greens
tomatoes, sliced
red onions, sliced thin
feta, sliced
ketchup
mayo
mustard
Brooklyn Delhi roasted garlic achaar

Method
For the Rajma Veggie Burger:
Preheat the oven to 375 F
In a mixing bowl, mash the beans with a fork. Fold in the eggs, parsley, Parmesan, mustard, salt, pepper and lemon juice. Fold in the bread crumbs, adding more if the mixture is too loose. Can also mix in rice at this point if you need. Let sit for 5 to 10 minutes for the crumbs to soak up some moisture. Adjust seasonings. Shape into 4-6 patties.
In an oven-safe skillet or non-stick saute pan, heat the oil over medium high heat. When hot, add the patties and cook until browned on each side, 6 – 10 minutes total. Transfer the pan to the oven and bake for 12-15 minutes until the burgers are firm and cooked through.
For the Corn Relish:
Mix all ingredients together in a bowl.
For Burger Assembly:
Toast buns on skillet, grill or in oven. Smear you buns with your choice of condiments (i.e. ketchup, mayo, mustard, Brooklyn Delhi roasted garlic achaar:), layer on mixed greens, sliced tomatoes, sliced onions, your burger, feta and corn relish. Enjoy!
This post was sponsored by Vlasic's new line of pickles, Farmer's Garden. Opinions expressed in this post are mine alone. I only promote products that I use in my own kitchen and that I think my readers would enjoy as well. You can follow #farmtojar on Twitter to get more recipes and info related to the Farmer's Garden line of pickles.
And don't forget to enter their sweepstakes: Farmer's Garden is celebrating the authentic taste of #farmtojar with the Savor Simplicity Sweepstakes running from 5/7/14 – 7/31/14. Enter at www.farmersgardenvlasic.com for a chance to win a weekend cooking adventure or summer entertaining package, each worth $1,500. One winner will be chosen each month. A $1 off coupon will also be given to all entrants immediately following entry.