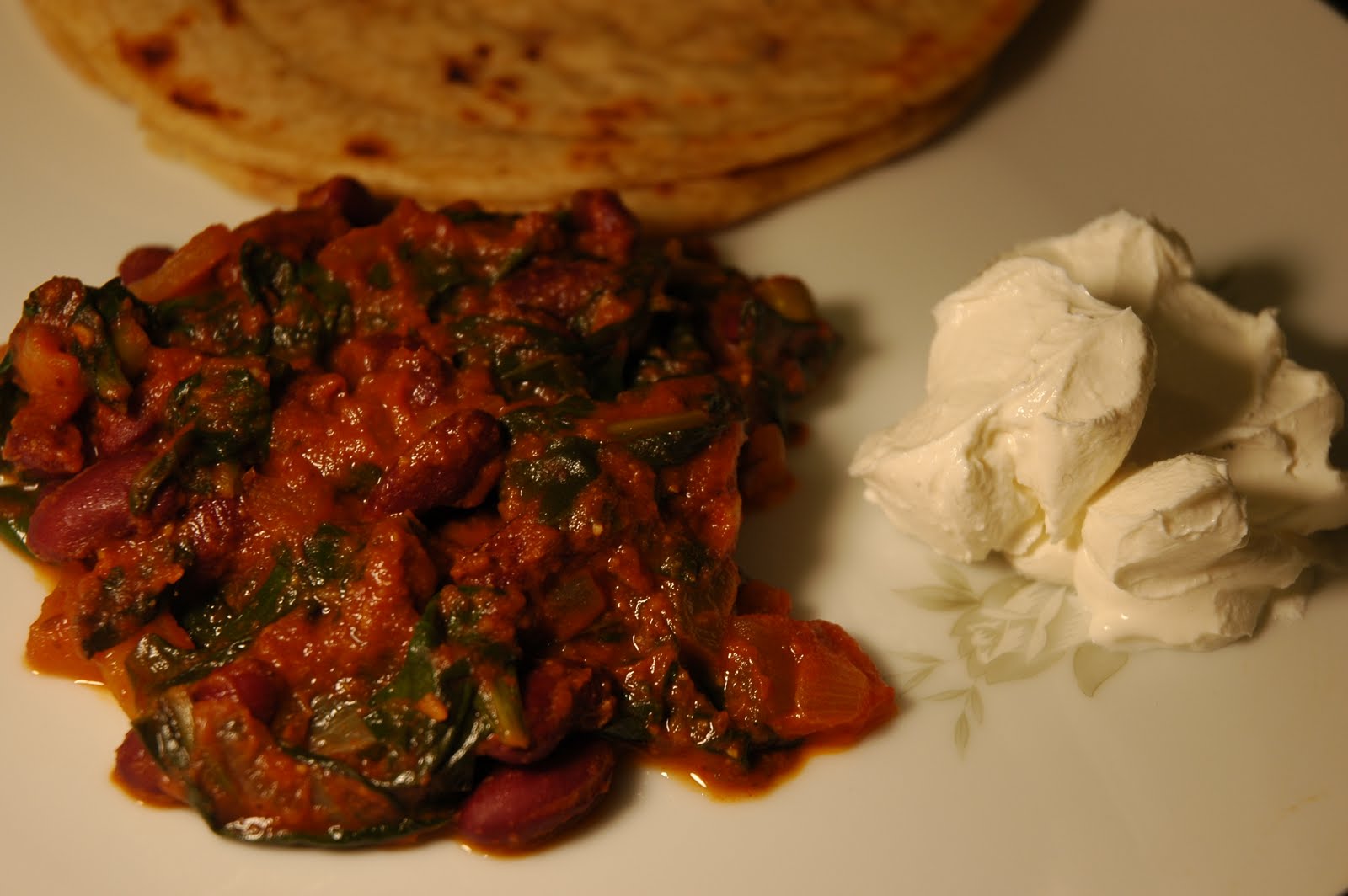 Rajma is a North Indian curry of kidney beans cooked with onions, tomatoes and spices. "Rajma chawal" which just means rajma and rice is the most popular way to eat this curry, kind of like the Indian version of rice and beans. I liken rajma also to chili since it's cooked in a spicy tomato gravy. Usually, it's not made with spinach but I had a ton on hand so I just threw it in and it came out quite well.This is a good recipe to make during the week because it's really quick*.  There's hardly anything to prep except for the cutting of onions. I had my rajma with a paratha and some labne, thick middle eastern yogurt. Another day, I had it with rice and some radish raita on the side. I was eating it throughout the week, and it was tasting better and better each day.*If you are using dried kidney beans, that will take longer and I have directions for pressure cooking the beans below.
Rajma (Kidney Bean Curry) with Spinach
Ingredients:
15 ounce can red kidney beans (if you are using dried red kidney beans, see pressure cooker directions below)
1/2 pound baby spinach
2 tablespoons ghee or oil
pinch of hing (asafoetida)
1 teaspoon cumin seeds
1 teaspoon garlic paste or 1 clove garlic minced
1 teaspoon ginger paste or fresh grated ginger
2 green chilis or to taste (can use jalapeno as a sub), minced
1 medium red onion, chopped
1 1/2 cups tomato sauce or fresh tomato puree – can sub in a few tablespoons of tomato paste with a cup of water
1 tablespoon coriander powder
1/3 teaspoon garam masala
1/3 teaspoon turmeric
1/4 teaspoon chili powder or to taste
salt to taste
Method:
Drain and wash the kidney beans. Set aside.
In a frying pan, heat ghee or oil under medium/high flame. Once hot, put in hing and cumin seeds. Shake up the pan so they mingle. When the cumin seeds pop or start to brown, throw in the onions and turn the heat to medium. Cook the onions until the become translucent and fragrant.
Next put in the garlic, ginger and chilis. Stir around and fry for about 30-40 seconds. Then throw in the spinach and sautee. When the spinach just starts to wilt, put in the tomato sauce and mix in the coriander powder, garam masala, turmeric, chili powder and salt. Cook until the tomato starts to separate from the oil.
Then, mix in the kidney beans (with cooking water if you cooked them in a pressure cooker). Simmer the curry for about 10 minutes until the gravy thickens a bit. You can also add some water to get to the consistency you prefer.  Add salt to taste.
How to Pressure Cook Dried Red Kidney Beans
Soak 3/4 cup dried kidney beans overnight.
Wash off kidney beans and add to pressure cooker with 4 cups of water.
Bring kidneys beans to a boil.
Turn heat to medium and place cover and stopper on top.
Once the stopper starts to rock, cook kidney beans for 20-25 minutes.
Turn heat off.
Only after the pressure has completely released from cooker, should you open it (~25 minutes and as a check, make sure the pressure valve is no longer raised).
Check that beans are cooked and if not, boil for a bit more with lid off.
Follow steps above to finish curry.