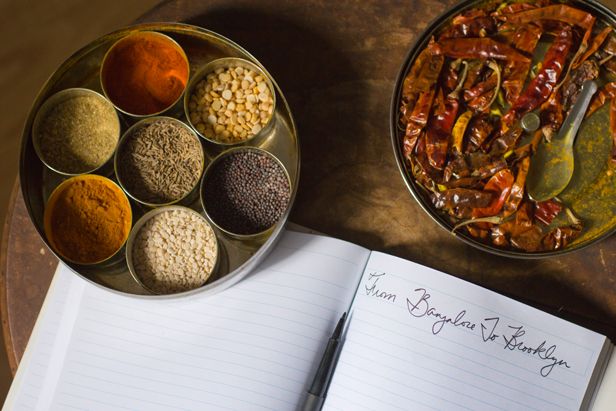 When I started writing the ABCD's of Cooking in 2009, I had one goal: to document Indian-inspired recipes I made in my kitchen using ingredients from my farm share.  The blog led me to do a lot of things I never imagined doing in food like hosting supper clubs, teaching classes, starting my own business and now writing a cookbook.
Along the way, I realized I have an insatiable curiosity for my family's recipes from India and a desire to teach them to those around me.  The last few years, I have been concentrating on learning South Indian recipes from my mom's hometown of Bangalore and making them my own by using ingredients that are local to me.  What I love the most is applying these cooking techniques to create brand new dishes that I serve at some of my pop-up events like my fresh lettuce dosa wraps with potato palya and coconut chutney or zucchini majjige huli (green yogurt curry).  Over the years, I've found that students are drawn to my cooking classes because they're looking for new types of vegetarian, vegan or gluten-free recipes that don't lack flavor, and South Indian dishes hit all those notes.  It's those recipes from my classes and events and more that will be going into my cookbook.
I'm happy to announce to you that I will be writing From Bangalore to Brooklyn with Ten Speed Press / Random House, due out March 2016.  I'm excited to be working with Ten Speed in particular because they have published many of my most treasured cookbooks like Super Natural Cooking by Heidi Swanson of 101 Cookbooks, The New Persian Kitchen by Louisa Shafia, Kansha by Elizabeth Andoh and Jerusalem by Yotam Ottolenghi and Sammi Tamimi.
I have a lot of people to thank for getting to this point, namely my mother for being generous with her knowledge of our family's recipes – sitting with me on the phone and in person on several occasions translating recipes from my grandmother and great aunts, many times from faded Aerogram letters decades old.  My Auntie Asha and Auntie Karen have been role models for me too in the kitchen and have always been kind in answering questions I have about recipes.  I am grateful for the friends I have made in the Brooklyn food community who encouraged me to write this book proposal and helped me tremendously throughout the process: Cathy Erway, Allison Robicelli, Nicole Taylor, Diana Kuan, to name a few.
And if it weren't for my agent Stacey Glick at Dystel, I don't think I'd have anything to announce in the first place. She believed in my ideas and work from our very first conversation and took a genuine interest in selling the proposal to a publishing house that shared my vision.  I'm thrilled to be working with Melissa Moore at Ten Speed on this book.
Last but not least, thank you to my fiance Ben who is forever encouraging me to do things I never thought I could do and for knowing just what to say when I am feeling overwhelmed (when those things actually start to happen).
To my readers, many of you who have been with me since the beginning in 2009, I want to say that I'm going to try my best to post as often as I can while I am writing the book.  I may have lapses here and there so I encourage you to sign up for my mailing list to get updated when new posts are live.
To provide a sneak peek of recipes that will be included in the book, I will be teaching cooking classes in Brooklyn and Manhattan at several locations: Brooklyn Kitchen, Natural Gourmet Institute, Institute of Culinary Education, Brooklyn Brainery and Whole Foods Bowery Culinary Center.  The first ones coming up will be at Brooklyn Kitchen on April 3 and April 22.
And so the book writing begins……