My fresh lettuce dosa is a nod to Asian lettuce wraps & a healthy play on a traditional dosa, a South Indian savory crepe made from a batter of fermented rice and dal, made on a skillet and served with curried potatoes (potato palya) and coconut chutney.  For this recipe, I take a butter lettuce leaf, instead of the fried crepe, and top it with the traditional curried dosa potato filling and coconut chutney. The result is super refreshing with the crunch of the butter lettuce and the warm potato filling and spicy chutney on the inside.

I first made these for the dinner I hosted at Jimmy's No. 43 last month.  We were trying to figure out ways to use as many ingredients from the local farms as possible, so I came up with the idea to take advantage of all the awesome butter lettuce at the farmer's market and also added sweet potatoes to the usually savory potato curry served with a dosa. They were such a hit there, I decided to make them again for the Work It Brooklyn / Brooklyn Based "The Kitchen is Flooded & Other Disasters" Sandy Fundraiser at Brooklyn Brewery last week.
I was really happy to take part in this fundraiser as it helped to raise a fair amount of money for ReStore Red Hook.  I sold my lettuce dosas alongside other vendors including DreamScoops, Frites 'n' Meats, Anarchy in a Jar, Eagle Street Rooftop Farm and Growing Chefs and raffled off an Indian cooking class to benefit the cause. We had a good turn out (sold 60 dosas in just 2 hours) and there were some really interesting speakers throughout the night including Allison Robicelli of Robicelli's, writer Jami Attenberg (pictured above) and Leisah Swenson & Monica Byrne of home/made.
Congrats to Joann Kim of Work It Brooklyn and Nicole Davis and Annaliese Griffin of Brooklyn Based for pulling the event together. And thanks to Ben Alvarez for helping me vend the event at the last minute.
I also decided to make a batch of 'dosas' for my coworkers at the radio station where I work as a surprise on Friday.  I took some photos of how I assembled them.  Here are the basic components of my fresh lettuce dosa.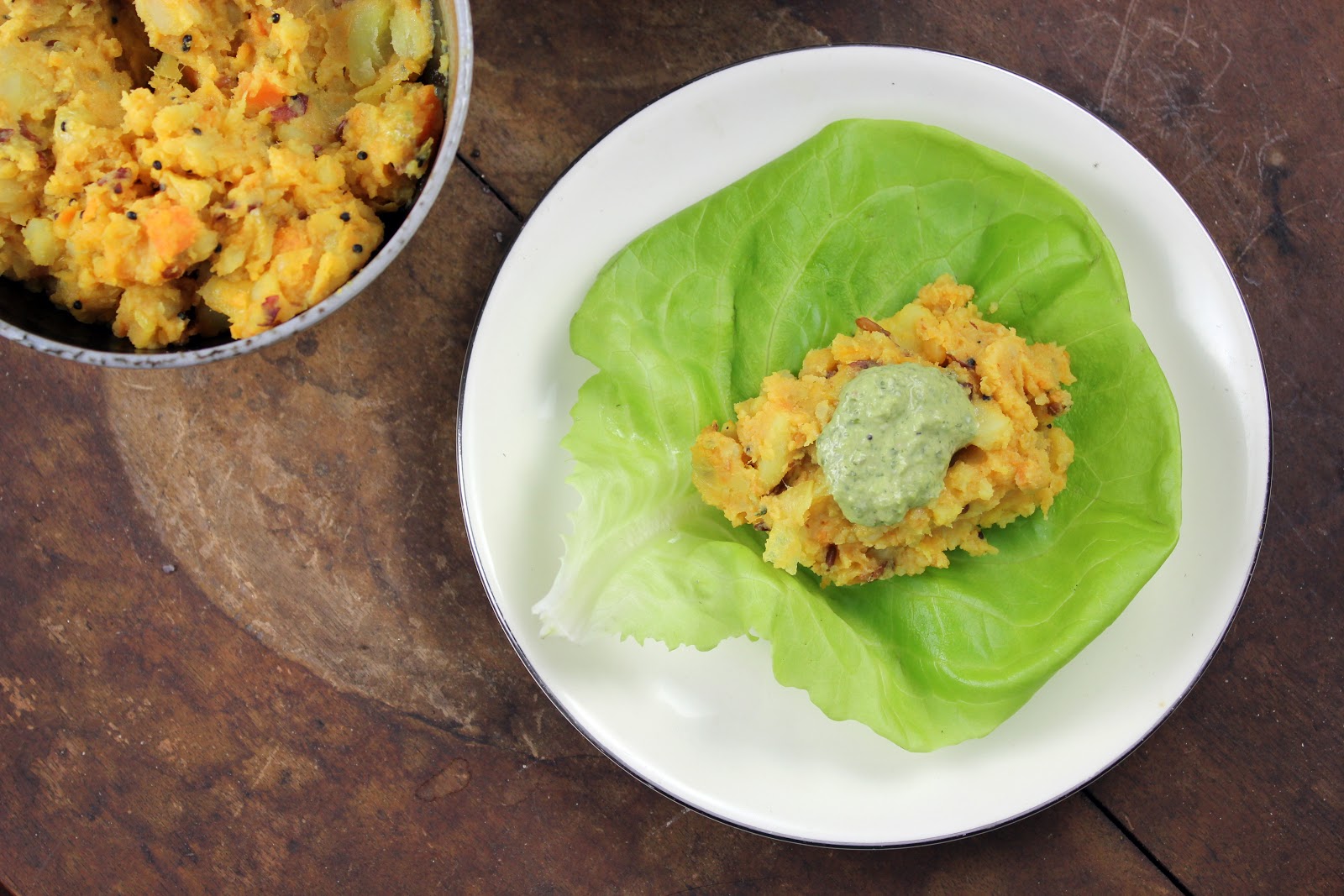 Fresh Lettuce Dosa
Ingredients
butter lettuce
potato curry (mix in sweet potatoes for some sweetness and color)
coconut chutney (can have herbs or leave the herbs out) or vegan basil coconut chutney (can sub in different herbs if you like)
Method
First, start off with a butter lettuce.  Pull the leaves off carefully, wash them and pat them dry.
Get all of your ingredients ready and together.  Your potato curry. Here's my recipe for it, where I just used a ratio of 2/3 savory potato and 1/3 sweet potato.
Your coconut chutney. For this recipe, I've served it with coconut chutney that has no herbs (top photo) and a version using cilantro (pictured here).  Use this recipe and omit or include herbs based on your preference.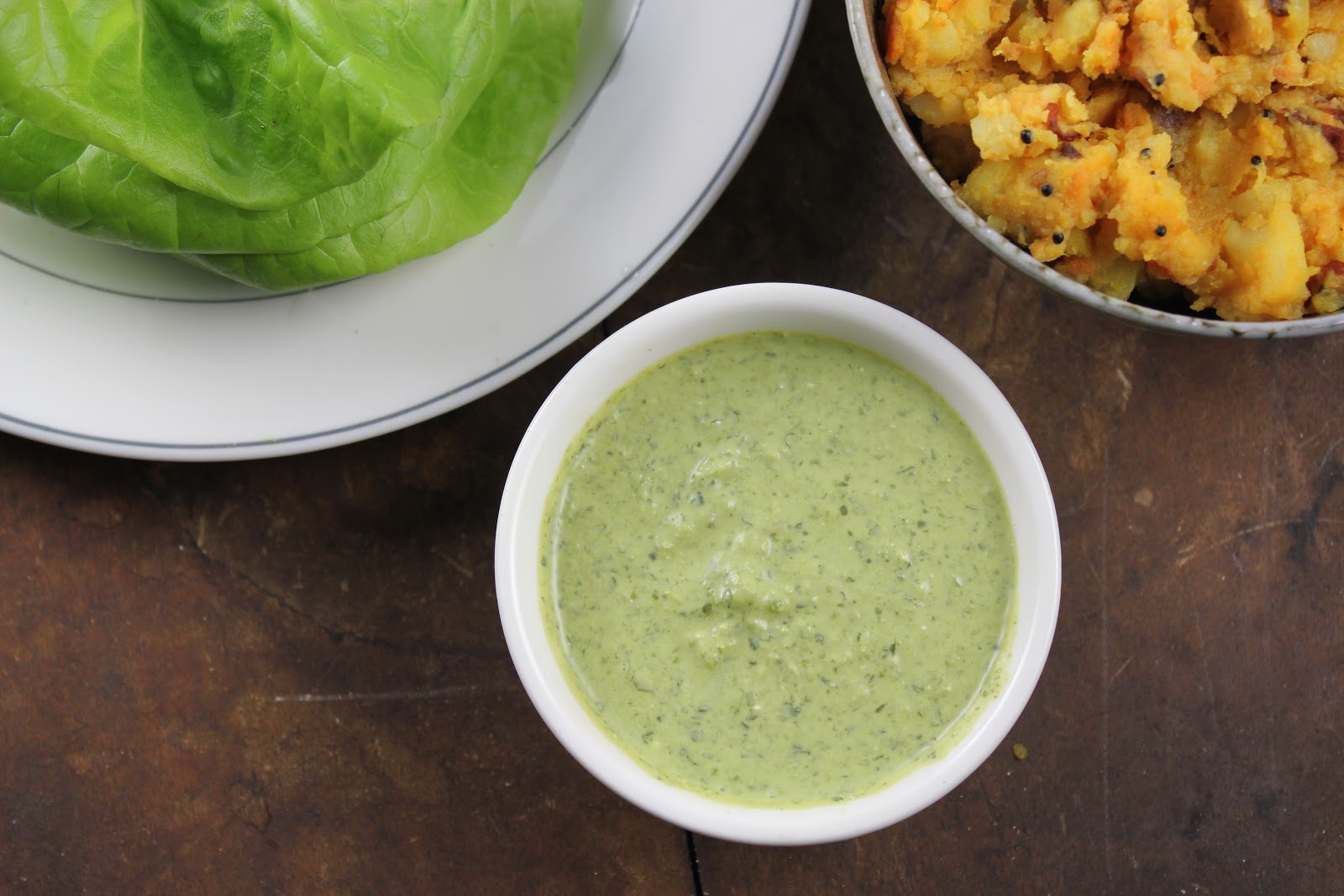 Now you're ready to assemble your lettuce dosas.
Put about 2 tablespoons of potato curry and a teaspoon of coconut chutney on top. Roll it up and eat!