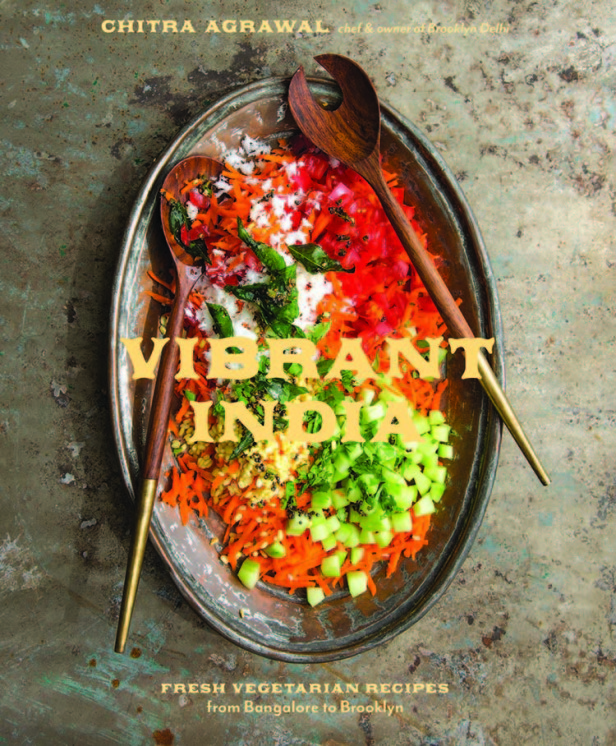 My first cookbook, Vibrant India: Fresh Vegetarian Recipes From Bangalore to Brooklyn (Penguin Random House, March 2017) is now available for pre-order! For the last three years, I poured my heart and soul into this book which focuses on my family's vegetarian recipes from Bangalore in South India. I have worked hard to adapt recipes for the home cook using fresh ingredients and local produce available in the US. I cover the history of this special cuisine, which is sometimes referred to as the 'yoga diet' and rooted in vegetarian Brahman food traditions dating back centuries. I tell the story of how I brought these recipes to life thousands of miles away in Brooklyn at my cooking classes, pop-up dinners, Brooklyn Delhi and on this blog.
More About The Book
80+ Vegetarian recipes, many of which are vegan and gluten-free, and range from easy vegetable stir fry dishes to classics like dosa, a fermented rice and lentil crepe.
Each recipe is labeled as vegan, gluten-free and by season
Sections include: Breakfast & Light Meals, Salads & Yogurts, Stir-Fries and Curries, Rice and Bread, Soups, Stews and Lentils, Festive Bites and Snacks, Sweets and Drinks, Chutneys and Pickles, From Scratch
Introduction to Indian ingredients, kitchen tools and cooking techniques
Example menus by season and even a primer on how to eat with your hands!
Original Madhubani drawings hand-drawn by my Auntie Karen Vasudev
Photography for half of the recipes in the book by Erin Scott
Where to Buy
US
Pre-Order Sale: Amazon // Barnes & Noble // Target
Additional Retailers: Indiebound //  Powell's // Books-a-Million // Hudson Booksellers // Walmart
Worldwide
Book Depository – Free Worldwide Shipping
Electronic Versions
Google Play // Kindle // Kobo // Nook
Press
2017 Will Be the Year for Asian Cookbooks // Food52
Cheddar-and-Green Chile Shortbread // Food & Wine
From Bangalore to Brooklyn: One Local Cook's Take on Her Family's South Indian Traditions // Edible Brooklyn
How to Make Tarka, the Sizzling Secret Behind the Best Indian Cooking // Epicurious
PW Starred Review // Publisher's Weekly
"Vibrant India" is the perfect cure for the late winter kitchen blues // Brooklyn Based
In Hing We Trust // Taste Cooking
11 Cookbooks You'll Actually Cook From // Bon Appetit
Vibrant India // Eat Your Words with Host Cathy Erway (Heritage Radio)
Coconut and Mango Milkshake // Imbibe Magazine
Food Friday: Vibrant India: Fresh Vegetarian Recipes From Bangalore To Brooklyn // Central Time on Wisconsin Public Radio (NPR)
A Family Legacy: Vibrant South Indian Recipes From Cookbook Author Chitra Agrawal // Epoch Times
Blog Reviews
Book Review: Vibrant India by Chitra Agrawal // Daily Waffle
Spicy and Sour Tomato Lentil Soup (Rasam) // Not Eating Out In New York
Vibrant India // Forking Tasty
Praise
"Chitra Agrawal's Vibrant India is a beautiful personal history and distinct guide to vegetarian South Indian cooking. Her perspective as a second generation immigrant shapes her approach to South Indian cuisine, making this book both a definitive guide for the home cook and an inspiring family narrative."
—Preeti Mistry, owner of Juhu Beach Club
"Vibrant India is exactly what my cookbook shelf has been missing all this time. Chitra's fresh, enticing, and accessible recipes are certain to transform the way I cook, from rethinking salad and yogurt to really understanding the principles of South Indian vegetarian cooking and its key ingredients."
—Lukas Volger, author of Bowl
"There is so much I love about this book: the family history; the glimpse at life and daily cooking in South India; but most importantly the recipes. They're poetic in their beauty and simplicity, surprising and yet perfectly intuitive. This book opens up a world of sublime vegetarian Indian food that I didn't know existed."
—Louisa Shafia, author of The New Persian Kitchen
"Already a successful entrepreneur for her delicious pickles from Brooklyn Delhi, here Chitra shares her deeply personal story of her family's journey from Southern India to Brooklyn. In Vibrant India, her first cookbook, she explores colorful and flavorful recipes passed down through generations. Chitra is truly a mistress of spices and shares her knowledge with proficiency and detail. There's no better way to discover how delicious the world of Indian vegetarian cooking is than through this book."
—Nik Sharma, food writer, cook, and photographer
"Chitra Agrawal takes us inside a true South Indian kitchen, lovingly rendered for the everyday household. The results are gorgeously simple, bold—and yes, vibrant—flavors that anyone can lend to their cooking."
—Cathy Erway, author of The Food of Taiwan and The Art of Eating In
"In Vibrant India, Chitra grants the reader not only an intimate look at the food of her family, but also an invaluable master class in the flavors and pantry of South India. Bold yet balanced, and touched with modernity, her food celebrates the diversity and breadth of the cuisine. On a personal level, as I share some of her background, Chitra has given me failsafe renditions of the recipes I crave from my childhood; her shredded carrot and lentil salad hits all the notes it should, the idlis are perfect, and the lemon peanut rice a new staple in my home. And as expected, her deft hand with chutneys and pickles—condiments that will elevate any meal—is worth the price of admission alone."
—Tara O'Brady, author of Seven Spoons
"Chitra Agrawal is the perfect tour guide for this fascinating journey into the heart of South Indian home cooking. Through family stories and detailed recipes, written with such passion and clarity, she reveals dishes steeped in tradition but refined for a modern audience. You'll want to dive right in and experience this amazing balance of sweet, sour, bitter, spicy, and savory flavors."
—Diana Kuan, author of The Chinese Takeout Cookbook
Book Party!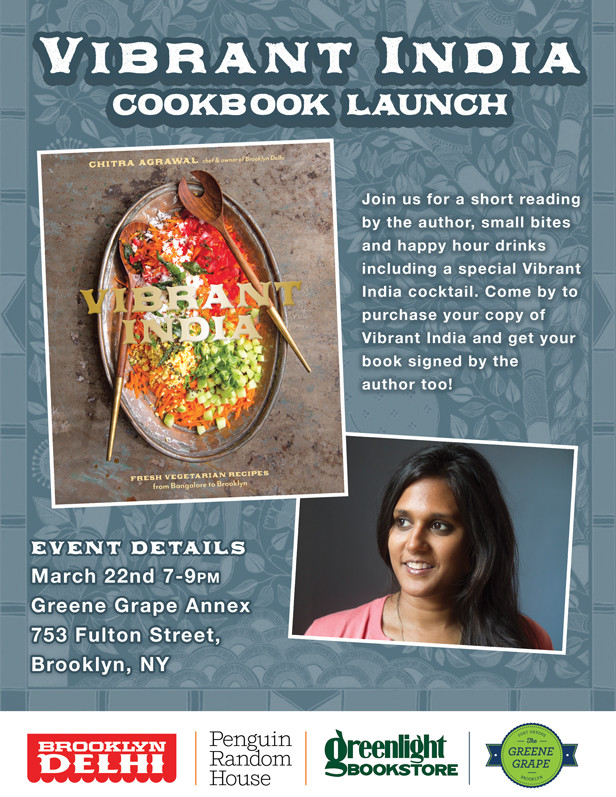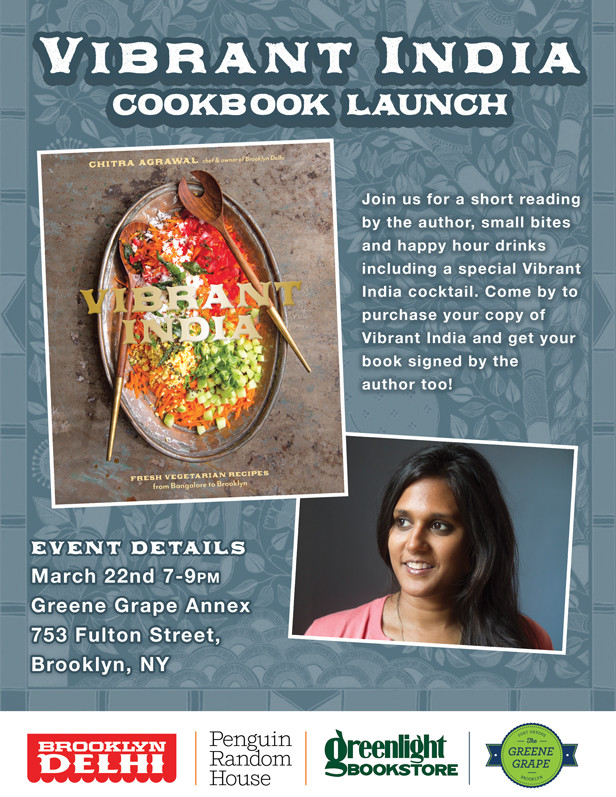 Save
Save
Save
Save
Save
Save
Save
Save
Save
Save
Save
Save
Save
Save
Save
Save
Save
Save
Save
Save
Save