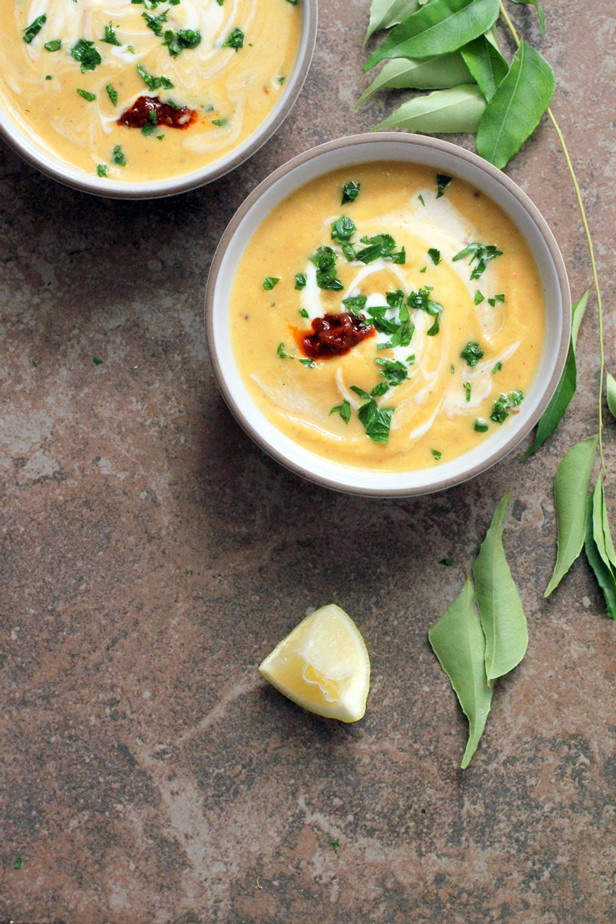 Rasam is a South Indian soup, usually on the tangy side and prepared with an intoxicating spice powder made from coriander, cumin, black pepper, black mustard seeds, fenugreek, turmeric, red chili peppers and more depending on what region of South India you're from.  In researching my family's rasam powder for my cookbook, I realized the recipes vary even from household to household.  Rasam powder is readily available at the Indian shop and now even online – MTR and 777 are good brands.
In Bangalore, where my mom is from rasam is sometimes referred to as saaru. On most days at home, we'd have saaru made from tomatoes, toor dal (split pigeon pea lentils) and tamarind and finished off with curry leaves and cumin seeds fried in butter.  In other parts of South India, coconut is also included in preparations for rasam, which is the inspiration for my roasted acorn squash and coconut milk soup (along with my love for Thai coconut curries).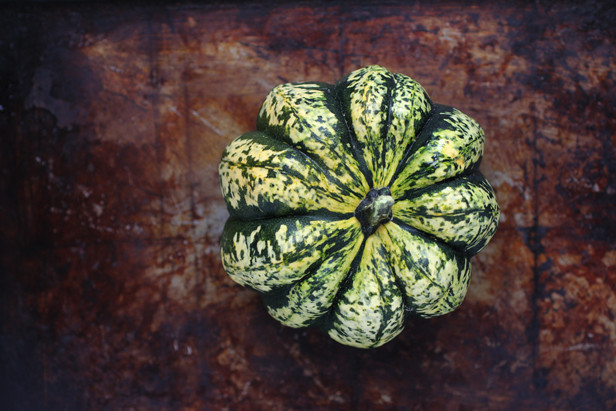 We got this nice looking acorn squash in our farm share this week, which I promptly halved and roasted. With the rainy hurricane going on outside, it was the perfect time to finally turn on my oven.  I tend to roast my Fall and Winter squashes on the weekend and store them away in my fridge to prepare a quick dinner during the week.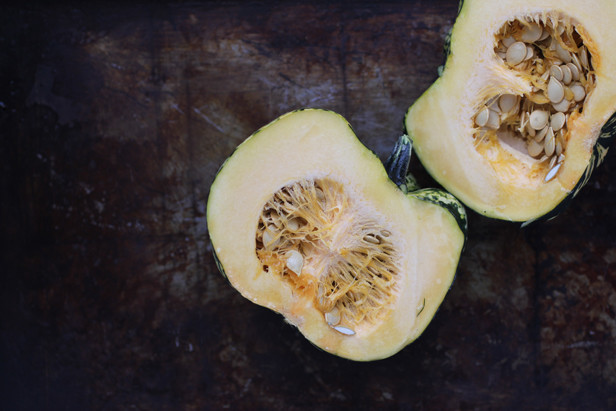 The roasted squash is so flavorful even by itself, but imagine blending it with coconut milk and rasam powder!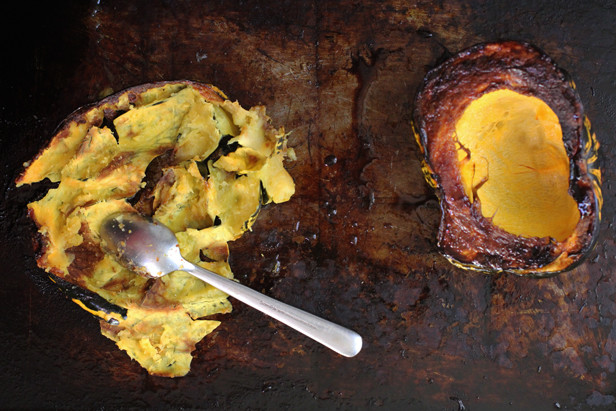 After bringing the soup to boil for a bit, I just add lemon for tang, a little brown sugar for sweentess and some curry leaves, green chili peppers, ginger and spices fried in coconut oil to finish off the flavor.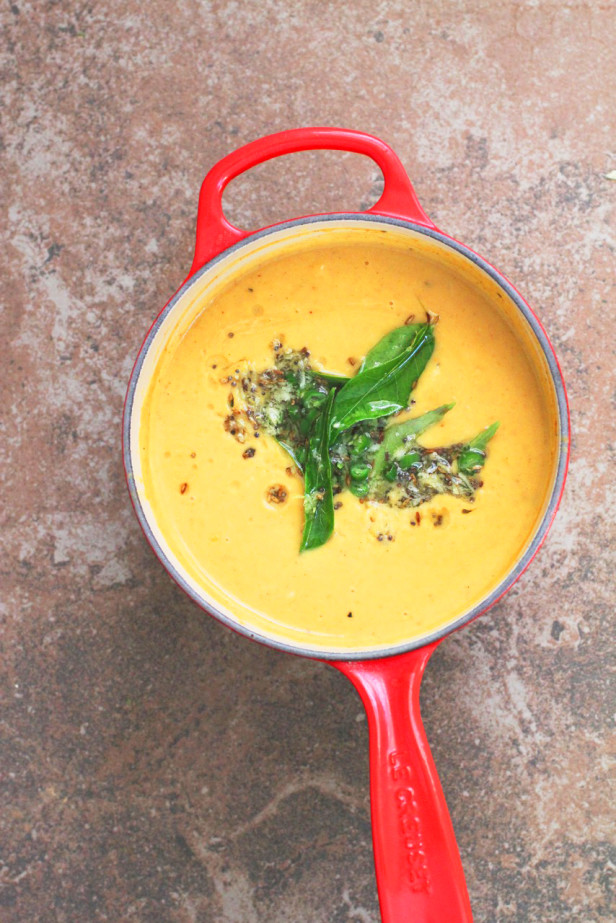 If you find yourself wondering more about what to do with your winter squash, head over to Men's Journal where I'm sharing my two cents on the topic in their 'Ask A Chef' column.
Roasted Acorn Squash & Coconut Milk Rasam
Serves 4
Ingredients
1 ½ pound acorn squash
2 teaspoons mild-flavored oil such as canola
1 can coconut milk (13.5 ounces or 1 3/4 cup)
2 teaspoons rasam powder (MTR or 777)
1-2 cups vegetable broth or water
1 1/2 tablespoons coconut oil
½ teaspoon black mustard seeds
pinch of asafetida (hing)
½ teaspoon cumin seeds
pinch of cinnamon powder
1 sprig of curry leaves
1/4 teaspoon turmeric powder
1 inch ginger, peeled & grated
1-2 Indian green chili peppers – can substitute Serrano chili pepper
1-2 teaspoons jaggery or brown sugar – optional
juice of half a lemon
mixed herbs such as cilantro, parsley or basil, chopped for garnish
salt to taste
plain yogurt, for serving
Method
To roast squash, preheat oven to 400 degrees Fahrenheit. Cut acorn squash in half and remove the seeds and stringy parts. Put a teaspoon of oil on a sheet pan and then place the squash pieces face down on the pan. Move them around on the pan so that they are all coated with oil evenly. Cook the squash for about 45 minutes, or until you are easily able to pierce the skin with a fork. When cooled, scoop out the inside of the squash and set aside.
In a blender, puree the roasted acorn squash with coconut milk, saaru powder and I cup of broth or water.
Add pureed squash mixture to the pot and mix well. Add salt to taste and more broth or water to get to your desired consistency. Depending on the sweetness of your squash, add optional jaggery or brown sugar. Boil the soup and then simmer for 8-10 minutes. Turn off the heat. Mix lime juice into soup.
In a tempering pot or small pan, heat coconut oil in a soup pot on a medium flame. When melted, add in one black mustard seed. When the seed sizzles and pops, add in the rest of the mustard seeds and asafetida. Keep a lid handy to cover the pan when the mustard seeds are popping. When the popping starts to subside (few seconds), stir in cumin seeds. When the seeds turn a darker shade of brown (few seconds), turn the heat to medium-low. Rub curry leaves between your fingers a little to release their natural oils and drop them, turmeric powder, ginger and green chili pepper into the ghee or oil. Cover immediately as moisture from curry leaves will cause the oil to spurt. Then stir to evenly coat everything with oil and continue to fry for 10-15 seconds, until ginger and green chili pepper is less raw.
Serve plain or over brown rice or faro with a dollop of plain yogurt and garnish of mixed herbs and a spoon of hot Indian pickle or Brooklyn Delhi achaar on top.