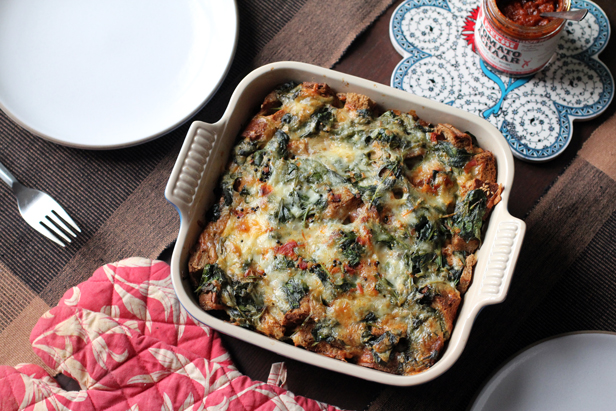 This past year, I became part of the Cabot Cheese Board. I can't say how much I love the cheese that the creamery produces and also what they stand for. Although you may see Cabot brand cheese in a lot of supermarkets, not everyone knows the company is owned and operated by 1,200 dairy farmers in New York and New England.  Just this year, they also came out with a cookbook of recipes from their dairy farm families, which is where I got this strata recipe above. I doctored it a bit with my tomato achaar to give it some Indian flavors.  It's the perfect brunch dish for the cold and snowy winter we're having.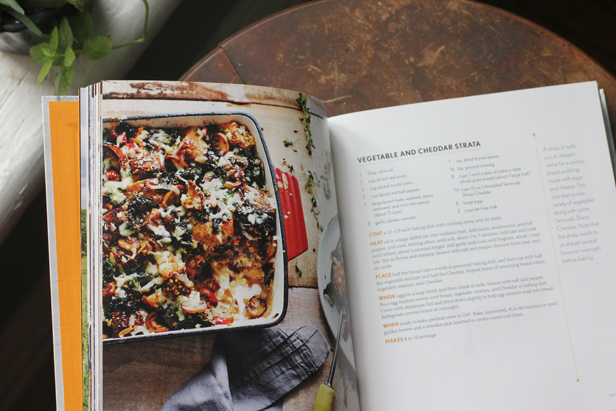 As a way to celebrate the book, Cabot is running a sweepstakes until April 15th. The grand prize winner will receive a Year's Supply of Cheese plus a copy of the cookbook, and 10 winners will receive a $25 gift box and a cookbook.  You can enter to win here.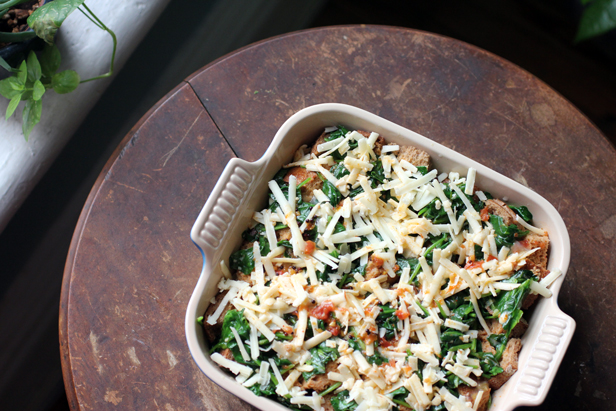 It's hard to keep from eating all the of the cheese before it goes in the oven;) Cabot's Seriously Sharp Cheddar is what is used in this recipe, but I'm sure any of their aged cheddar varieties like their Farmhouse Reserve, Alpine or White Oak would also be great.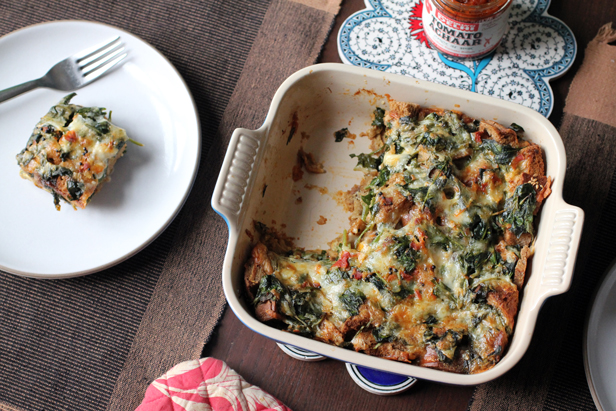 Indian-Spiced Vegetable and Cheddar Strata
adapted from The Cabot Creamery Cookbook
Serves 8 to 10
Ingredients
1 tablespoon olive oil
1 cup diced red onion
1 cup sliced mushrooms
1 cup diced red bell pepper
1 large bunch kale, washed, stems removed, and torn into pieces (about 3 cups)
8 cups 1-inch cubes bakery-style whole grain bread (about 1 large loaf)
1 1/2 cups (6 oz.) shredded Cabot Seriously Sharp Cheddar
6 large eggs
3 cups fat-free milk
3 tablespoons Brooklyn Delhi tomato achaar, plus more for serving.
Method
Coat a 13 x 9′ baking dish with cooking spray, and set aside.
Heat oil in a large skillet set over medium heat. Add onion, mushrooms, and red pepper, and cook, stirring often, until soft, about 5 to 7 minutes. Add kale and cook until wilted, about 5 minutes longer. Mix in tomato achaar.  Remove from heat, and set aside.
Place half the bread cubes evenly in prepared baking dish, and then top with half the vegetable mixture and half the cheddar. Repeat layers of remaining bread cubes, vegetable mixture and cheddar.
Whisk eggs in a large bowl, and then whisk in milk. Season with salt. Pour egg mixture evenly over bread, vegetable mixture and cheddar in baking dish. Cover with aluminum foil and press down slightly to help egg mixture soak into bread. Refrigerate several hours or overnight.
When ready to bake, preheat oven to 350 degrees Fahrenheit. Bake, uncovered, 45 to 60 minutes or until golden brown and a wooden pick inserted in center comes out clean.
Serve with more tomato achaar.