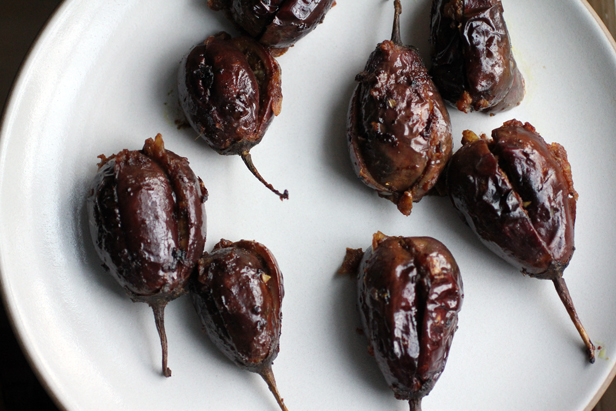 Coming back to Brooklyn after being in India for a month has made me crave some of the dishes we had on our trip.  One of them is a North Indian recipe that my father likes to make called 'bharwa baingan' that translates to stuffed eggplant in Hindi.  He got his recipe from my Great Aunt Kumud who lives in Delhi.  The eggplants that are used are usually baby ones that you can find in Indian or Asian markets, but I'm sure you could also sub in thin Chinese, Italian or Japanese eggplants.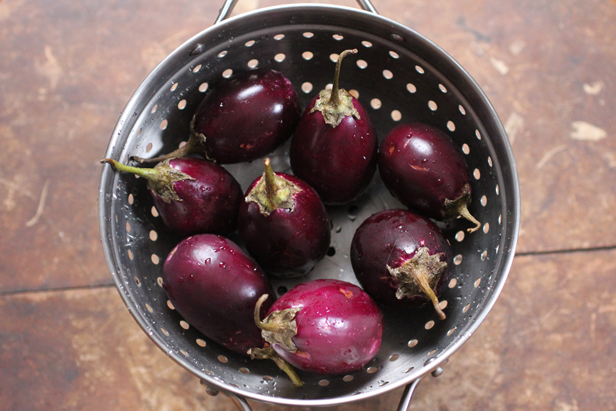 Before filling the eggplants, you have to slit them in a specific way. You make two cuts, almost quartering the eggplants but stopping right before the stem.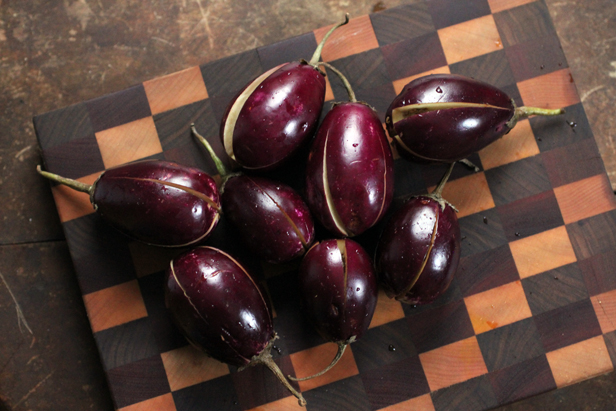 The filling is made from blended up onion, tamarind paste, amchoor powder (dried mango powder), red chili powder, fennel seed powder, kalonji (nigella seed), coriander powder and salt.  The original recipe has grated green mango but I'm subbing in the tamarind and amchoor for the sour tang flavor.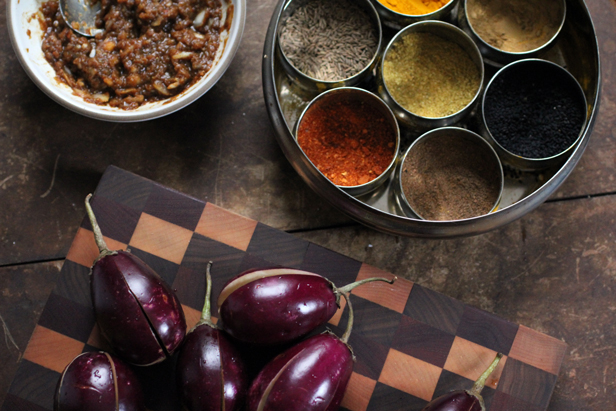 Then it's time for the messy, fun part where you spoon in the filling between the eggplant slits.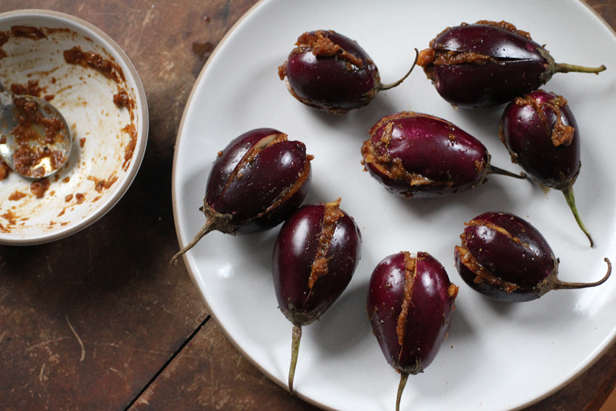 What gives the eggplant a truly decadent and unique flavor is the mustard oil you use for frying.  You can find unfiltered mustard oil in the Indian store.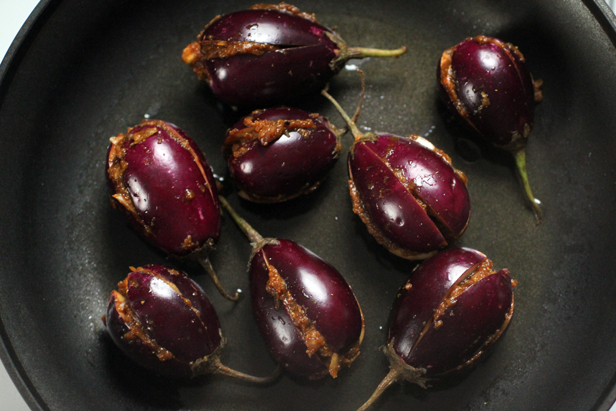 We usually have this curry with hot chapatis or parathas, but you could also serve them over rice with a yogurt sauce.
Indian Stuffed Eggplants (Bharwa Baingan) 
Ingredients
8 Indian baby eggplants (can sub in 4 Chinese, Italian or Japanese eggplants)
1/2 big onion or 1 medium onion, quartered
1 teaspoon amchoor powder
1 teaspoon tamarind paste (Tamcon)
1 teaspoon coriander powder
pinch of kalonji (nigella seeds)
1 teaspoon red chili powder
1/2 teaspoon fennel seed powder
salt to taste
2 tablespoons mustard oil
water for frying
Method
Wash and slit eggplants twice to almost quarter them but stop your cutting just before the stem. Set aside on a plate
In a blender, first grind the onion. Next add in and grind the tamarind and the rest of the spices and salt with the onion.
With a spoon fill the eggplant slits with the onion mixture.
Heat a non-stick pan to medium heat. Add in mustard oil. When the mustard oil is hot, gently place the stuffed eggplants into the pan. You can put any leftover filling on top of the eggplants. Turn the heat to medium low and add a little bit of water to the pan. Put a cover on the pan. Fry the eggplants like this for 20 minutes, check on them every 5 minutes and turn them gently to cook on all sides. Each time add a little bit of water if the eggplants are sticking. Some filling will be falling out into the pan, which is fine as it tastes good when fried:) The eggplants are done when they are tender to the touch of a fork.
Serve them hot with roti or rice.