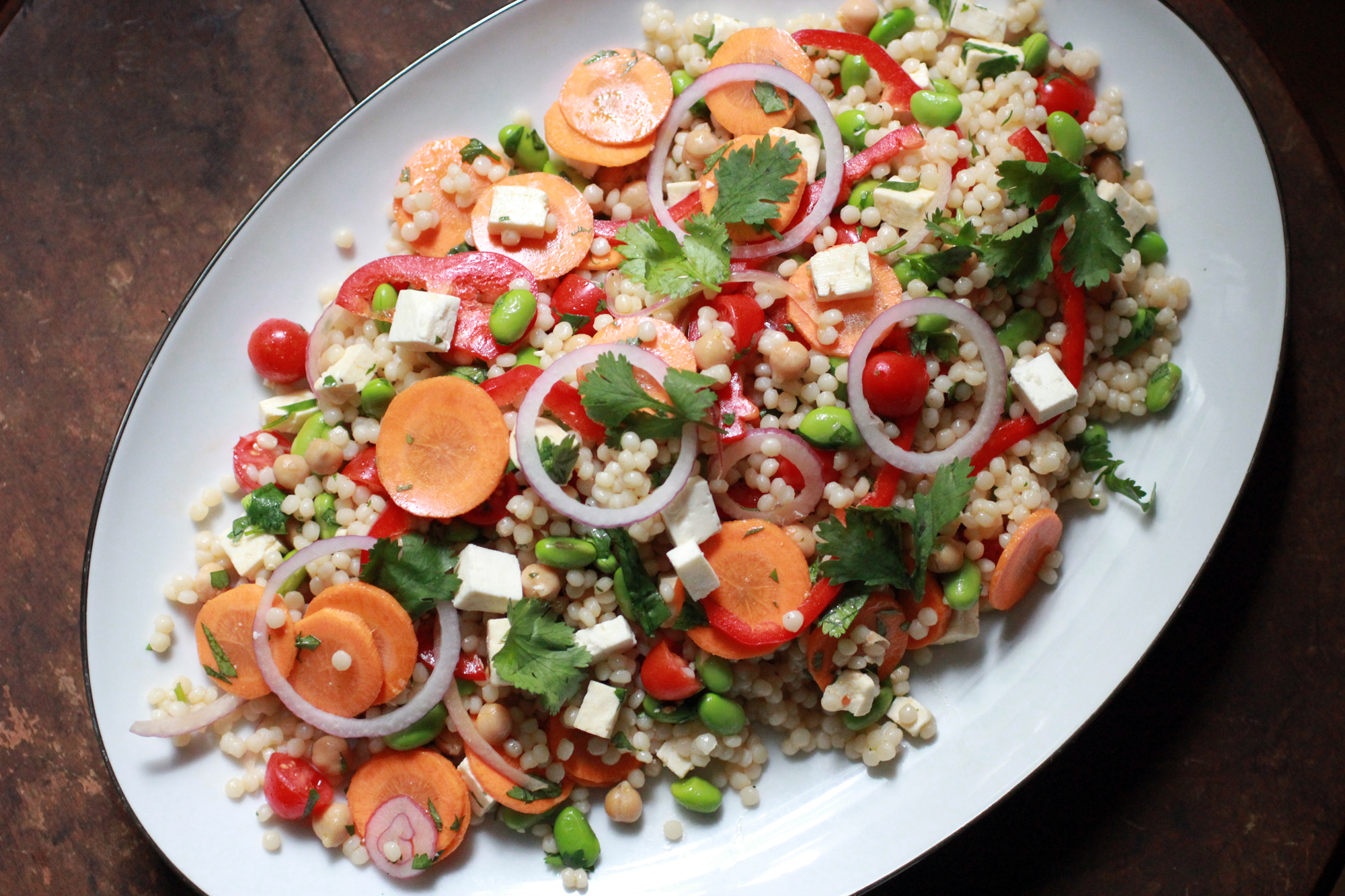 I was first introduced to Israeli couscous by my friend Alana. She prepares a very colorful salad with this type of couscous, which is larger and more spherical than its popular cousin. I think the first time she served it to me was with green peas, chickpeas, red pepper, parsley and a sherry vinaigrette. I've made the recipe quite a few times after trying hers. It's so versatile, you can easily play around with different types of ingredients and dressings.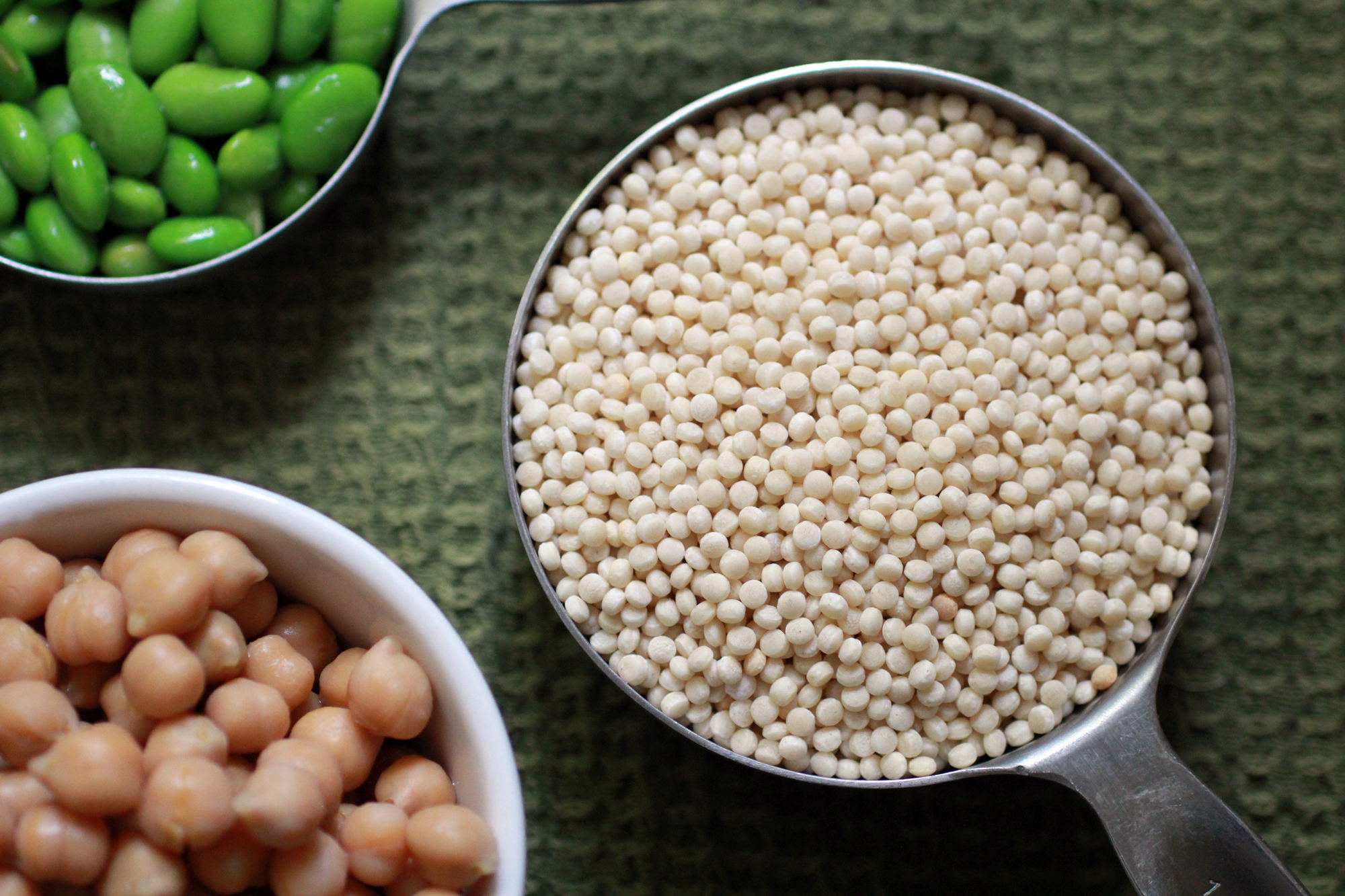 Just this past week, I was invited to take part in the OXO "Very Vegetarian Recipe Challenge" and thought it would be the perfect opportunity to share the recipe.  As part of this challenge, I was sent 6 OXO kitchen tools (YAY!) and required to use at least 3 of them to produce a vegetarian recipe with a max of 12 ingredients that can be made in 30 minutes or less (eek!) and incorporates a seasonal veg, protein and starch.  What's cool is the winner for this challenge gets to have their recipe made into a Plated meal.
At the Greenmarket, I picked up some fresh ingredients to put into the salad.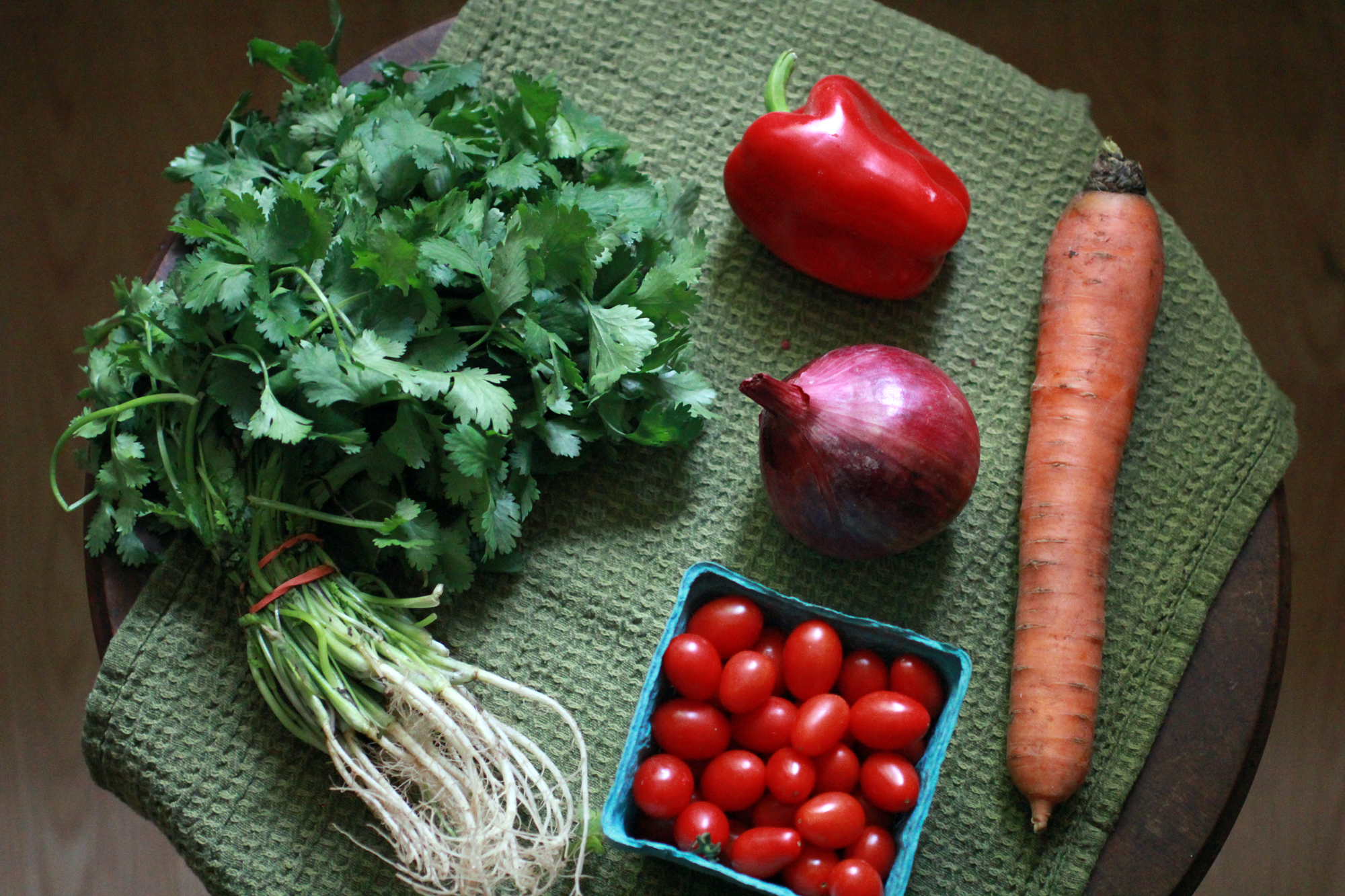 For my recipe, I used OXO's mandoline slicer, salad dressing shaker and whisk. I also used an OXO peeler I already had.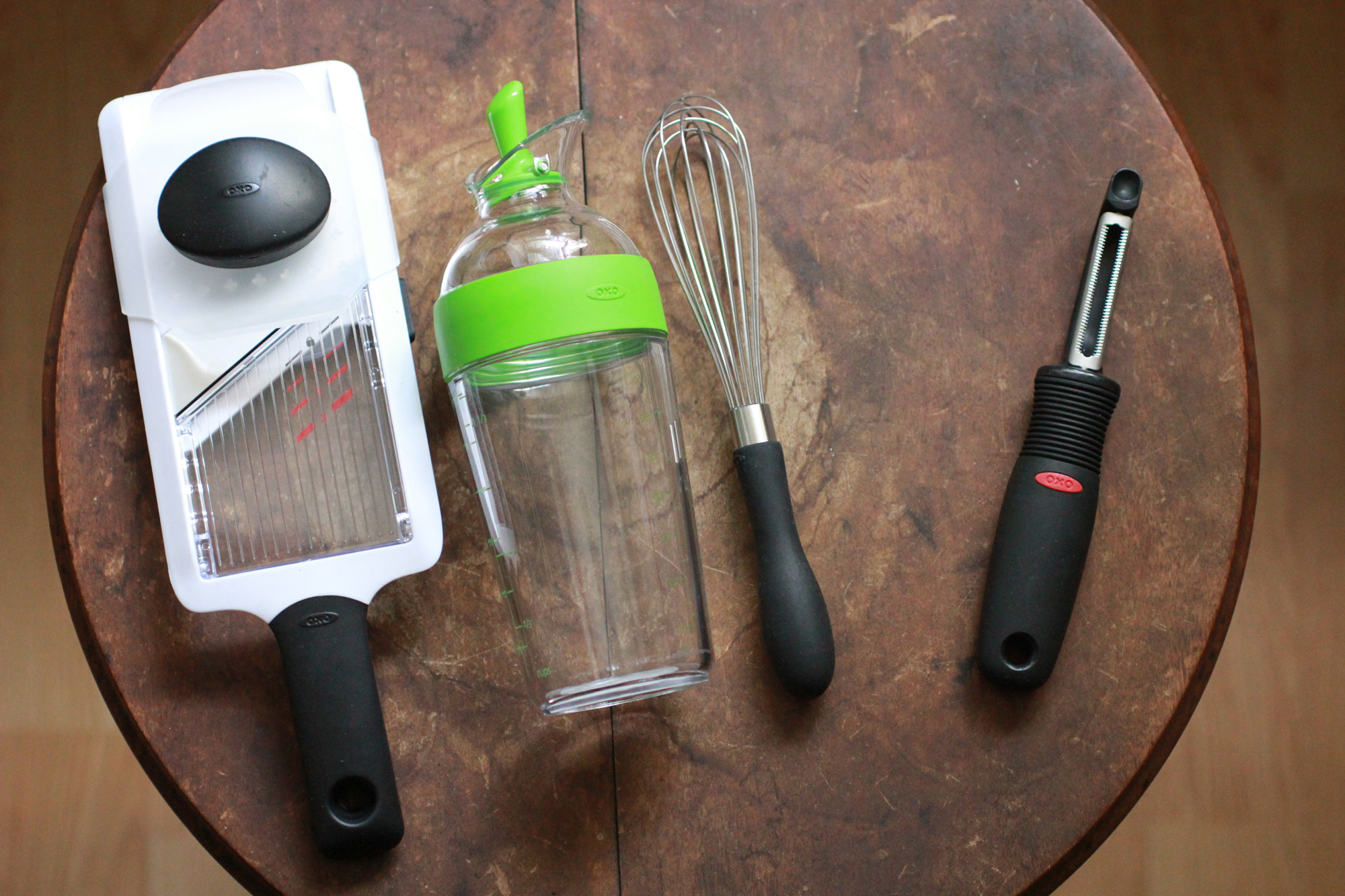 The mandoline slicer was most exciting for me because I had never used one before and got a bit carried away….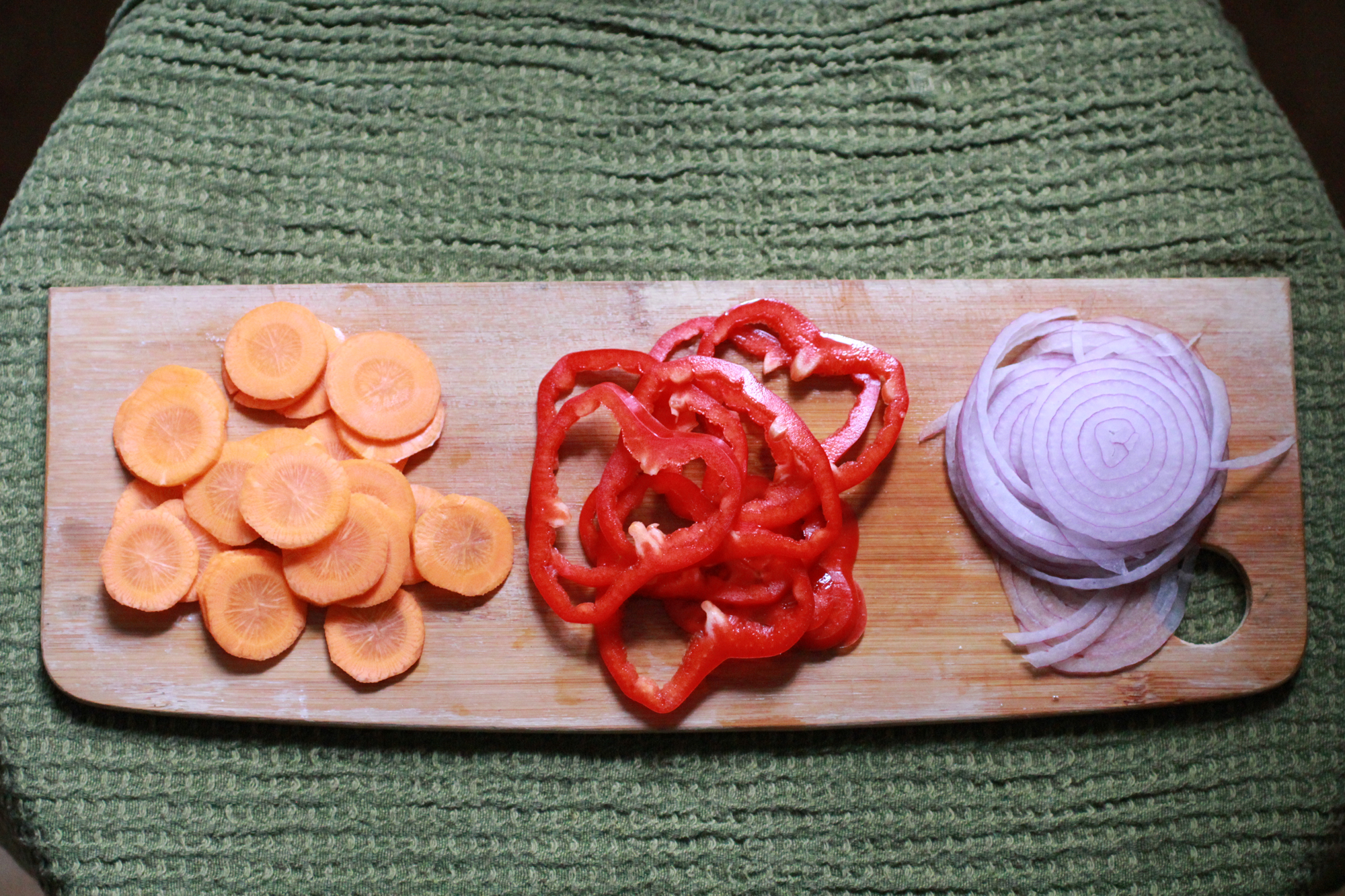 Being a vegetarian all my life, I'm really careful to include a good amount of protein in the dishes I prepare. There's nothing worse than going to a party and finding that the only vegetarian option is a salad with just veggies.  For this reason, I included three proteins I have on hand quite often: feta cheese, frozen shelled edamame and chickpeas.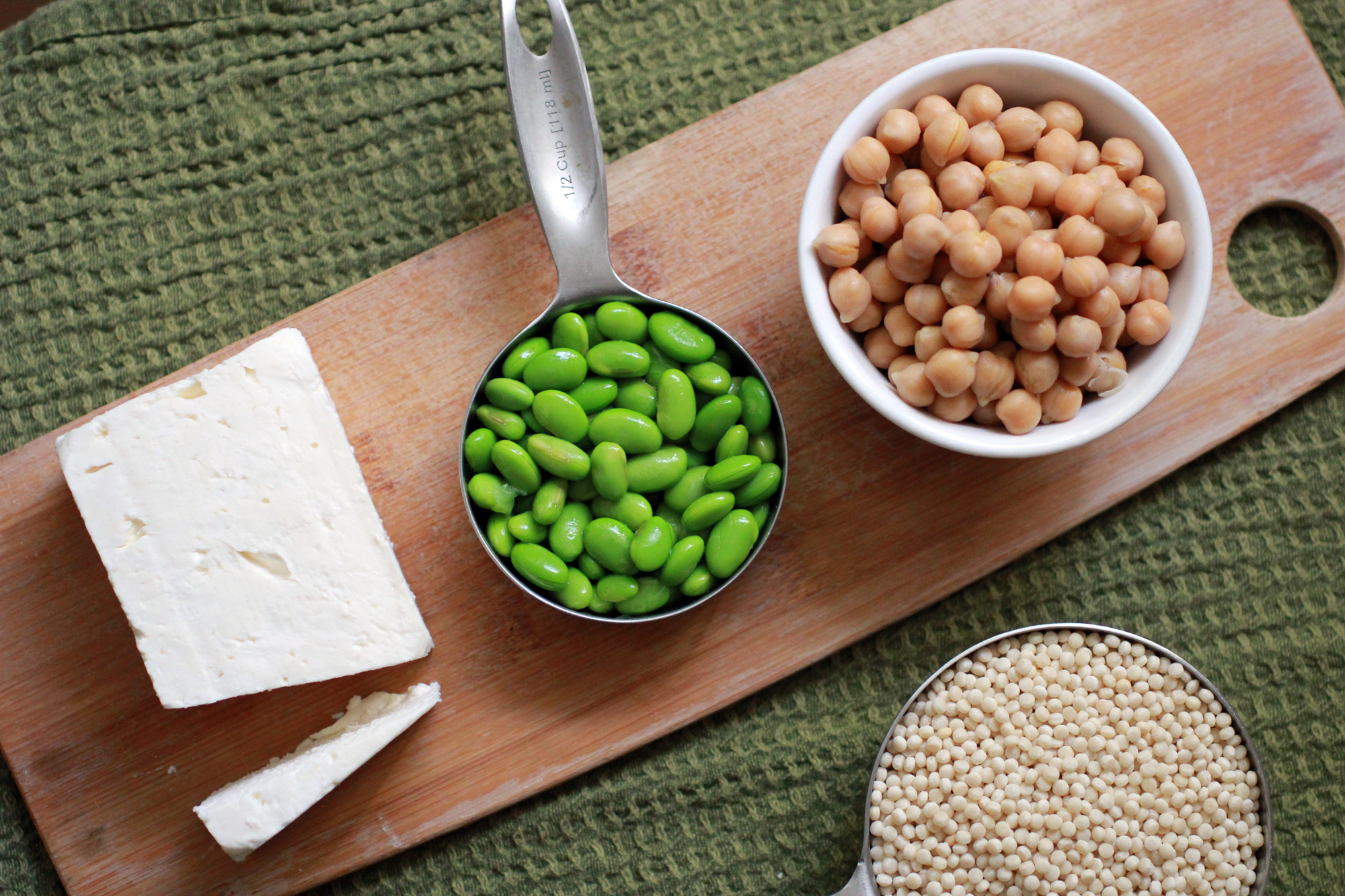 Combined with the couscous, vegetables, cilantro and sherry vinaigrette, it's a really complete and tasty meal and something really festive to bring to a potluck or picnic. Also don't feel married to the ingredients I have used below if you don't have some of them on hand – in the past I have subbed in peas, celery, olives, green onion, radish and a lemon dressing.  I hope you enjoy it!
Thanks Alana for inspiring me and OXO for my new kitchen equipment!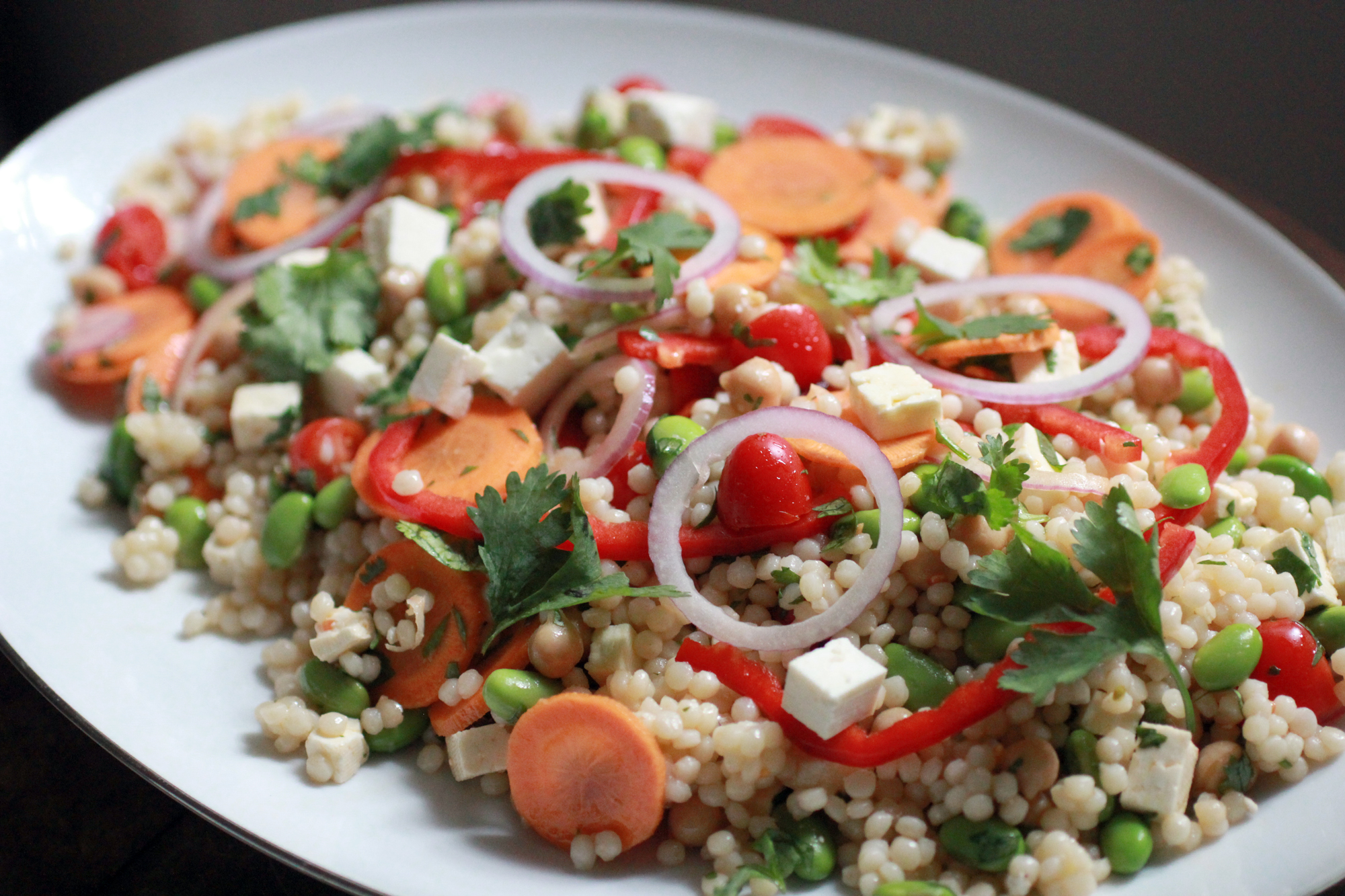 Israeli Couscous Salad
serves 6
Tools
medium pot
medium saucepan
cutting board
mandoline slicer (OXO)
salad dressing shaker (OXO)
whisk (OXO)
peeler (OXO)
Ingredients
Salad
1 cup Israeli couscous
1/2 cup chickpeas
1/2 cup frozen shelled edamame
1/2 cup cherry tomatoes, halved
1/2 cup carrot, peeled and sliced into thin discs (setting 2 on OXO mandoline slicer)
1/3 small red bell pepper, sliced & halved (setting 3 on OXO mandoline slicer)
1/8 red onion, sliced into thin circles (setting 2 on OXO mandoline slicer)
4 ounces feta, cut into small cubes or crumbled
5 tablespoons cilantro leaves, 4 tablespoons chopped and 1 tablespoon for garnish
Dressing
6 tablespoons olive oil
3 tablespoons sherry vinegar
1/2 teaspoon honey
salt & pepper to taste
Method
1. Set 8 cups of water to boil in a pot. In a separate saucepan with lid, pour couscous in. When the water is boiling in the pot, ladle out 1 and 1/4 cup of water from the pot and pour over the couscous in the saucepan (continue boiling water in pot).
2. Bring couscous to a simmer at low setting on stove and cover for 10-12 minutes until cooked. Drain couscous and transfer to a bowl. Put in the fridge to cool off.
3. While couscous is simmering add in the edamame to the rest of the boiling water in the pot and boil for 4 minutes. Drain and place in cold water to stop from cooking further. Drain when cool.
4. While the couscous and the edamame are cooking, prep veggies: cut cherry tomatoes, peel and slice carrot, slice and cut red bell pepper and slice onion. Cube or crumble feta. Chop 4 tablespoons of cilantro leaves and leave 1 tablespoon for garnishing.
5. Make dressing by whisking together sherry vinegar, honey, salt and pepper. Transfer this mixture to the salad dressing shaker, add olive oil and shake really well for 15 seconds.
6. In a bowl, combine and gently mix Israeli couscous, chickpeas, edamame, veggies (reserve some onion for garnish), feta, chopped cilantro, dressing (may have some left that you can use another day), salt and pepper to taste. Plate with garnish of onions and cilantro leaves.