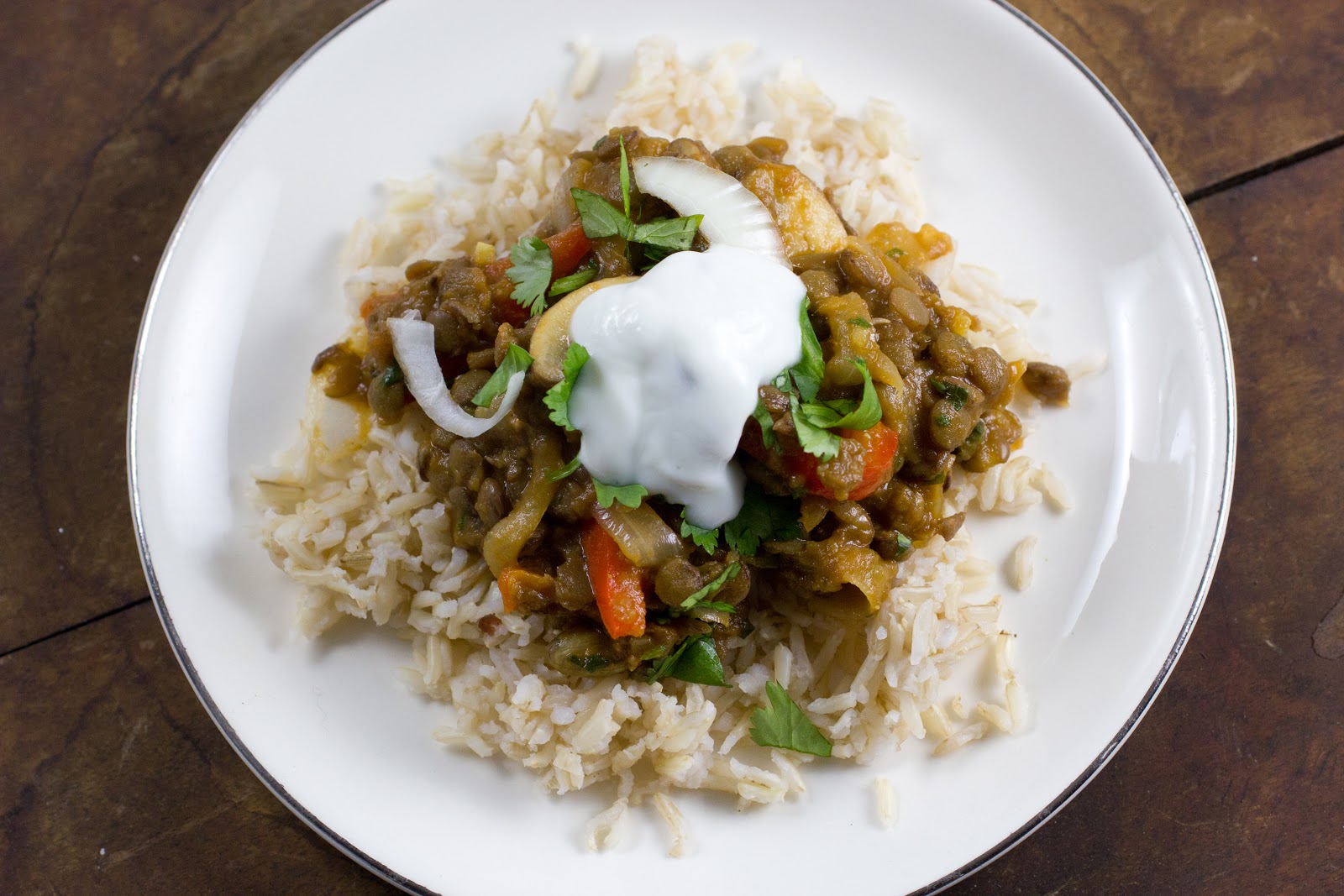 I know in my last post, I wrote about how I am making a ton of soups this winter, but I've also been raiding all of the dried lentils I have stored in my cupboard.  For some reason, I have packets and packets of different varieties of lentils that I just never got around to making during the year.  Winter is a great time to play around with these guys too, especially in New York because there is less variety in produce to select from at the farmer's market right now.  The more I cook different types of lentils, I've noticed that they're all very distinct in taste and a really low maintenance food that can be made flavorful with minimal effort.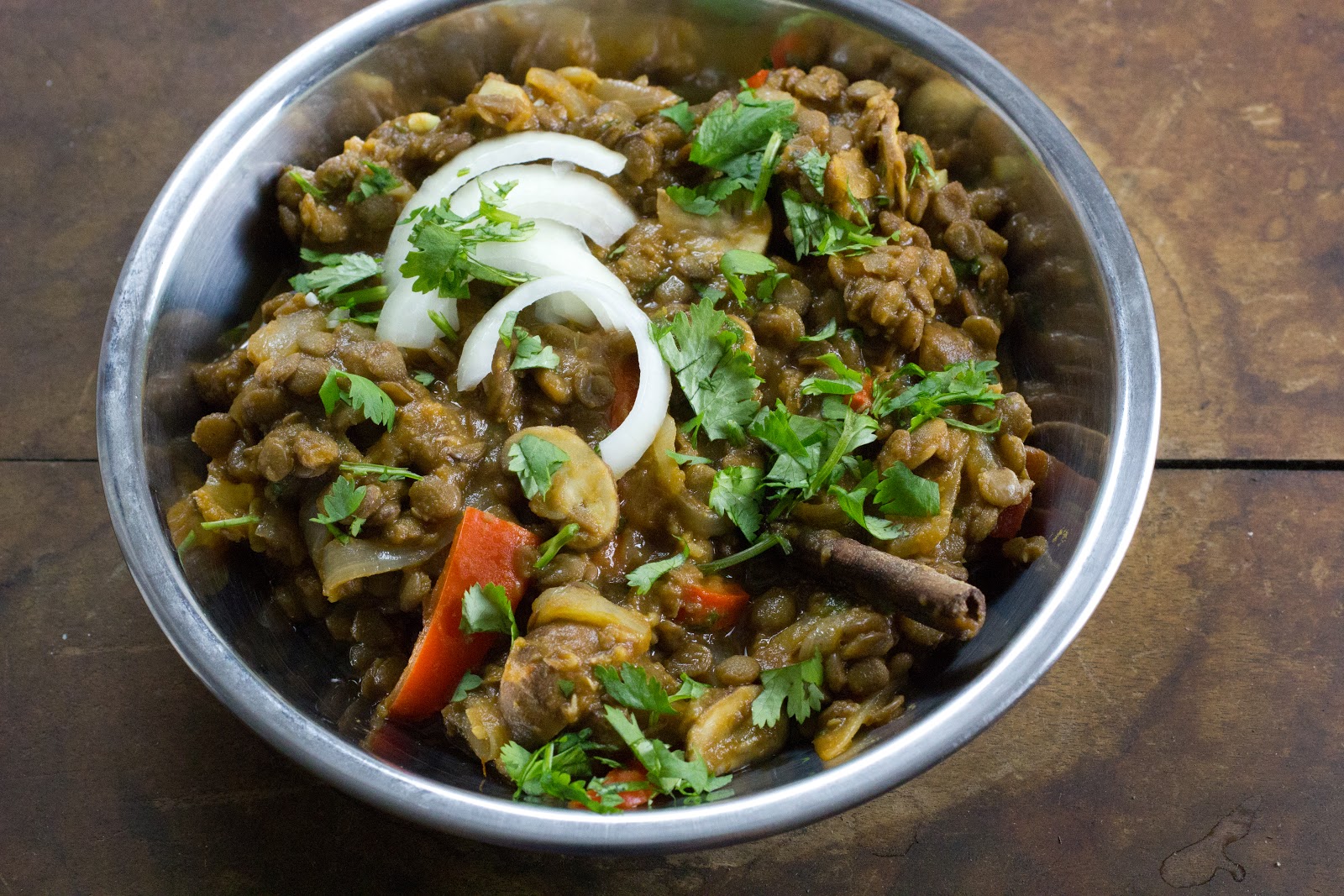 In Indian cooking, lentils are referred to as dal and usually cooked to a consistency thicker than a thick soup and eaten over rice.  Taking from a recipe from my Great Aunt in Delhi for chana masala, I simmered large green lentils (sometimes referred to as laird) with cinnamon, bay leaf, cardamom, clove, turmeric, ginger and chilis, which formed the base. Next, I separately fried up some onions, garlic, tomato, cumin and garam masala that I mixed in at the end. I had some mushrooms and red pepper so I threw that in, but you can also make it without those vegetables if you don't have any.  I actually realized then that the dal recipe I came up with these curried green lentils could also be made into a soup very easily by just varying the water used so this recipe is actually a 2 for 1!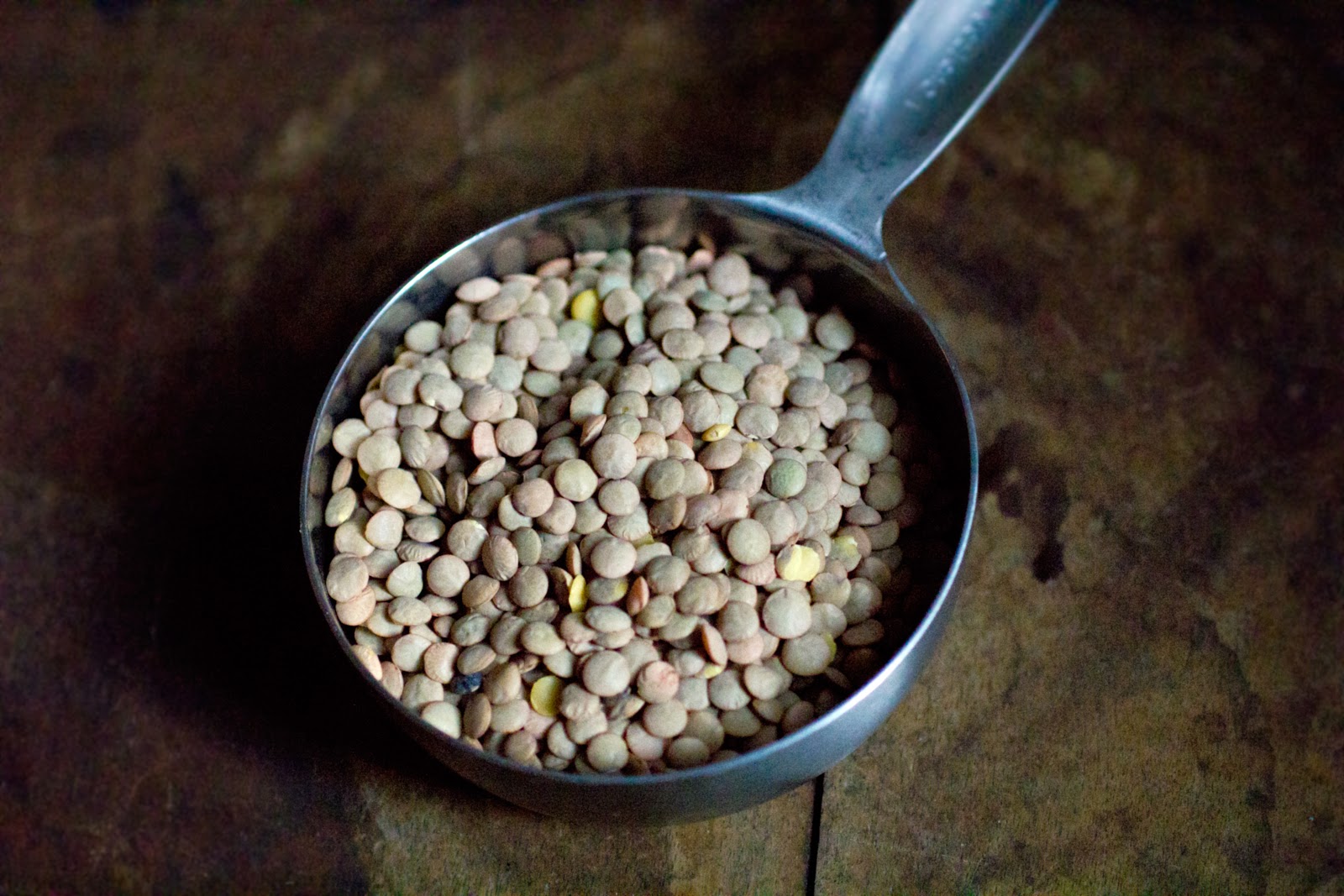 Last weekend, my friend Kim organized a Souper Bowl;) that took the shape of a soup swap on the day of the Super Bowl and I cooked this recipe for it.  (This is a great alternative activity on that day for those like me that zone out immediately once a sports term is uttered in conversation.) Each person brought 6 quarts of soup and traded it in for 6 different quarts of soup to take home.  The swap solved the problem that occurs a lot when you make a giant vat of soup and end up having to eat it for days on end. It's been really nice to try a different soup everyday and I froze a couple for later, brilliant idea by one Kim Tarr:)
For the Souper Bowl, I omitted the vegetables and mixed in brown lentils with the green because I ran out. The two lentils cook for the same amount of time so you can easily mix them together in this recipe. These brown lentils are called whole masoor dal and are actually the same red lentils you find in the store a lot, but with the skins on.  Cooking lentils with their skin is more nutritious so if you find these at the store, take them home because they have similar cooking times to the skinless variety.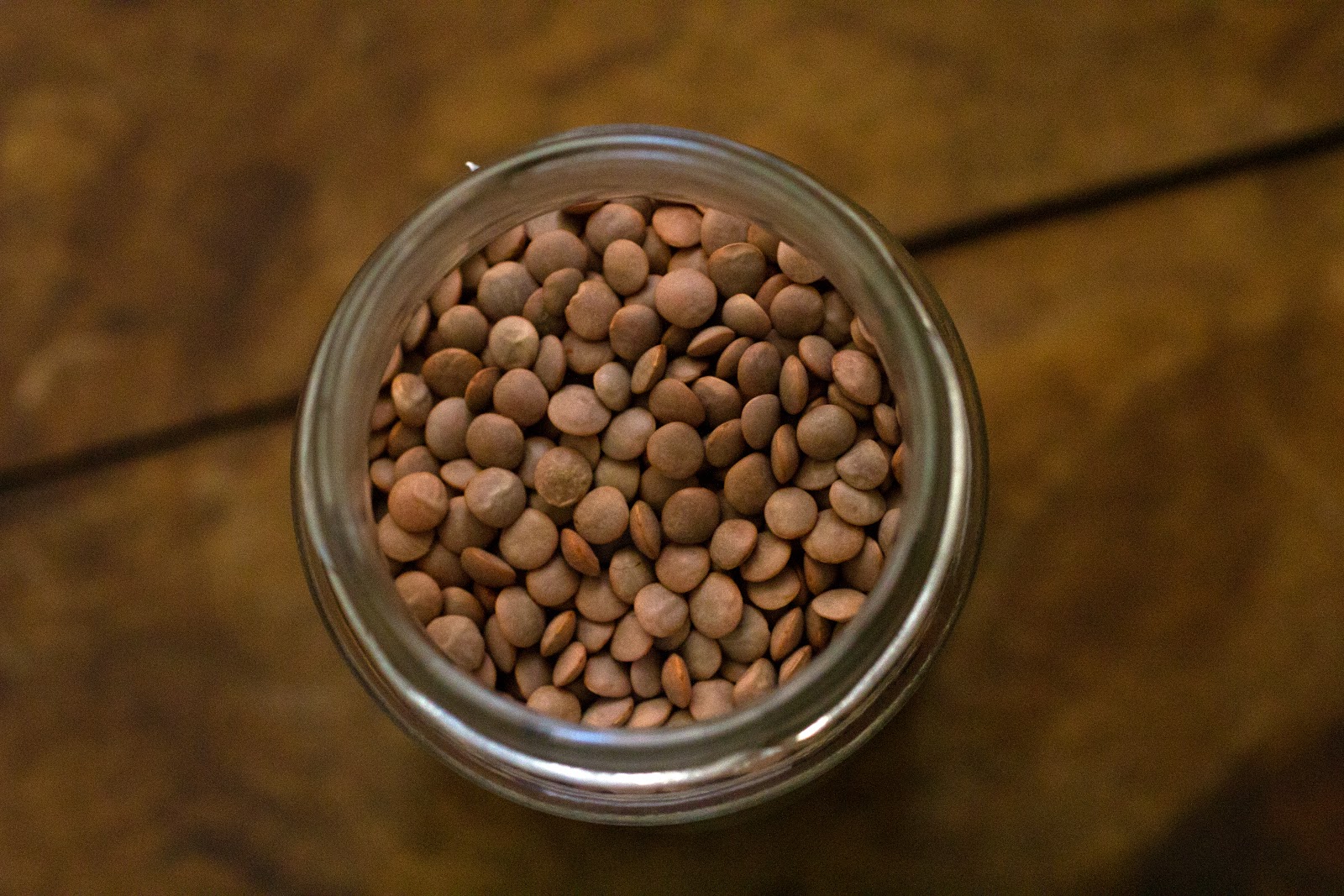 I also found that this recipe can also be done in parts on different days to save time.  I had a friend over the other day and I just cooked the lentils over the weekend and the night I had them over, I fried up the onions, ginger, tomato and spices and just added the cooked lentils in. You could also freeze the cooked lentils to make even later on.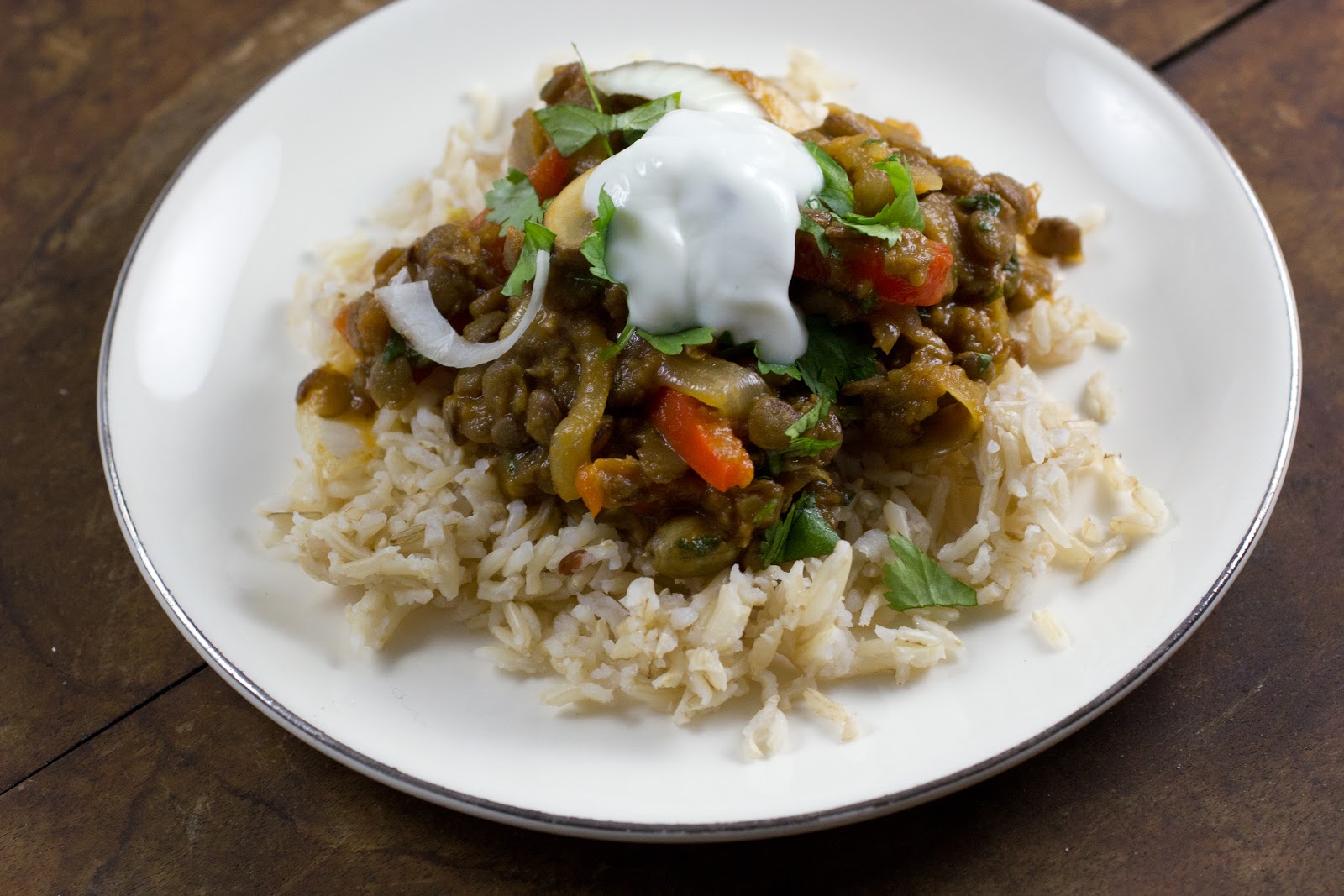 2 Recipes in 1: Curried Green Lentils w/ Mushrooms & Red Pepper Dal or Soup
Ingredients
Part 1
1 cup large green lentils or whole masoor dal (can use combo of both)
2 tablespoons + 1 teaspoon oil or ghee
3 cups water for dal; 6 cups water for soup
1 cinnamon stick
1 bay leaf
2 cardamom pods
2 cloves
1/3 teaspoon turmeric
1 inch ginger, grated
2 green chilies, chopped fine (can use jalapeño)
Part 2
1 large onion, chopped, with a few slices for garnish of soup later
2 garlic cloves, minced
1 plum tomato, diced
1 teaspoon cumin powder
1/2 teaspoon garam masala
1/4 teaspoon chili powder (optional)
1/2 red bell pepper, large chop
4 ounces mushrooms, sliced
1 teaspoon jaggery or brown sugar
few squeezes of lemon
cilantro for garnishing
salt to taste
Method
Wash lentils with water, drain and set aside.  Get 3 cups of water or 6 cups of water ready on the side.
In a pot under medium heat, put 1 teaspoon of oil.  When heated, put in the cinnamon stick, bay leaf, cardamom pods, cloves and just coat with oil. Immediately throw in the lentils and mix up well.  Add the water and mix again.  There may be some scum or foam, which you should skim off the top and throw.  Once the foam stops, add in the ginger, turmeric, chilies and salt to taste. Bring the pot to a boil and then to a simmer.  The lentils should cook in about 30 minutes. While cooking, you can choose to add more water, depending on what consistency you are going for.  Turn off the heat.  (At this point, I taste the lentils to see if it's hot enough for my taste. If not, I usually add a little red chili powder  in the next step of cooking.)
In a separate sauce pan, heat 2 tablespoons of oil at medium heat.  Add in the chopped onions and cook until translucent.  Mix in the garlic and cook for 30 seconds or until fragrant.  Add in the tomatoes and give a good stir. Mix in the cumin powder and garam masala (can add some chili powder at this point if you want some more heat) and cook mixture until tomatoes start to break down.  Add in the red bell pepper and mushroom with some salt to taste and cook for about 5 minutes or until soft.  Turn off heat and pour contents over the lentils.
Turn the heat on under the lentils to medium.  Add a teaspoon of the sugar and make sure the ingredients are mixed all together.  Heat lentils for a few minutes, adding more water to get to the consistency you want.  Turn off the heat and add a few squeezes of lemon and mix in fresh chopped cilantro to your liking.
For serving, ladle into bowls for soup and spoon over rice for dal.  Garnish with some cilantro, raw onion slices and a dollop of yogurt.