I still haven't met anyone that doesn't love tamarind rice when they first taste it.  This is a typical South Indian dish and I'm so excited to share my grandmother's recipe for it.  My mother said that she searched and searched and she finally found it for me.  I'm so happy she did because my grandmother was an excellent cook and preserving her recipes are very important to me.
This a photo of my late grandmother and grandfather in front of their home in Bangalore.  This is the house where my mother grew up in with her brothers, sisters and extended family and also where my grandmother cooked countless meals for everyone.  She was a very sweet and loving woman.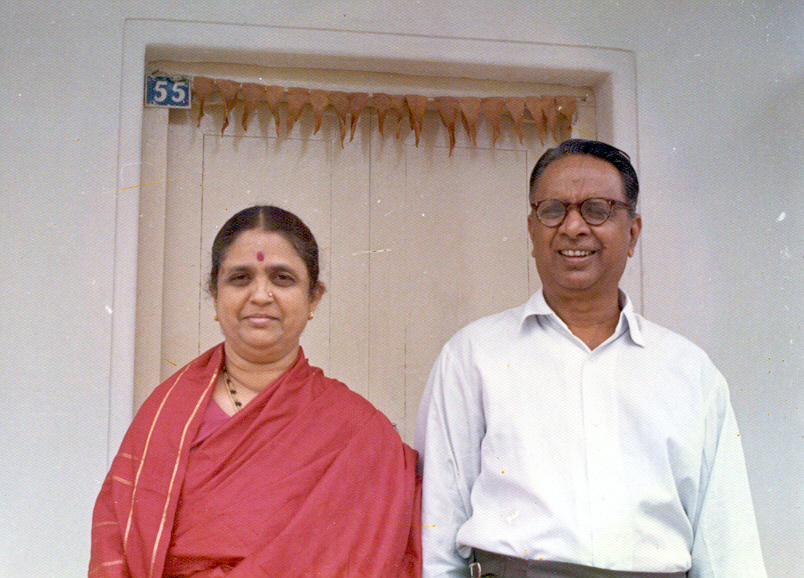 I recently served her rice for a 3rd Ward Wind-Up Event with some cucumber yogurt raita. Tamarind rice has a distinct flavor, which is spicy and tangy all at once, kind of addictive.  This rice in Kannada, my mother's language, is referred to as kari huliyanna, kari meaning black and huliyanna meaning sour rice.  It's also popularly referred to as puliyogare in Tamil, another South Indian language.  The recipe is basically making a powder of roasted spices that is then added to a tamarind paste mixture, which you then fry with cooked rice.  You can also store the paste in your fridge for future use.
Tamarind rice is usually prepared with fried peanuts and I like to serve it with a yogurt raita.  It's also a perfect picnic food.  Of course if you don't have the time to prepare the tamarind rice powder/paste from scratch, there are a number of varieties that are ready made and available at the Indian store. MTR makes a good one.  I say this because I think everyone should try it, no matter how you get your hands on it – you will not be sorry!
My Grandmother's Tamarind Rice Recipe
Ingredients
3-4 cups basmati rice
1/4 teaspoon turmeric
Powder:
half a peanut size of hing or asafoetida
1/2 teaspoon whole black peppercorns
1 teaspoon cumin seeds
1 teaspoon mustard seeds
1 teaspoon fenugreek seeds
1 heaping tablespoon coriander powder
5 dried red chillies
couple curry leaves (optional)
2 tablespoons white sesame seeds
Paste:
2 teaspoons vegetable or canola oil
1 large lemon size piece of tamarind or 1 heaping teaspoon of tamarind concentrate mixed with few tablespoons of water (Tamcon brand is good)
~1/2 cup water
1 small lemon size measure of brown sugar or jaggery, raw cane sugar
powdered ingredients
salt
For Tempering:
2 teaspoons vegetable or canola oil
1/4 teaspoon mustard seeds
1/4 cup raw peanuts
2 dried red chilis
4-5 fresh curry leaves
salt to taste
cilantro for garnish
*the paste measurements are good for 3-4 cups of rice, but you can also just store the remaining paste if you decide to make less rice.
Method
*This recipe is better made with day old rice.  My mother likes to make the rice with a bit of turmeric to make it fluffier.
Cook rice with turmeric and set aside.
In very little oil, fry the powder ingredients in this order – hing, pepper, jeera, mustard seed, fenugreek seed until fragrant. Keep it aside.
Also with very little oil, fry the coriander powder until fragrant and then add the chillies and optional curry leaves.
Powder all of the above and set aside.
Next, dry fry white sesame seeds until fragrant, powder them and store in a different container than the other powder mixture.
Soak tamarind in hot water and squeeze into a thick paste or just mix up the concentrated tamarind (Tamcon) with a teaspoons of water.  Set aside.
On the stove, heat the tamarind paste or Tamcon and water.  Boil this mixture until it becomes thick.  Add the brown sugar or jaggery until it dissolves.  Next add in the powder and salt.  Keep mixing and cooking until you get to a thick paste.  Add two teaspoons of oil and mix well.  Turn off the heat. At this point, you can cool and store this paste in your fridge if you are making the rice another time.
If you are making the rice right away, mix up your rice with the paste very well.  Then mix in the sesame seeds powder very well.  Using your hand is a good method for this.
In a wok, fry up all of your tempering ingredients.  Heat oil and fry mustard seeds and peanuts under low flame.  The mustard seeds will pop and the peanuts will start to roast.  When they are at this point, add in the red chilies and curry leaves until they are coated with oil.  At this point, you can add in your flavored rice mixture and fry and mix up with the tempered spices for a few minutes.  Add salt to taste.  Turn off heat and garnish with cilantro leaves.
Serve plain or with yogurt raita.