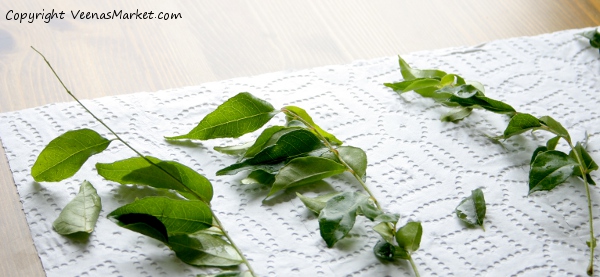 I'm very excited to introduce Veena Prasad, Founder of Veena's Market on this segment of the Spice Route, not only because I love the concept behind her store of Indian spice kits and reading her recipe blog, but also because she wanted to cover one of my favorite ingredients, curry leaves.  I know curry leaves are not technically a spice, but they play a huge roll in flavoring dishes from South India, where Veena grew up.  In teaching cooking classes, I find that many people automatically think "curry" comes from curry leaves so I was happy to have Veena write about them and dispel this myth!  She has also shared a beautiful recipe using curry leaves below that I can't wait to try out.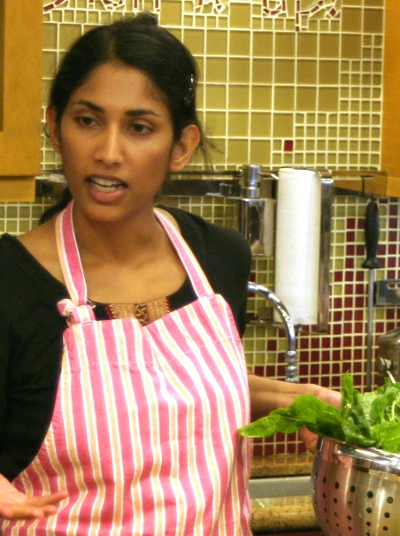 Name: Veena Prasad
Where do you live? Seattle, WA
What do you love to do? Anything to do with food – creating new recipes, photographing food, cooking, eating, and definitely sharing. I love taking classic Indian recipes and reinventing and adapting them to local and seasonal produce. One of my biggest joys with what I do on veenasmarket.com and through cooking lessons is when people realize that they too can cook Indian food. Often, they go on to trying new recipes on their own!
What's your spice? Curry leaves
What do you know about it? Its name has caused some confusion to many a novice to the Indian cuisine! Curry powder is *not* made from curry leaves though curry leaves could be one of the many ingredients in some spice blends in South India. And curries, even those that include curry leaves as ingredients get their flavor from many spices and herbs.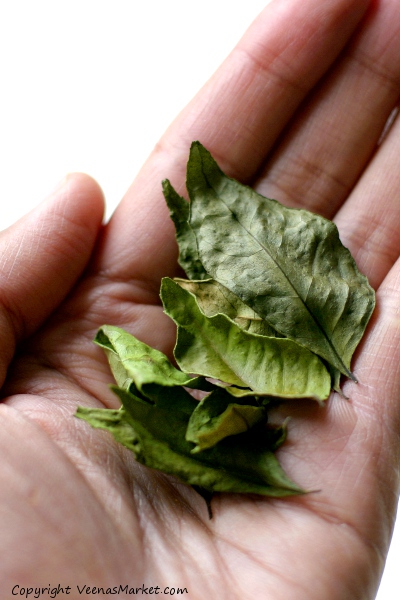 Curry leaves exude a heavenly aroma, reminiscent of fresh herbs and citrus when fried in oil. You will typically only find this herb in Indian or Asian grocery stores. If you live in a warm area or have a long enough summer and have a backyard, you can plant a curry leaf tree. There are many online sources in the US for seedlings.
Fresh curry leaves are the best obviously but they only last up to a week in the fridge. I always buy extra packets of curry leaves since the Indian grocery store is far away. Once I rinse them, I lay them out to air dry on paper towels. After 2-3 days, I store them in airtight containers. When I need to use curry leaves, I take a few and crush them slightly in the palm of my hand before adding to the oil.
What's your favorite vegetarian recipe using it? Curry leaves and other spices with coconut milk makes for an aromatic, flavorful and easy curry base for many different vegetables and proteins! The recipe below is inspired by Sri Lankan and South Indian cuisines and uses cauliflower. I would recommend including tofu or paneer as well. You can really use many different vegetables or proteins or mix and match. I use chicken or fish as my protein in this curry since I'm allergic to both dairy and soy.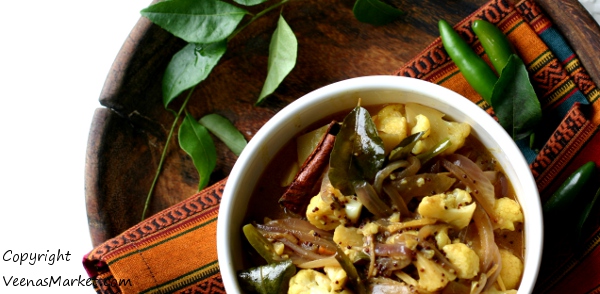 Cauliflower in a Curry Leaf and Coconut Milk Curry by Veena Prasad
serves 4 to 6
Ingredients
1 head of cauliflower*, cubed
2 green chilies, cut in half lengthwise
½ yellow, white or red onion, thinly sliced
1/3 cup cilantro, chopped
½ teaspoon turmeric
1 teaspoon garam masala
¾ teaspoon salt
3 teaspoons fresh lime juice
2 tablespoons coconut or vegetable oil
1 teaspoon black mustard seeds
2 inch piece of cinnamon
3 cardamom pods, optional
15 curry leaves
1 (15 Oz) can coconut milk
Handful cashews, roasted (optional)
Method
Mix the cubed cauliflower pieces with turmeric, garam masala, salt and lime. Heat the oil over medium heat in a large saucepan. When you see ripples on the surface of the oil, see if it is hot enough by throwing in a mustard seed. If the oil is hot enough, the mustard seed will sizzle. Fry the whole spices and curry leaves for just 15 seconds or till the mustard seeds pop and you can smell the rich aroma of curry leaves and cinnamon. Be careful as the oil may splatter. I like to use a large lid as a shield.
Sauté the onions and green chilies for 3 minutes or till the onion is translucent. Add the cauliflower and most of the cilantro (reserve the rest for garnish) and stir well. Once all the cauliflower is coated with oil and sautéed for 3 minutes, add the coconut milk and turn heat to low. Cover and let simmer for 12 minutes or till the cauliflower has softened to your liking. Add salt to taste.
Garnish with cashews and cilantro. Serve with rice.
*You can substitute paneer or tofu for half the head of cauliflower.