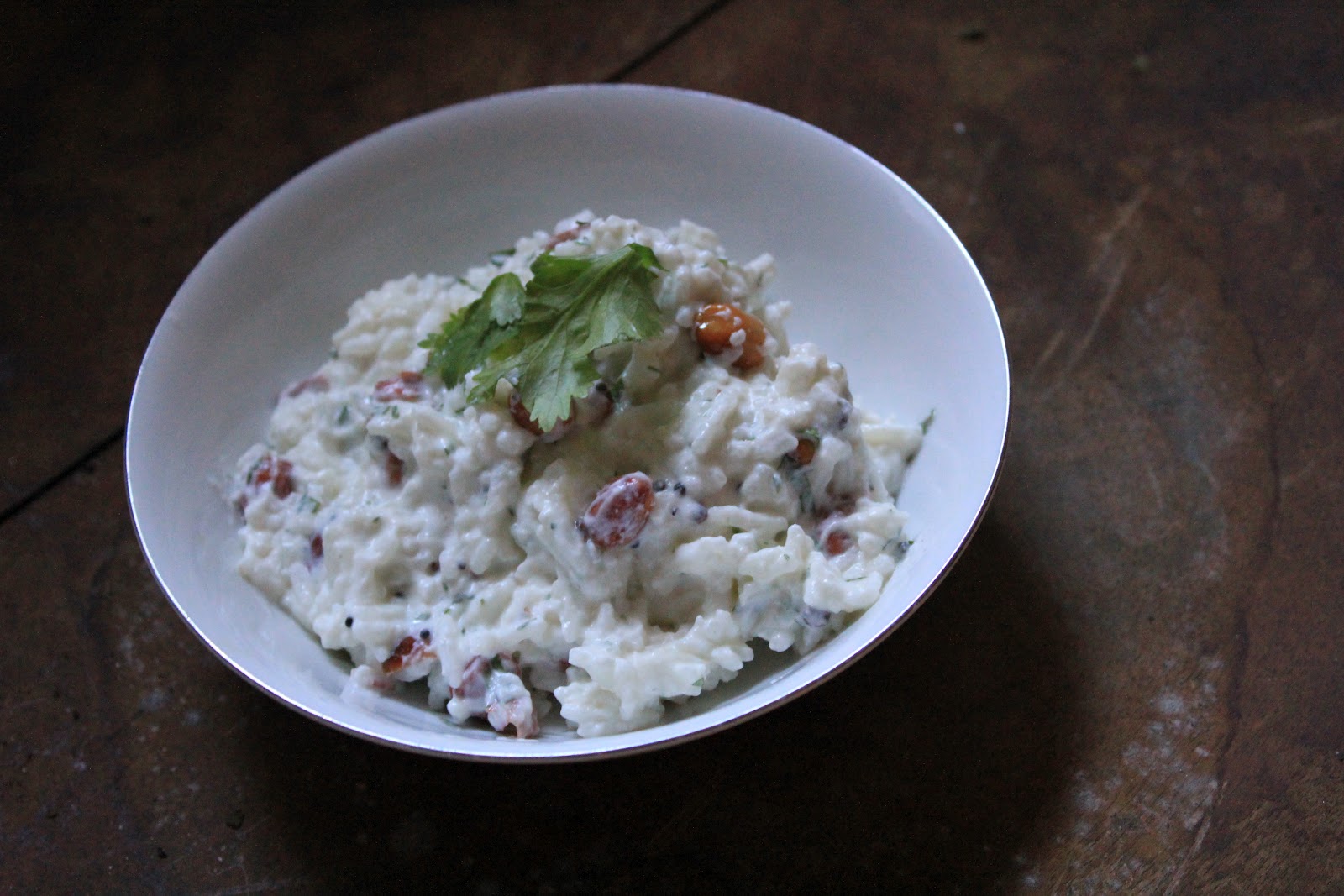 Mosaranna or yogurt rice (and sometimes called curd rice but I don't like that name:) is a staple of South Indian cooking.  In my mom's language, Kannada, 'mosaru' means yogurt and 'anna' means rice so mosaranna literally translates to "yogurt rice."
In South India, it's most common to end your meal with plain rice and yogurt.  It's a tradition, but was most likely brought about because the combination is supposed to help settle the stomach.  This recipe from my mom is for the version of yogurt rice that my family would eat for picnics or serve when we'd have company over.
Yogurt rice for me is the ultimate comfort food. I eat it when I'm feeling under the weather or when I don't know what else to make. It's white, fluffy and cooling – kind of like eating clouds:)
The recipe is very simply – basically rice, yogurt and fried spices. You can of course add extra items if you'd like, but the simpler the better. I made this rice with some fried peanuts and took it to a vendor's potluck for Dekalb Market. Another variation I learned from my mother is to add some pomegranate seeds which adds nice bursts of color and some sweetness.
Mosaranna (Yogurt Rice)
Ingredients
2 cups white basmati rice, cooked
1 1/2 cup thick whole milk yogurt
1 tablespoon oil
1/2 teaspoon black mustard seeds
pinch of asafetida or hing
1/2 teaspoon urad dal
1/2 teaspoon chana dal
2 green chills, chopped (to taste)
1 dried red chili
3 curry leaves
cilantro
salt
optional – fried peanuts or pomegranates
Method
In a bowl, combine the cooked rice and yogurt.
In a small sauce pan, heat the oil under medium/high heat.  Put in hing, mustard seeds, urad dal and chana dal.  Shake up and wait for the mustard seeds to pop and the dals to start browning.  Next add in the red chili and chopped green chili, stir to coat with oil.  Next add the curry leaves and coat with oil.  Turn off the heat and pour the fried spices over the rice and yogurt.  Mix all together and add more yogurt to your taste or you can also add a little bit of milk if you want it to be a looser consistency.  Add salt and freshly chopped cilantro.
Eat plain or add some spicy Indian pickle.