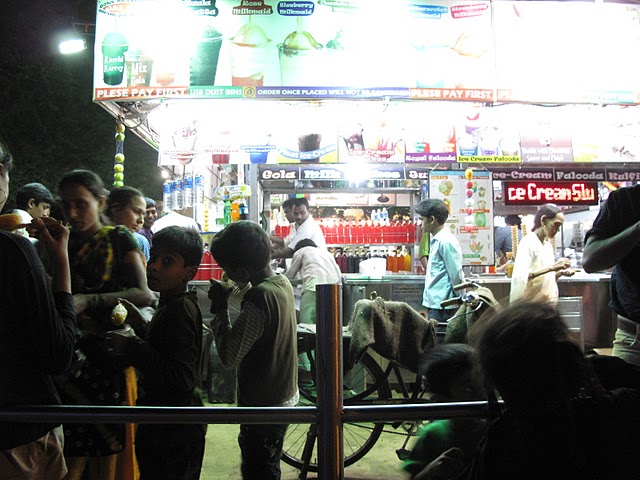 I just came back from a trip to India where I visited Mumbai and Goa with some friends and then headed to Delhi to hang out with my family. In the next few posts, I'll share some of the foods and cooking from this visit. The first 2 posts from my trip are on Mumbai, which I really loved and definitely want to go back to. These photos are from Chowpatty Beach, which is famous for its variety of fast foods.
The beach gets really packed at night with young people, families, locals, tourists, etc. and kind of resembles a carnival or fair with a lot happening all at once: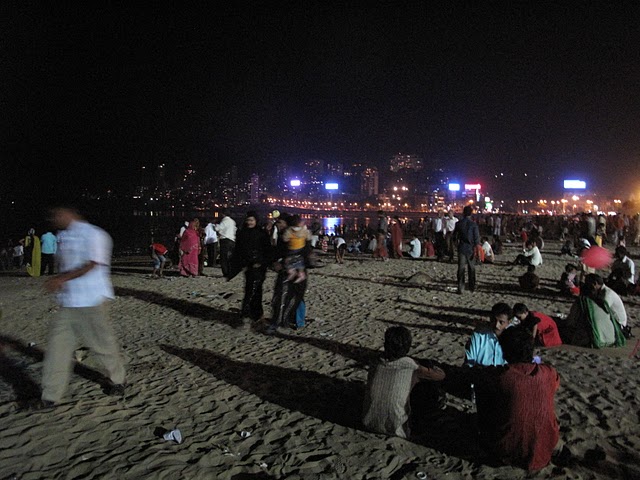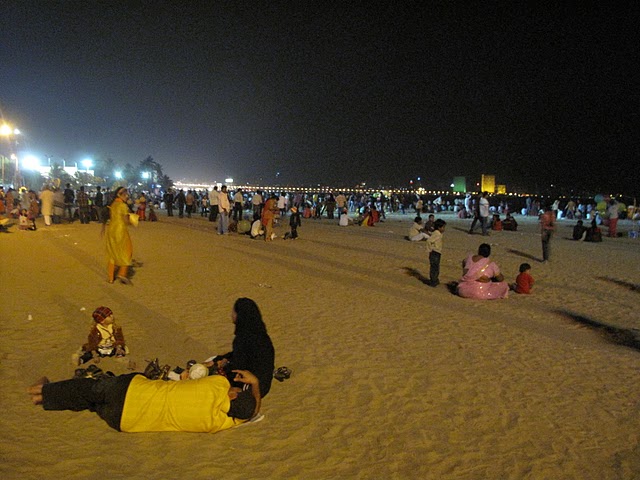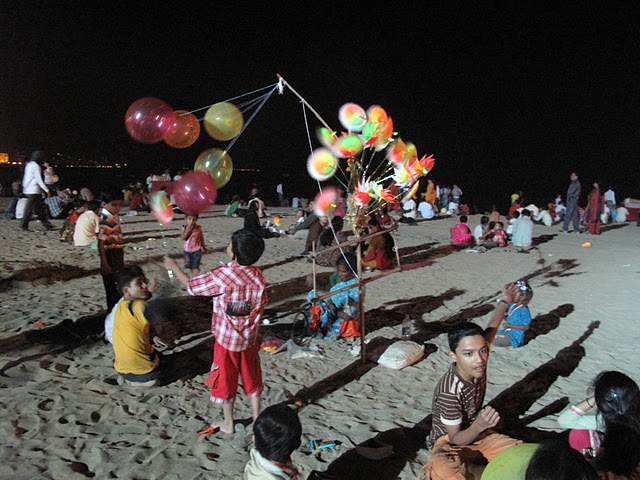 There are a number of food vendors strewn all across the beach and then many stalls all at one corner with every kind of food imagineable – belpuri, papdi chaat, pani puri, vada pav, wok noodles, paneer pressed sandwiches, etc
This vendor on the beach is selling vada pav, which is one of the most popular snack foods in Mumbai. Vada is a vegetable, a lot of times it is made out of balled up potato, battered in chickpea flour batter and fried and pav is a bun. Vada pav is served as a sandwich with chutney inside. This was a two man operation with one guy making the sandwiches and another battering and frying up the vadas.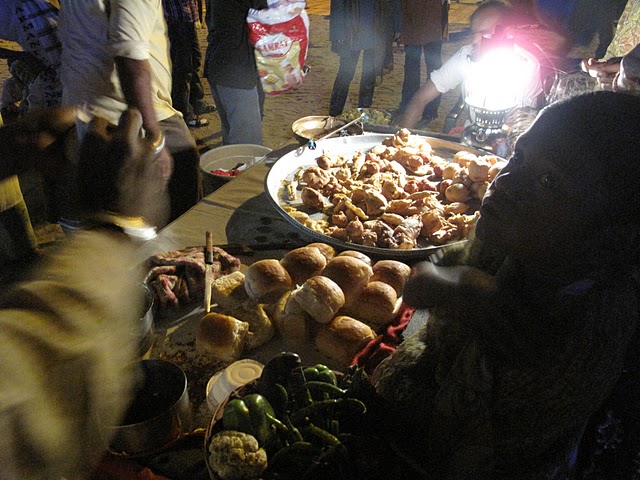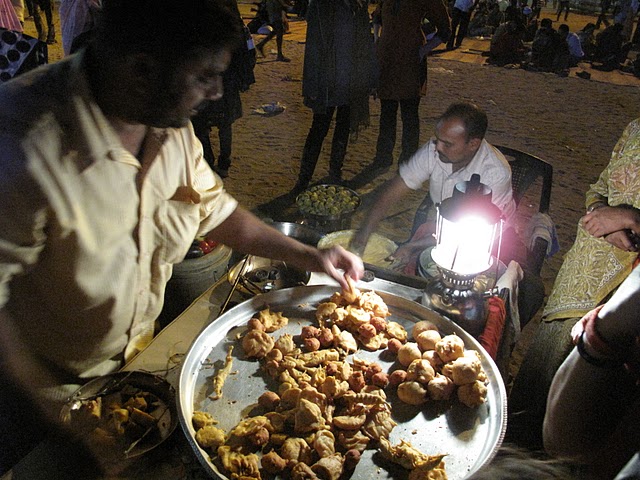 This stall was serving a snack food from North India, pani puri, which is made from a tiny puffed bread that you poke a whole at the top and fill. I used these puris for an appetizer at one of the suppers.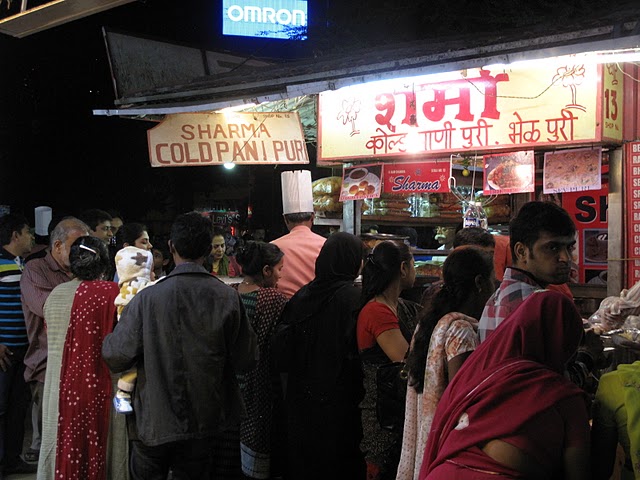 You fill them with any combo of boiled potato, chickpea, onion, chaat masala, chutney and then fill or dip it into a flavored liquid, which is where the name pani comes from because it means water. The pani is spiced in many ways, either with cumin (jal jeera), tamarind, lemon, mint, dates, etc. Chaat masala adds a pungent flavoring, almost sulfuric from the black salt that's used in it, but the main ingredient is dried mango powder which is sour.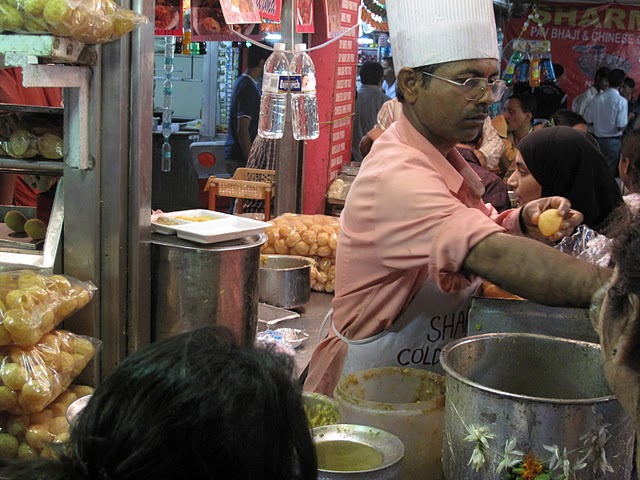 The pani puri guy makes one at a time and you just stick the whole thing in your mouth right away and wait for the next.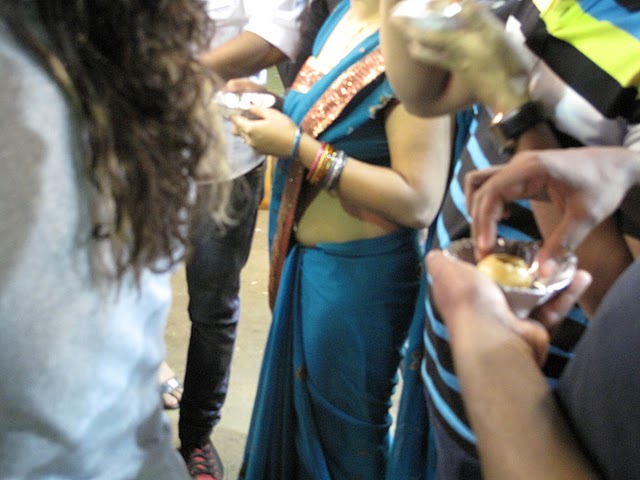 This stall was selling pav bhaji, which is similar to the vada pav, but instead the pav is served with a spicy mixed vegetable curry that is mashed. This snack is a specialty from Gujarat and the Mumbai area. It is served with onions, cilantro and lemon.
This stall was selling wok-fried noodles that are made with a mixture of Indian spices, soy sauce and vinegar: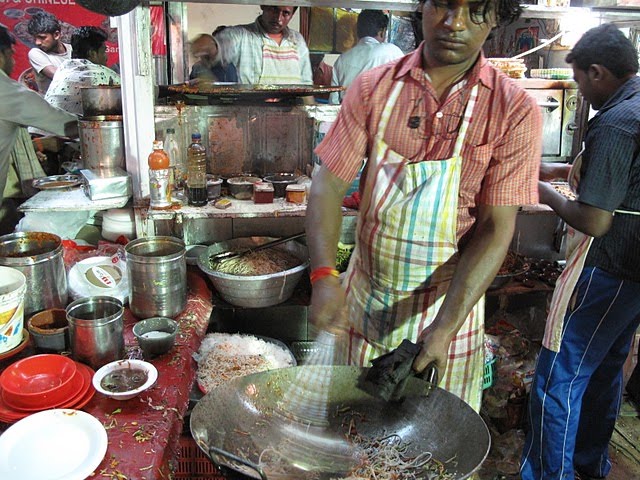 There was also a variety of pressed sandwiches using fresh veggies, chutneys and paneer: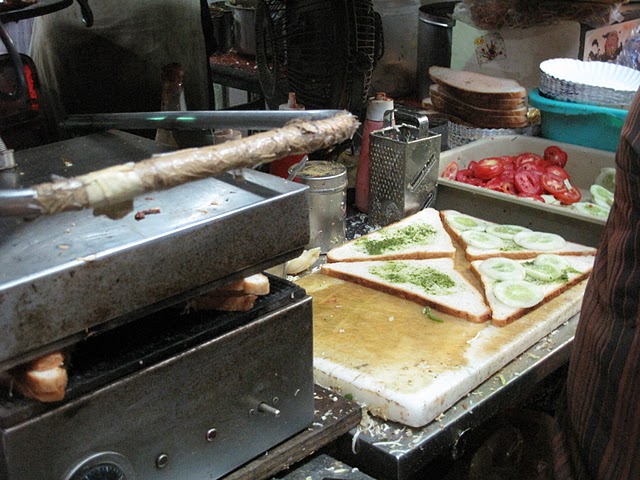 The last stall that I visited was selling paan, which is a digestive and mouth freshener made from a spicy betel leaf that is filled with supari or areca (difficult to describe but it is kind of hard to chew, brown in color and leaves almost a freshener aftertaste in your mouth), a white paste made from pickling lime (a white calcium powder derived from limestone) and then a mixture of different spices depending, like saffron, cardamom, cloves and sometimes even tobacco. You can also get it sweet with sugar, fennel seeds, coconut, rose petal, dried fruit, etc. inside too. This was maybe the most elaborate paan I have ever seen.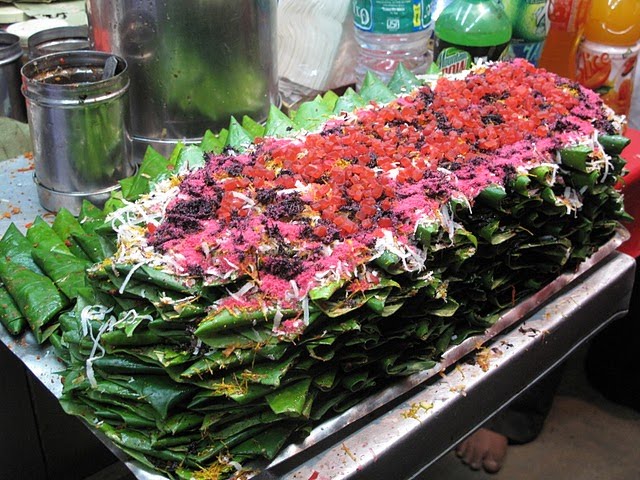 You take the whole leaf in your mouth and chew it. Some people swallow it and some people spit it out. In India, if you see these red splotches on the street, it is most likely from someone spitting paan out – yuck!
In the next post, I'll share more of the street foods that I saw in Mumbai.