At one point, I was really into Barefoot Contessa's cooking show (when I didn't have a job and had a disgraceful amount of time during the day to watch one cooking program after another.) There was this one episode where she had all of her friends over for a pizza party. She had laid out a bunch of toppings and everyone was having such a fun time making their own pizzas. And then there was me – sitting in bed at 4PM, still wearing pajamas and being totally jealous!
That's why I was really excited when my friends Brennan and Karie recently invited me and buddies over for a homemade pizza party. They had made the dough beforehand, gathered a ton of toppings, and then we all brought some as well including my 
tandoori paneer and peppers curry
 and
mint chutney
. It was so neat because Karie had worked in a pizza parlor before and gave us a lesson on how to stretch out the dough and also introduced me to pumpkin on pizza – on that one they also put goat cheese, sage and arugula, but it was gone so fast there was no picture!I didn't know pizza could be so funny, but some of our guys made me laugh.
Alana made squizza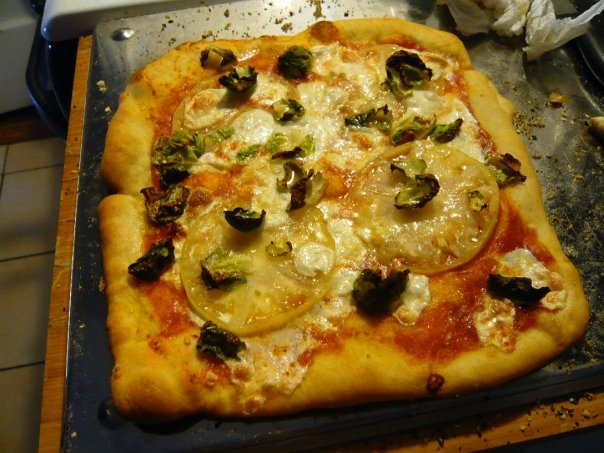 and Paul made crust!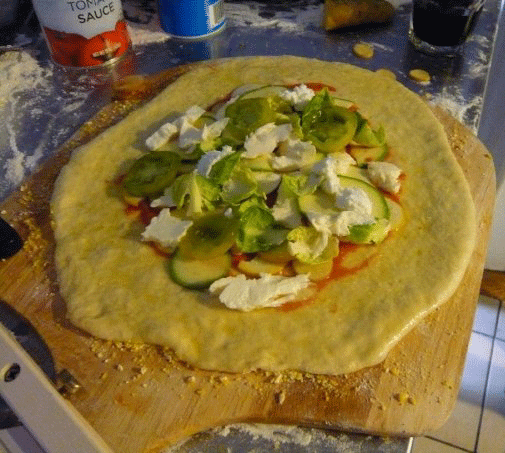 Pizza Dough, recipe courtesy of Karie and Brennan
Ingredients:
1 tablespoon active dry yeast
drizzle of honey
1 1/2 cups warm water, warm to your finger not hot
3 1/2 cups flour
pinch salt
1 tablespoon olive oil
Method:
Add yeast and honey to water. Let it sit in a warm place for 5-10 minutes until it starts to froth a bit.
If using a mixer, put in the flour and salt and add in the yeast/honey/water mixture and "knead" on low speed with the hook attachment for 5-7 minutes, adding oil as it mixes. When its done, the dough will have mostly twisted onto the hook and be a bit sticky. (Kneading by hand is good too if you don't have a mixer strong enough for breads.) All ingredients should be evenly distributed and dough should be sticky and smooth.
Oil a bowl, transfer dough to bowl, cover with a towel and leave in a warm place for 30 minutes.
Dough will have risen/doubled. Punch down to release air and transfer to a floured surface. Knead and divide. Depending on how thick you want your pizza, you can divide into 2, 3 or 4 parts.
Knead your divided pieces so that they are circular, and leave in the refrigerator for 2 hours or overnight. Leave space between your divided dough pieces. They will continue to expand. (Pizza doughs can be frozen too for later use)
If you have a baking stone, place it in the oven and preheat oven about 45 minutes before use to 515-550 degrees F. If you don't have a baking stone, you can use the back of a cookie sheet pan (don't need to put the pan in the oven like the baking stone though).
Sprinkle your peel or the back of the cookie sheet pan generously with cornmeal. (If using a peel make sure you put enough on there so that the dough slides off easily onto the baking stone.) Take one section of dough and roll it out so it is just flat and round enough to work with your hands. Flour your hands a little and place the dough across your two fists and stretch it out by moving it around in a circular motion until you get to a diameter of about 10 inches. (Note from me: Another trick is to hold the dough from the top and just hang it and move your hand along the circumference as you continue to hang. This works fast, but there is chance of breakage and not a perfect circle shape.)
Place the stretched out dough on the cornmeal dusted peel or pan. Brush a bit of olive oil on crusts to help brown well and then decorate the pizza (Note from me: good to go easy on the toppings so that the dough cooks through and you don't have soggy pizza).
Slide the pizza onto the stone (or just leave on the back of the cookie sheet pan) and put in the oven.
Cook pizza for 6 to 10 minutes depending on thickness of crust.
Cool for a few minutes and cut.
Good Tools:
-A bench cutter is handy for cutting the bread dough and cleaning the floured surface later.
-A peel is useful for making multiple pizzas, so you can build the pizza on a peel and then transfer it to the oven/your bread stone.
-A bread stone is good for getting a nice uniformly cooked crust.
-A rolling pin is nice to have while making your pizzas. Dough is pretty elastic and a rolling pin is nice to get the dough flat and round enough to work with your hands.
Our Toppings From the Party:
goat cheese
mozzarella
tandoori paneer and peppers curry
basil
thyme
chives
sage
zucchini/summer squash
pumpkin
onion
fingerling potatoes
garlic
chorizo (free range)
lettuce frisee and boston
heirloom tomatoes
mint chutneyjalapeno
ancho
poblano