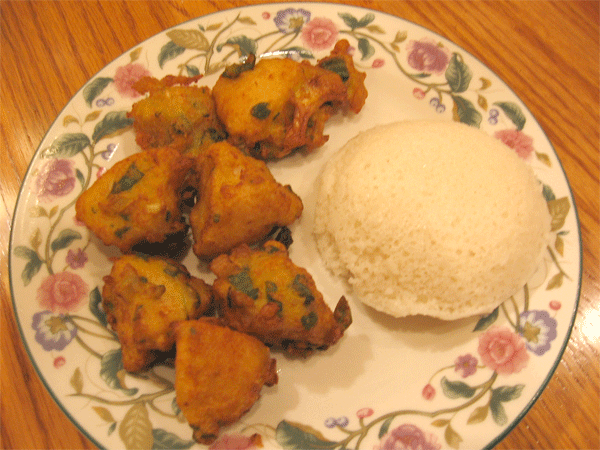 idli pakoras with idli on the right side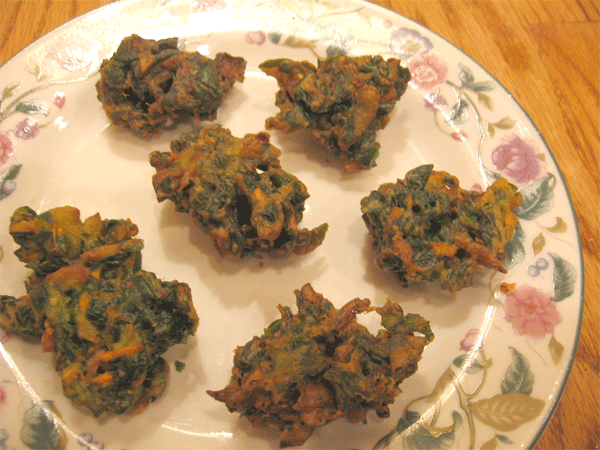 spinach and onion pakoras – look like little space aliens but they were really crunchy and good I swear!
So me and my dad went a bit fry happy. We made a load of pakoras, which can be vegetables or really anything you can think of, deep fried in a chickpea flour batter. My dad wanted to try something different so he cut up and battered some day old idlis (steamed rice/lentil cakes) my mother had made and then fried them. Genius! I made some spinach and onion pakoras. I like these because they always come out crunchy.
Pakoras are usually made for special occassions. I can remember my grandmother making them while wearing her cute little homemade apron (that I now own!); one hand would be holding a slotted spoon and the other would be placing the battered vegetables into the oil. I would not leave her side by the stove unless it was to skip around the house excited for all of the pakoras I was going to pig out on! While I was waiting she would give me some samples and also let me munch on the leftover little pieces of fried batter. I still love to eat the leftover crunchies. They are kind of the best.
Spinach and Onion Pakoras (you can substitute these vegetables or add other items to the batter such as potato, zucchini, paneer or if you are my dad idli haha)
Ingredients:
2 cups spinach, chopped
3/4 cup onion, chopped
1 medium sized carrot, shredded
1 clove garlic, chopped
1 teaspoon ginger, grated
1/2 teaspoon red chili powder
1 tsp salt
1/2 cup chickpea flour (also called besan or gram flour)
1 – 2 tablespoons water
oil for frying
Method:
Mix all ingredients up well in a bowl and add water little by little until you get a thick and sticky batter.
Place oil in a wok and set on medium-high heat. When the oil is hot (I usually put a little piece of batter and if it floats to the top quickly, the oil is hot enough), take about a tablespoon of the batter mixture and place in the oil (smaller the better here because you want the inside to be all cooked). Depending on the size of your wok, you can place several at a time.
Using a slotted spoon, you can turn the pakoras over so that they are evenly cooked. Once they start getting a nice golden brown color, you can take them out. Place them on a plate or bowl lined with paper towels.
Serve with mint chutney, tamarind sauce or ketchup.