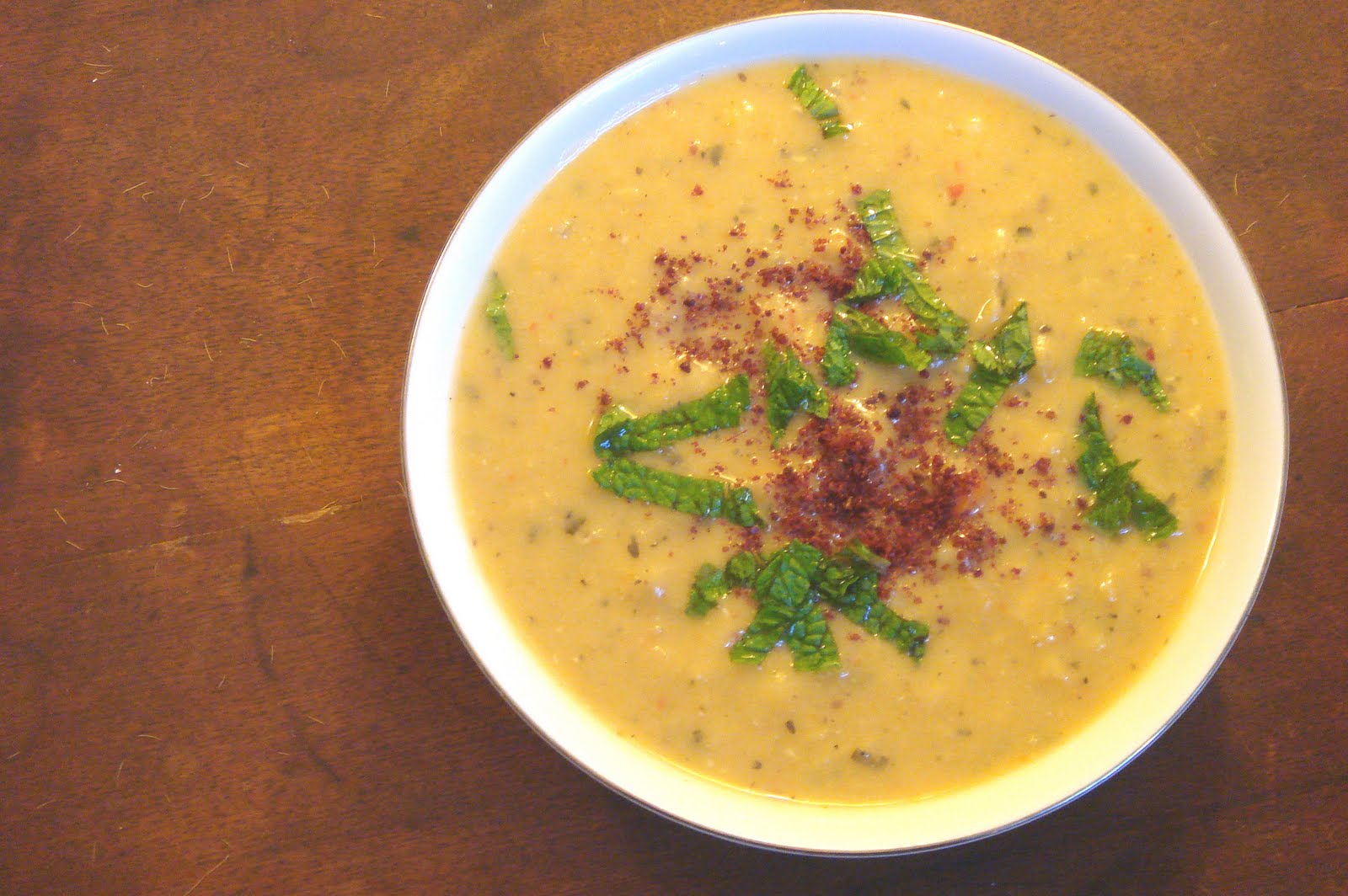 There are actually a few stories about this soup, but I'll start from the beginning. My visit to Turkey just happened to fall during Ramadan, the Islamic month of fasting. While there, I learned that many people break their fast at sunset with a traditional Turkish lentil soup called Mercimek Çorbasi. It's perfect for this purpose because it is high in protein, warming to an empty stomach and satisfies so that you don't gorge yourself after so many hours of fasting.
While traveling, I became a little obsessed with this soup. You can find it in every restaurant (and I did) even if it's not on the menu. There are many variations, but all versions include red lentils, chili pepper and lemon. In my recipe I have included sumac spice, which is made from the powder of the red sumac berry (relative to poisonous sumac but this guy is not poisonous!). It has a really nice tart and tangy flavor and is used as garnish on many Turkish soups and sometimes as a substitute for lemon. You can find the spice in Middle Eastern markets in the US. Anyway, I really wanted to find a recipe for this soup, which takes me to the next story…
During a terrible rainstorm, Marissa and I found ourselves holed up in a really magical cafe near the Galata Tower. Everyone that worked in this cafe was so sweet and nice and they literally fed us constantly for 3 hours straight. Of course we had the lentil soup, which was the best I had tasted. One snag though – the owner/chef would not give up the recipe! While his back was turned though, his waitress (my hero) rattled off all the ingredients she could remember. I quickly jotted them all down, but knew I would need more detail to complete the recipe…

Me and the cafe owner who is apparently going to take his soup recipe to the grave, laughing all the way (very evil man!). Galata Tower is in the background.
That night we ended up taking a ferry to Kadıköy and of course missed our ferry back (many ferries were missed in Istanbul) and ended up meeting Selçuk. This was very fitting as we were just discussing how we would get to the town of Selçuk the next day. Not only did Selçuk help us plan the rest of our trip, he also invited us to a dinner at his friend's pizzeria where we met a number of his sweet friends AND, most importantly, he later sent me the recipe for Mercimek Çorbasi. I have combined his recipe with what I jotted down at the cafe: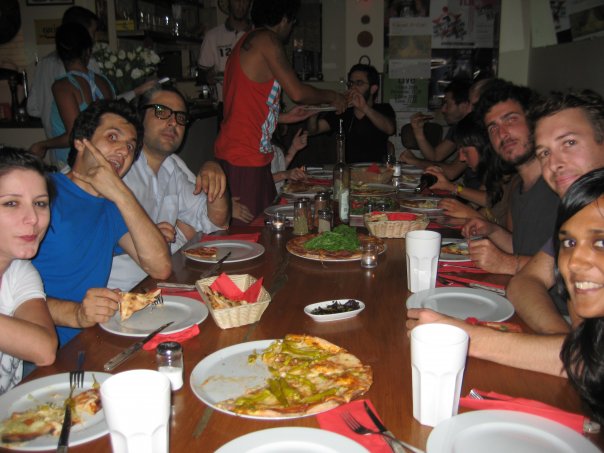 With Selçuk & buddies at the pizzeria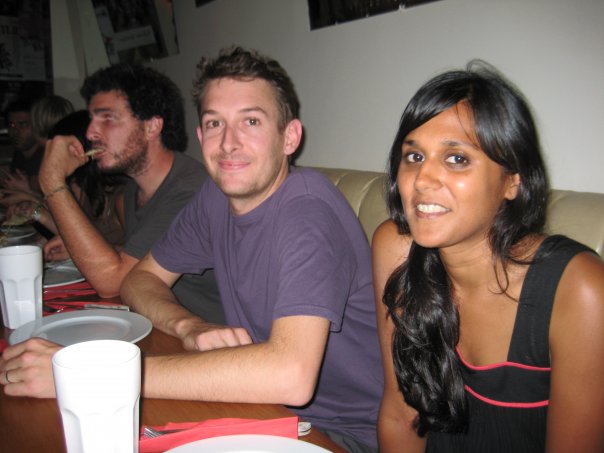 Thanks Selçuk for sharing your soup recipe (unlike a certain cafe owner)!
Mercimek Çorbasi (Turkish Red Lentil Soup)

Ingredients:
1 tablespoon oil
1 1/2 tablespoons butter
1 cup red lentil (masoor dal)
1 medium sized onion, diced
1 clove garlic, finely chopped
1 small potato, diced
1 carrot, diced small
~6 cups water or vegetable broth
1 teaspoon red pepper flakes (if you can find the Turkish kind, that is best – more red and course in texture)
1 tablespoon dried mint
1 teaspoon roasted cumin powder
few grinds fresh black pepper
salt to taste
1 lemon
sumac spice
fresh mint leaves
Method:
Wash the red lentil until the water is clear. Then drain and set aside.
Heat oil in pot under medium flame. Fry onion until translucent and then fry garlic for a couple minutes. Next, mix in carrot and potato and fry for a couple minutes.
Add the drained lentils to the pot. Saute for few minutes and stir. Pour 6 cups water, add the mint, cumin, chili flakes, salt and pepper and boil it uncovered until vegetables and lentils get soft. This takes about 30 minutes over medium heat.
Ladle soup into a blender and puree. I blended 3/4 of the soup to keep some texture from vegetables.
In a small saucepan, melt the butter and then pour it onto the soup and mix.
Serve in bowls with 1/8 lemon wedge and sprinkle chopped mint leaf and sumac spice on top.
I ate the soup with some crusty bread.