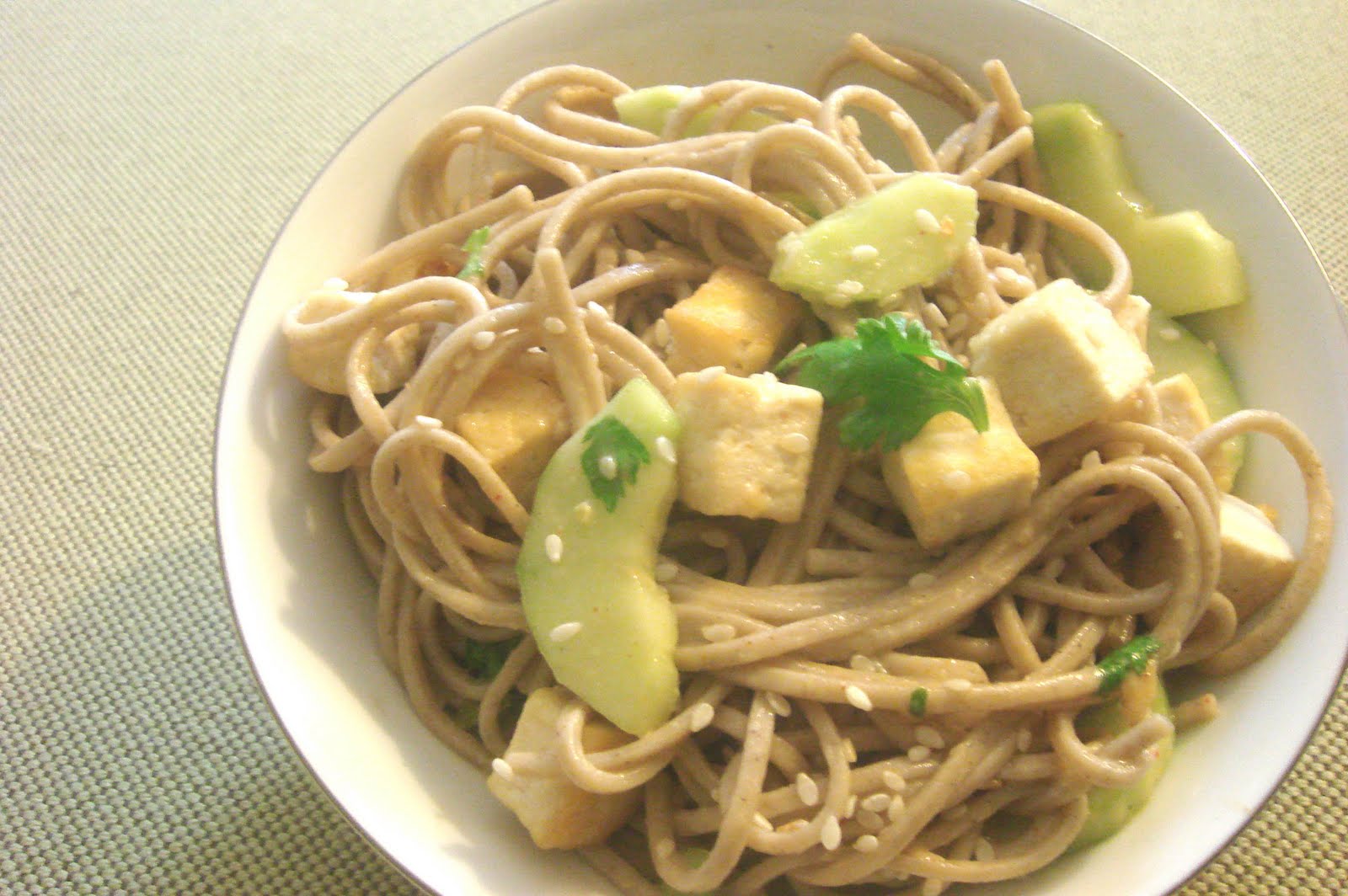 I couldn't help it but I had to post another soba noodle salad recipe that I made for friends this weekend. Not making soba is like admitting that summer is almost over! This recipe originally came from 101 Cookbooks, but I make a slightly modified version that my friend Jo passed on to me. At first, these noodles have a really mild, cool flavor and then they kick you in the pants with the hotness from the cayenne. I love watching people eat this dish for the first time because their eyes light up when the spiciness hits them.
This dish is Japanese influenced, but I couldn't help but notice how the six tastes that make a balanced Ayurvedic meal are all present: sweet, sour, astringent, bitter, salty, pungent. According to Ayurveda, each person is unique and needs more of certain tastes to maintain balance in their body. There are 3 doshas or types of energies that are present in variable amounts in each person. The three doshas are vata (comprised of air and ether elements), pitta (fire and water) and kapha (earth and water). The easiest example is someone who is mostly pitta, which is a very firey, aggressive type of personality. This type is best balanced out with colder foods and these tastes: sweet, astringent and bitter. Sounds new agey I know, but I have to admit I am quite intrigued by the concept!
This meal is one that is good for every dosha type, which explains why it is well liked by all that I introduced it to and why you should bring it to a party! For this recipe, I have matched up some of the ingredients in this recipe with their taste categories: sweet – soba, sour – lemon, astringent – tofu (surprise to me), bitter – cilantro, salty – tamari, pungent – cayenne.
Otsu Recipe
,
modified version from 101 Cookbooks
Ingredients:
Ginger-sesame dressing (makes about double needed for recipe, but nice to keep around)
zest of 1 lemon
1 clove garlic crushed
1 1/2 oz. cleaned ginger, thinly sliced
1 tablesppon granulated sugar
3/4 teaspoon cayenne
3/4 teaspoon salt
1 tablespoon fresh lemon juice
1/4 cup unseasoned rice vinegar
1/3 cup soy sauce or tamari
2 tablespoons canola oil
2 tablespoons pure sesame oil
~2 teaspoons tahini paste (just enough to make the dressing a bit thicker)
Soba noodle salad
8 oz. portion frozen soba noodles, thawed and softened in boiling water and rinse in cold running water (or equivalent dry soba noodles, cooked according to package instructions)
1/2 block firm tofu, cut into 1/2″ cubes
2 tablespoons canola oil
1 tablespoons chopped cilantro
1 scallion, green and white part, cleaned and thinly sliced
1/2 cucumber, peeled, seeded and cut in half lengthwise then cut across into thin half-moons.
sesame seeds
more cilantro for garnishing
Method:
Add tofu to a large non-stick skillet without any oil and toss over high heat until all water has evaporated. Add canola oil, reduce heat to medium-high and fry, tossing frequently until tofu is firm and bouncy. Drain over paper towels.
In a food processor (or with mortar and pestle), combine lemon zest, ginger, garlic, sugar, cayenne, and salt and process to a smooth puree. Add lemon juice, rice vinegar and soy sauce. Blend well. Slowly add canola oil and sesame oil until well combined.  Add tahini and blend together.
In a large mixing bowl combine drained soba noodles, cilantro, scallions, cucumber and 2-3 oz dressing, toss well. Arrange salad in center of large plate and top with fried tofu. Garnish with sesame seeds and cilantro sprigs.