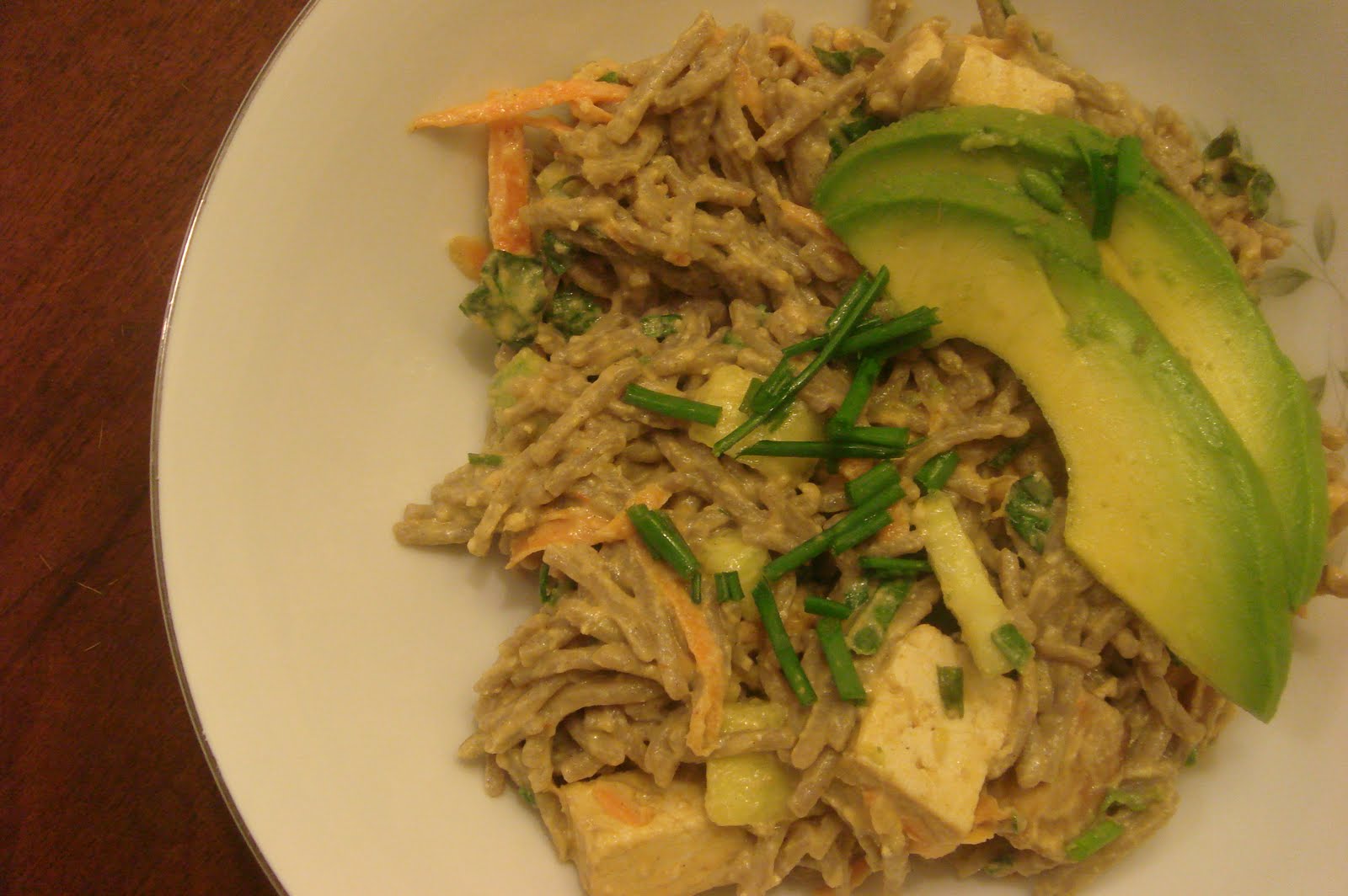 I make this recipe a lot, especially in summer. It is so nice to bring for a picnic and I have done this on many occassions. I have to admit though that it tastes a bit different every time, kind of because I just use what I have on hand. Its one of those recipes that you add the ingredients little by little and taste as you go along, but I have done my best to give the quantities I used. I think though that the fun of the recipe is kind of the experimentation part so use my quantities as a rough guide.
This time I made the peanut dressing with sriracha (Thai hot sauce), limes, tamari (kind of like soy sauce, but better!), sesame oil, ginger, garlic, red chili flakes. Other times, I have substituted the lime with some rice vinegar which is a nice variation. I had some avocado, a little cucumber and a carrot so I threw that in with a bunch of herbs and baked tofu – I like the Wild Wood brand. In the past, I have used steamed broccoli, asparagus, green onions, etc. I feel like many veggies go well in this recipe. I forgot to put peanuts on the dish I photographed, but definitely add that to your dish because it adds great texture. I remembered just as I was half way through and realized that I was missing my crunchy peanuts – don't make my mistake!
Peanut Chili Soba Noodles
Ingredients:
Peanut sauce
(makes way more than you need, but good to put on the leftovers next day)
3/4 cup creamy peanut butter
2 limes squeezed and zest of 1 lime
2 teaspoons chopped ginger
2 garlic cloves chopped and pressed
1 tablespoon tamari
1 tablespoon sriracha
1 tablespoon sesame oil
pinch of red chili flakes
1/2 cup warm water (may not use all, just stir in slowly until you get a consistency that is thick, but loose enough to pour)
salt to taste
8 oz. soba noodles
1 package Wild Wood baked tofu – cut into small cubes (you can also use regular tofu and fry it a bit)
1 small carrot – grated
1 persian or small variety cucumber, seeded and chopped into half moons
cilantro – 1/4 cup chopped
chives – 1/4 cup chopped
basil – 1/4 cup chopped
1 avocado – sliced thin
1/2 cup peanuts
Method:
Boil soba according to package directions.
In bowl mix up all peanut sauce ingredients. I first mix with a spoon and then whisk when the consistency gets looser with the water.
Combine soba and peanut sauce. I like to mix it with my hand because then the noodles don't break. Then mix in the tofu, carrot, cucumber, cilantro, chives and basil.
For each bowl, garnish with few of the avocado strips and peanuts.