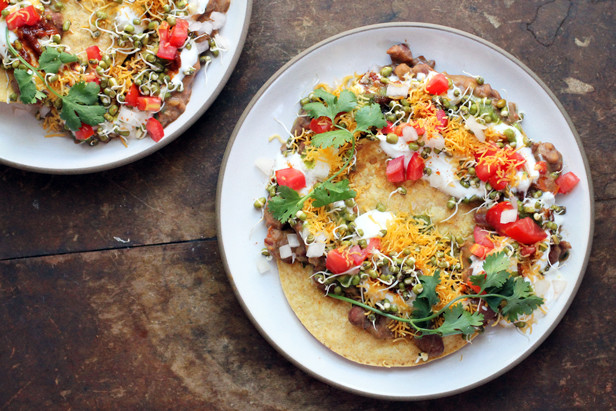 Writing this blog has brought many amazing people into my life including Tara O'Brady, the author and photographer behind the food blog Seven Spoons and the new cookbook of the same name.  I think it was around the time that I launched Brooklyn Delhi, that I first got a message from Tara full of support and congratulations on embarking on the new endeavor.  Having been a huge fan of her work for some time, I was quite flattered to hear from her.  Tara's stunning photography is equally matched with her writing that seems to always draw me in even if I'm just passing by her blog to see what's new.  Similarly, her cookbook has that same magnetic quality to it, full of her favorite recipes inspired by her Indian heritage, Canadian upbringing and taste for international cuisines.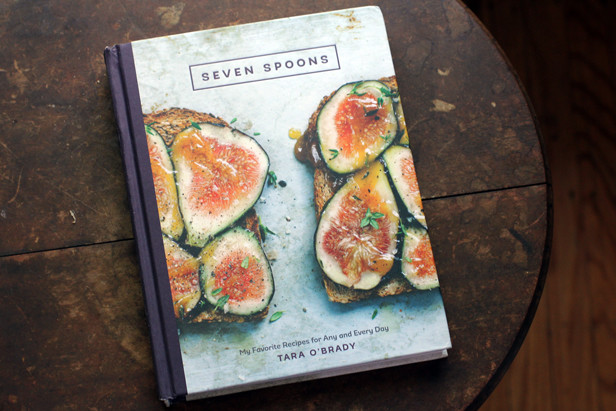 Although we have not met in person as Tara's home is in southern Ontario, we have struck up a friendship from afar.  When I was in the deepest throws of writing and recipe testing for my cookbook, I'd always feel a little less frazzled when I'd receive a note of encouragement from Tara.  And when her cookbook came out, I was ecstatic to get a copy from her in the mail. In return, I sent her a couple bottles of my achaar which she of course put to good use right away.  And so the easy back and forth goes, almost like pen pals.  I'm anxiously awaiting our first meeting in person this November when Tara's book tour arrives in New York.  Until then, I have her beautiful book of recipes to cook from.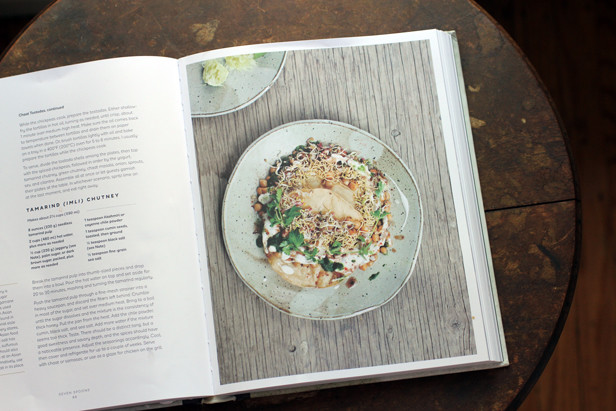 Upon flipping through the cookbook, I zeroed in on Tara's Chaat Tostadas immediately because papri chaat is one of my favorite Indian street foods and years back, I used to run a Mexican-Indian supper club called Masala Loca with my friend Sabra. We had served several varieties of chaat using golgappa or papri chips but never on tostadas – genius idea!  And I don't know how you could go wrong really with chickpea curry, sprouts, yogurt, green apple herb chutney, tamarind chutney and sev (fried chickpea flour strands) on top of a fried corn tortilla, right?  Tara aptly describes the texture and flavor combination of chaat as 'perfectly addicting.'
The thing I love about chaat is that there are a million ways to configure the dish and you never eat the same chaat twice.  In her header notes, Tara gives the idea of piling all of the chaat toppings into a baked potato if you so desire.  Taking a page from her improvisational style, I adapted Tara's recipe for a New York heat wave, produce I received in my Crown Heights Farm Share and what I had in my fridge at the time.  I have left her recipe untouched below, but just added notes where I have subbed in ingredients I had on hand.
Since we were experiencing 90 degree temperatures in Brooklyn last week, I decided to opt for tostadas from the Piaxtla Tortilla Factory in Bushwick so I would not have to fry anything in my already steamy kitchen.  I have included Tara's instructions for frying up corn tortillas for fresh tostadas below, which I will for sure give a try once things cool down here.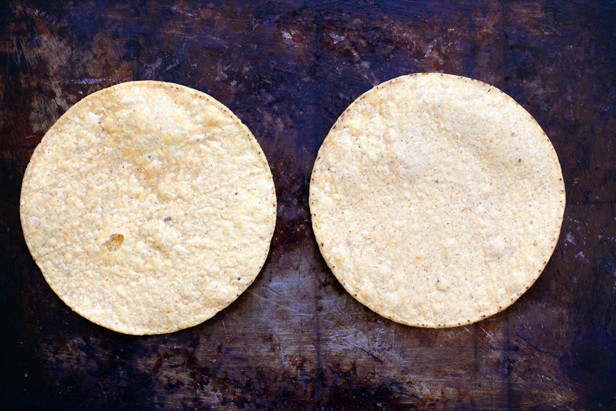 Got a sweet white onion and some cherry and plum tomatoes from Sang Lee Farms in the farm share last week which I diced for garnish on the chaat.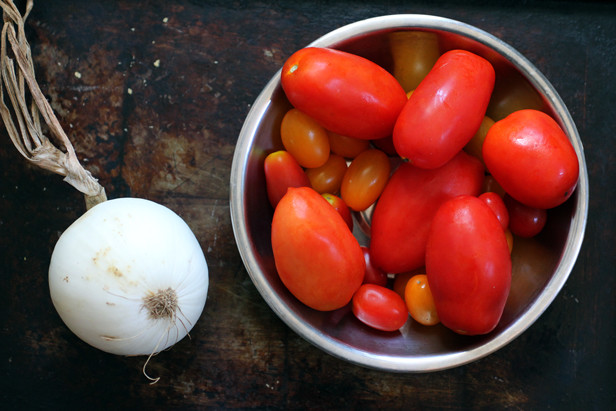 Ben and I have been on a rajma kick so used leftover kidney bean curry (without the spinach) in place of the chickpea curry. Rajma is the Indian equivalent of Mexican refried beans or chili and I often use it for filling in tacos or enchiladas.  I decided to sprout some mung beans at home because my corner bodega was out of sprouts.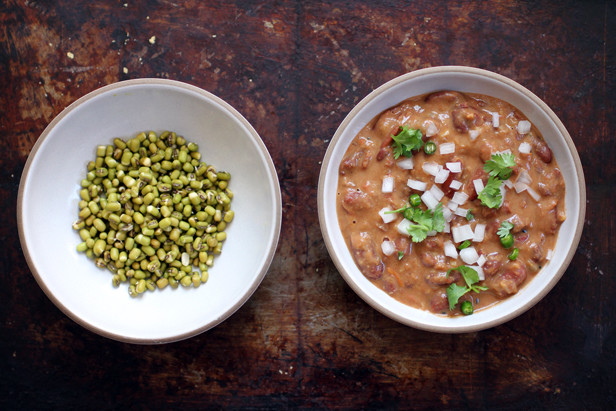 You can soak the mung beans overnight and use them as is or wait another day and you have sprouts. I couldn't wait so I used just the soaked beans the first day and then the sprouts the second day (yes we had chaat tostadas two days in a row!). Here's how to sprout mung beans.  I love Tara's idea of sprouts in this recipe, adds a great texture.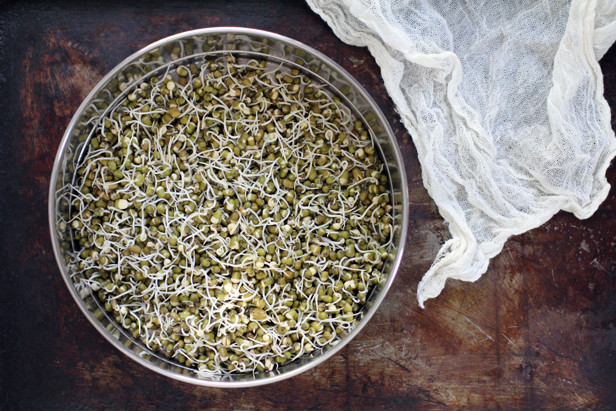 For the chutneys I prepared Tara's Fresh Green Chutney with green apple, cilantro and mint (recipe below) and used a few dabs of my tomato achaar from Brooklyn Delhi in place of tamarind chutney.  I had sev left over from my last Tangra dinner for the crunchy topping.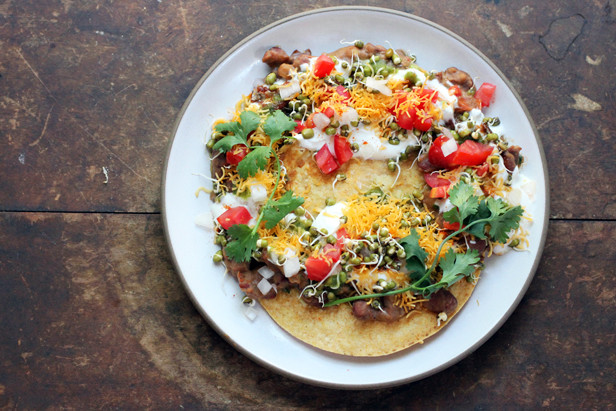 We loved these so much and will definitely be making them again with Tara's chickpea curry next time. Congratulations Tara on your first cookbook (hoping there will be more:). Am excited to cook more recipes out of Seven Spoons and to cheer you on when you arrive in New York!
Chaat Tostadas
recipe courtesy of Seven Spoons by Tara O'Brady
Serves 4
Ingredients
Chickpeas or 1 recipe Kidney Bean Recipe (without spinach)
1/4 cup neutral-tasting oil
2 cloves garlic, peeled and bruised with the side of a knife
1/2 teaspoon cumin seeds
1/4 teaspoon Kashmiri chile powder, or a generous pinch each of sweet paprika and cayenne
2 cups cooked chickpeas, rinsed if canned
To serve
8-12 corn tortillas – can sub in store-bought tostadas
1 cup plain yogurt, Greek-style or regular
2 1/2 cups Tamarind Chutney (recipe below) – can sub in Brooklyn Delhi tomato achaar
1 cup Fresh Green Chutney (recipe below)
Chaat masala, or an equal mix of ground cumin, chili powder (Kashmiri or cayenne), and ground coriander seeds
1 small red onion – can sub in white or yellow onion
A couple handfuls of sprouts (such as alfalfa, mung bean, broccoli, chickpea, or radish) homemade mung beans sprouts recipe
Sev (crips fried Indian noodles; optional)
Leaves from 1 small bunch of cilantro
Lime wedges
Method
To make the chickpeas, pour the oil into a large skillet over medium-high heat. Add the garlic, cumin, and chile powder. Stir until you can smell the spices, 30-60 seconds. Turn the chickpeas through the hot oil until coated. Continue to cook until the chickpeas are crisped, 7-10 minutes. Season well with salt and pepper, then set aside.
While the chickpeas cook, prepare the tostadas. Either shallow-fry the tortillas in hot oil, turning as needed, until crisp, about 1 minute over medium-high heat. Make sure the oil comes back to temperature between tortillas and drain them on paper towels when done. Or, brush tortillas lightly with oil and bake on a tray in a 400 degree Fahrenheit oven for 5-6 minutes. I usually prepare the tortillas while the chickpeas cook.
To serve, divide the tostada shells among the plates, then top with the spiced chickpeas, followed in order by the yogurt, tamarind chutney, green chutney, chaat masala, onions, sprouts, sev and cilantro. Assemble all at once or let guests garnish their plates at the table. In whichever scenario, spritz lime on at the last moment, and eat right away.
Tamarind (Imli) Chutney
recipe courtesy of Seven Spoons by Tara O'Brady
Makes about 2 1/2 cups
Ingredients
8 ounces seedless tamarind pulp
2 cups hot water, plus more as needed
1/2 cup jaggery, palm sugar, or dark brown sugar, packed, plus more as needed
1 teaspoon Kashmiri or cayenne chile powder
1 teaspoon cumin seeds, toasted, then ground
1/2 teaspoon black salt
1/2 teaspoon fine grain sea salt
Method
Break the tamarind pulp into thumb-sized pieces and drop them into a bowl. Pour the hot water on top and set aside for 20-30 minutes, mashing and turning the tamarind regularly.
Push the tamarind pulp through a fine-meshed strainer into a heavy saucepan, and discard the fibers left behind. Crumble in most of the sugar, and set over medium heat. Bring to a boil until the sugar dissolves and the mixture is the consistency of thick honey. Pull the pan from the heat. Add the chile powder, cumin, black salt and sea salt. Add more water if the mixture seems too thick. Taste. There should be a distinct tang, but a good sweetness and savory depth, and the spices should have a noticeable presence. Adjust the seasonings accordingly. Cool, then cover and refrigerate for up to a couple of weeks.
Fresh Green Chutney
recipe courtesy of Seven Spoons by Tara O'Brady
Makes about 1 cup
Ingredients
1 Granny Smith apple
2 teaspoons water
2 teaspoons peeled, grated ginger
2 cloves garlic, peeled and left whole
2 green chiles
1/4 teaspoon natural cane sugar or light brown sugar
1 teaspoon medium-grain kosher salt, plus more as needed
2 big handfuls of fresh cilantro leaves and tender stems, about 1 1/2 cups loosely packed
handful of mint leaves
1 to 2 limes
Method
Core the apple and chop the flesh into small chunks, leaving the peel on. Toss into an upright blender with the water and process until the apples is liquefied. This may take a few minutes of running the machine, stopping and scraping down the sides of the carafe, then running it again. Stop the machine. Scrape down the sides of the blender and add the ginger and garlic. Puree until smooth. Chop the green chilies into chunks and add, with seeds if you like heat, to the blender along with the sugar and salt, then process again. Add the cilantro and the juice from 1 lime, and puree. Scrape down the sides of the carafe, process again. Blend in the mint leaves and taste for seasoning, adding more lime juice or salt as needed.
Use immediately or cover and chill overnight in the fridge, keeping in mind that as the chutney sits its flavor will mellow, and it will lose some of its color.