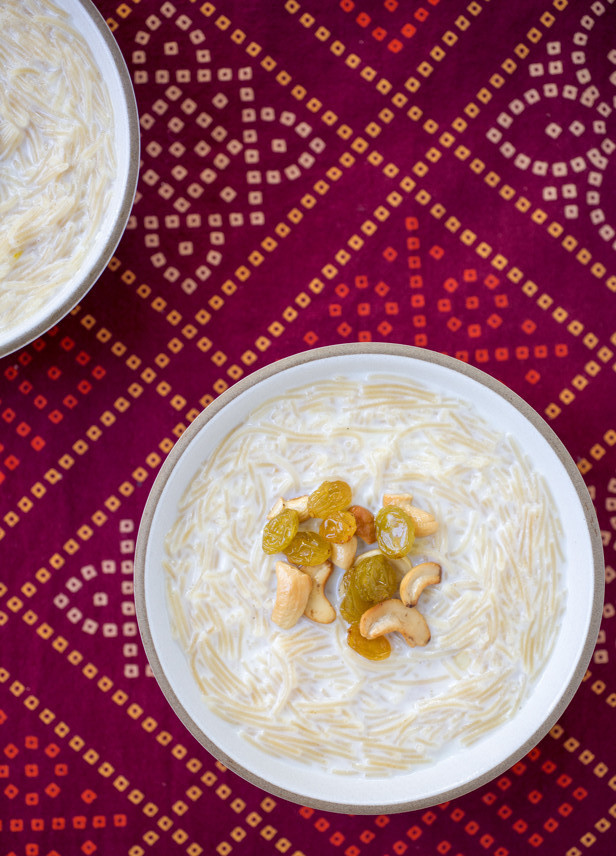 Maybe it's the general uneasiness I've been feeling since the election or that I'm 7 months pregnant, but I have never indulged in sweets to this level in my life. I'm thinking it's a little of both. Recently a good friend of mine and food writer, Cathy Erway asked me, in light of the recent executive order on immigration, if I would take part in contributing my thoughts on immigration to this country through the lens of food.  Cathy invited several food bloggers, journalists, photographers and podcasters to do the same on President's Day this year as a way to collectively celebrate the diversity of America's cuisine thanks to all the immigrants who have made it their home over the course of history. She dubbed the campaign #ImmigrationIsTasty and you can share yours or find more stories like mine on social media using that hashtag.
It's safe to say, I would not be writing this blog or a cookbook or have started Brooklyn Delhi were it not for my parents emigrating to the US from India. Since 2009, my goal has been to convey a bit of my cultural perspective through recipes.  Over the years, I have connected and made friends with other food writers and chefs that share a similar goal to mine and together I believe we are contributing to a cultural and historical body of work that is representative of American diversity in our day and age.  Food is one of the easiest ways to experience and understand a culture; it transcends language barriers and provides history and context effortlessly.  We are of course not the only ones.  It's difficult to ignore the influence of immigration on the restaurants we eat in or the products we buy at the grocery store today.  What once seemed foreign like hummus, sriracha, guacamole and even our beloved pizza and spaghetti to generations past is now part of the fabric of American cuisine.  I don't think there is a more varied or interesting foodscape on the planet and I am excited to see it change and evolve in the years to come.
My parents landed as students in this country in the 60s, right in the middle of the Civil Rights Movement and the Vietnam War.  Oddly, it seems like we are entering a time not so different from then.  I am a believer though that positive change can come from unrest and that America will return to characterize itself once again as a Melting Pot – remember that phrase? I hope we can bring it back!  In celebration of immigration to the US and all of the delicious food that has come our way because of it, I am fittingly sharing my first ever dessert recipe on the blog.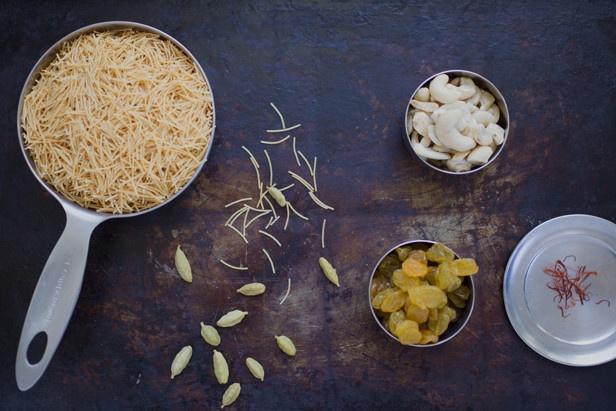 I'm not the biggest fan of Indian desserts but there are a few from my childhood that I hold dear. One of them is shavige payasa or vermicelli noodles in sweet saffron milk topped with fried cashews and yellow raisins.  My mother would make this dessert for us on special occasions or festival days.  I can remember standing by her at the stove as she would fry broken cashews in ghee until golden and then raisins until they just plumped up.  She'd fry a few extra cashews for me to munch on as I waited for her to make the rest of the dessert. They were deliciously buttery and roasted, almost caramelized in their flavor.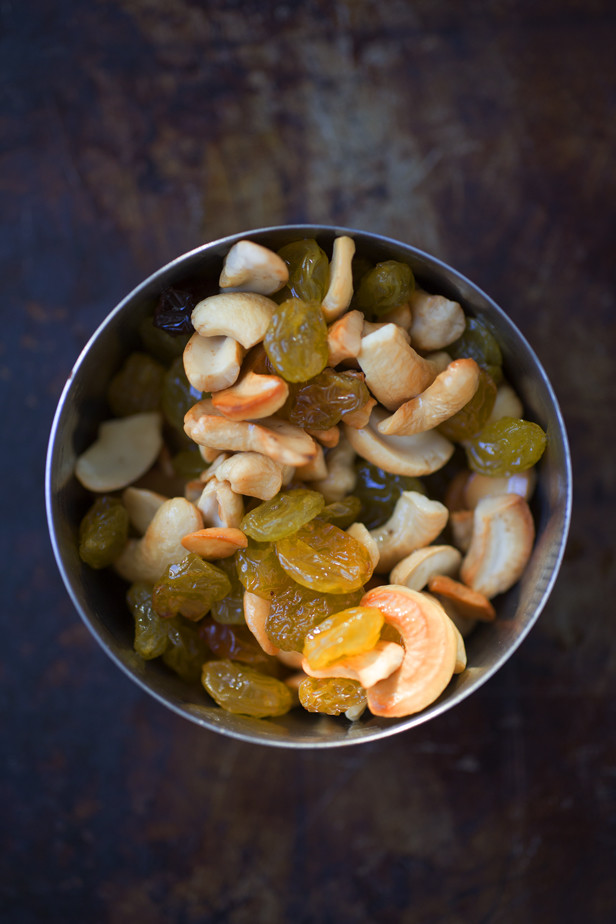 Now when I make this dessert in my home, it transports me back to our old kitchen in New Jersey as I'm sure the recipe took my mother back to her childhood home in Bangalore where my grandmother would make shavige payasa for her. Don't get me wrong making sweets of any kind is a magical experience but making one that has been passed down from generations carries with it all of these other emotions and feelings.  It's a full sensory experience that hits sweet notes in your mouth and memory all at once.  This is just one recipe in homes throughout America that is reflective of our country's rich immigrant culture. I hope you will join me in making or sharing a recipe from your family's heritage using #ImmigrationIsTasty today too!
Below is my mother's recipe for shavige payasa. I hope you enjoy!
Vermicelli Noodles in Sweet Saffron Milk Shavige Payasa

Serves 4
Ingredients
½ tablespoon ghee or unsalted butter + 1 teaspoon
2 tablespoons raw cashews, broken or chopped into large pieces
2 tablespoons yellow raisins
1 cup angel hair pasta or thin rice noodles*, broken into 1 inch pieces
2 cups water
2 cups whole or 2 percent milk
few saffron threads
3-4 tablespoons sugar or to taste
1/8 teaspoon cardamom powder
*In the Indian shops, these noodles will be labeled as vermicelli and may come pre-roasted and broken in small pieces.
Method
In a saucepan on a medium flame, add ½ tablespoon of ghee. When ghee is melted, add in cashews and stir continuously until they start to brown. Quickly add in raisins and stir until they plump up. Turn off heat and transfer cashews and raisins to a bowl to cool.
Add another teaspoon of ghee to the pan and add in the broken up vermicelli noodles. Stir-fry them for about 3 to 4 minutes over a low-medium flame, until they start to turn golden brown. To the pan add 2 cups of water and make sure that all of the noodles are just covered. Bring to a boil. Continue to cook the vermicelli noodles on medium heat until tender, about 3 to 4 minutes for semolina noodles and less if using rice noodles. Add 2 cups of milk to the pan and heat over a medium-high flame. When the milk is warm, crush the saffron threads between your fingers and drop into the milk. When the milk starts to boil, add in sugar and cardamom powder. You can use a whisk to help dissolve the sugar and incorporate the cardamom powder evenly. Next add in fried cashews and raisins, reserving some for garnish. Turn off the heat.
Serve warm or chilled with the leftover cashews and raisins on top. Payasa thickens up after refrigeration so just add more milk to loosen it up again when re-serving it or leave as is if you prefer more a of rice pudding consistency.
Save
Save
Save
Save
Save
Save
Save
Save
Save
Save
Save
Save
Save
Save
Save
Save
Save
Save
Save
Save
Save
Save
Save
Save
Save
Save
Save
Save
Save
Save
Save
Save
Save
Save
Save
Save
Save
Save