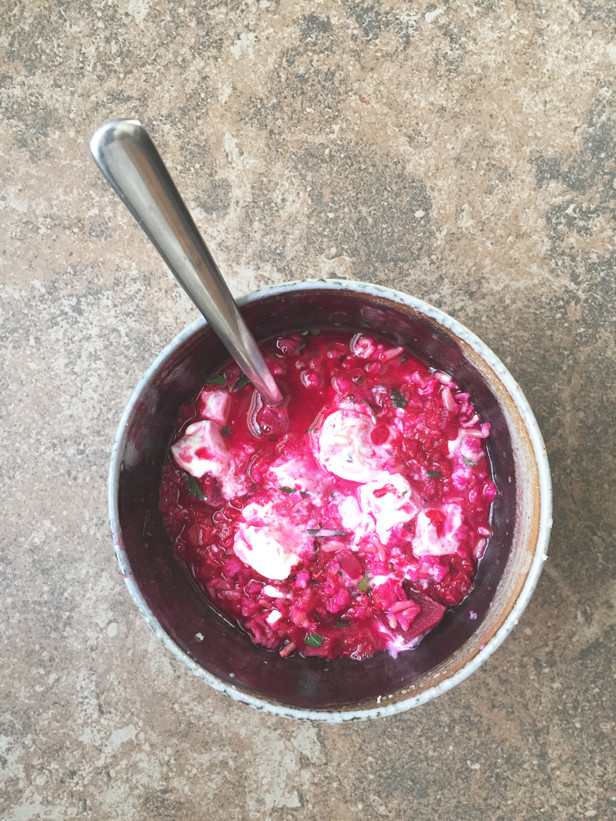 I've shared a number of recipes for rasam, a spicy and sour South Indian lentil soup, on the blog from the traditional tomato one I grew up eating to the roasted squash and coconut milk version inspired by Thai curries. This time, my rasam recipe takes a turn with beets from the Greenmarket.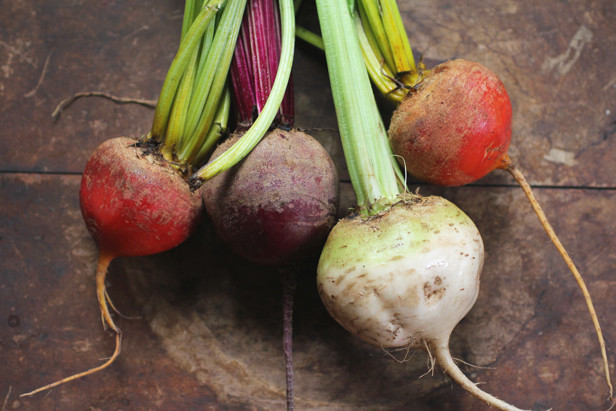 In teaching cooking classes and now writing a book on South Indian recipes, I'm constantly trying to provide students and readers with a number of ways to use Indian ingredients. I know when I buy special items to make a recipe out of a new cookbook, it always irks me to see those same ingredients sitting in my cupboard months later. My goal is that if you do go out and buy rasam powder (made from a blend of roasted spices, red chili peppers and curry leaves) for instance, you'll be able to use it in a variety of ways, whether it be in this recipe or maybe in a greens stir-fry.
The sourness in this rasam comes from lemon and for herbs I had parsley but you can also use cilantro. I served the beet rasam over brown rice with Greek yogurt.
Beet Rasam
serves 4
Ingredients
1/2 cup red lentils
1/4 teaspoon turmeric powder
1 tablespoon sunflower oil
1/2 teaspoon cumin seeds
pinch of asafetida (hing)
1/2 red onion, sliced in half circles
1 beet, peeled & diced
2 teaspoons rasam powder
2-3 tablespoons lemon juice
parsley or cilantro leaves, chopped
salt to taste
Method
Wash lentils thoroughly, using a fine-meshed colander.
Add lentils to a saucepan with 2 cups of water. Bring to a boil. Stay by the stove monitoring the foaming as your pot could quickly boil over if you are not watching. Skim off foam. Mix in turmeric powder. Turn the flame to medium-low, partially cover and simmer for about 25 minutes or until cooked through.
Mix in salt to taste and optionally mash down cooked lentils with a spoon.
While lentils are cooking, heat sunflower oil in a saucepan on medium heat. When oil is hot, add in cumin seeds and asafetida. When the cumin seeds turn a darker shade of brown, add in cut onions. Stir fry until translucent. Add in diced beets and salt. Stir-fry the beets for 30 seconds. Next, add enough water to cover the beets by about 2 inches. Bring the water to a boil and then simmer beets until cooked through, about 30 minutes.
Add the cooked lentils to the cooked beets. Add 1-2 cups of water and rasam powder. The consistency should be a thin soup with the lentils on the bottom. Bring to a boil and then simmer for about 5-6 minutes. Turn off heat and add lemon juice to taste. Add more salt to taste and mix in parsley or cilantro leaves.
Serve plain or over rice with yogurt and hot pickle.