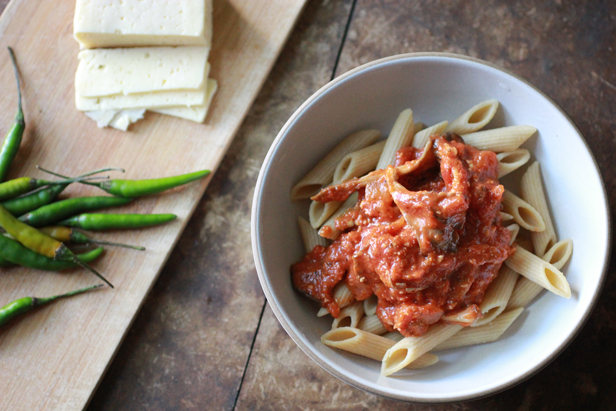 While in Wisconsin for our wedding, Ben's mother found some beautiful Hen-of-the-Woods mushrooms right in their backyard.  This variety of mushroom is usually found in Autumn and is sometimes referred to as maitake (means 'dancing mushrooms in Japanese), sheepshead mushroom or ram's head.  They have a full flavor to them that is rich and kind of woodsy and are known to be extremely nutritious.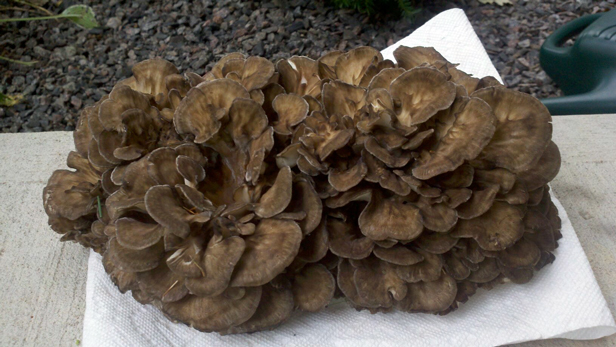 My brother-in-law Eric dehydrated them so we were able to bring them back to Brooklyn to cook with.  If you don't have access to these mushrooms fresh or dried, you can sub in oyster mushrooms, shiitakes or any other mushroom variety that are rich and flavorful.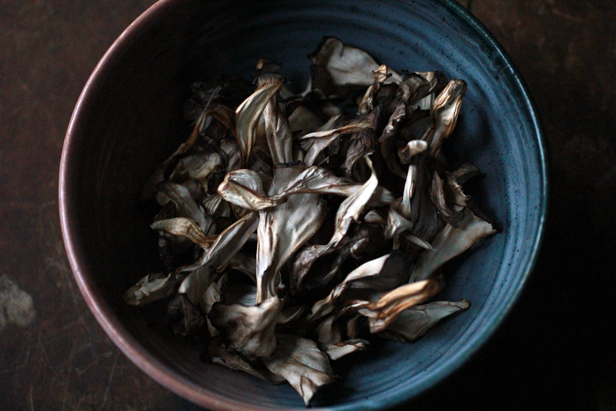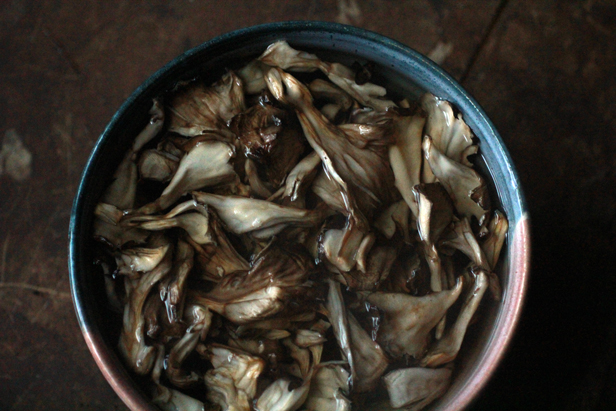 So exciting because this arrival of our dried Hen-of-the-Woods mushrooms coincided with a care package of aged Havarti from Castello which has a sharp and creamy flavor to it.  The two ingredients immediately reminded me of the pasta sauce I grew up eating that was spiked with Indian green chilies. I don't think you can go wrong with mushrooms, cheese and Indian green chilies right?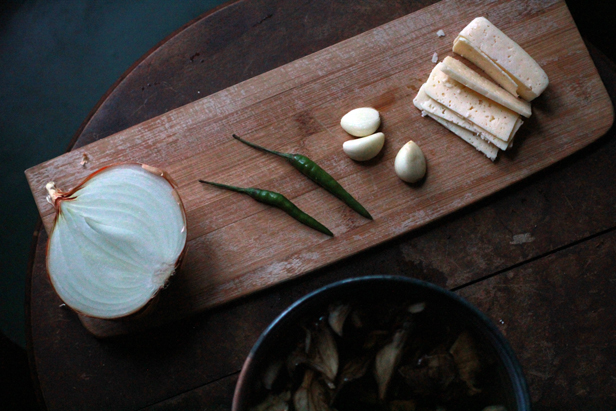 The chill of winter has finally settled in, with heavy coats, scarves and hats now officially out of the storage closet.  There's no better way to ease into the change of seasons than with a giant bowl of spicy and cheesy pasta.  Enjoy!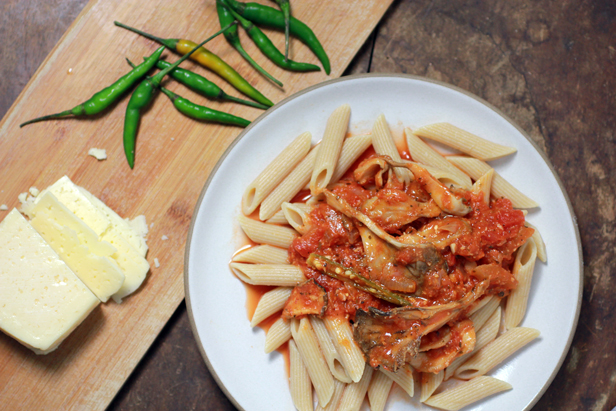 Hen-of-the-Woods, Harvati & Green Chili Pasta
Ingredients
1 lb of whole wheat or regular penne
25 ounces ounces favorite tomato sauce
2 tablespoons olive oil
8 ounces or 2 cups of fresh mushrooms, rinsed or 1 cup dried mushrooms (re-hydrating instructions below)
1/2 onion, chopped
2 Indian green chili peppers (or Serrano, jalapeño), minced
3 cloves garlic, minced
1 cup Castello aged Havarti cheese, shredded
salt and pepper to taste
herbs for garnish (fresh oregano, basil, parsley) – optional
Method
If using dried mushrooms, place in bowl covered with warm water for 10-20 minutes or until soft. Saving the soaking liquid, rinse the soaked mushrooms so there is no grit on them. Strain the soaking liquid of grit using a fine sieve or paper coffee filter. You can chop them into bite-size pieces or leave them if they are on the smaller side.
Boil penne according to package directions. Drain and set aside.
While penne is boiling, heat olive oil in a pan under medium-high heat. When hot add in chopped onion. Fry until translucent, few minutes. Add in the green chili and chopped garlic. Fry until fragrant, a few seconds. Add in the mushrooms and salt to taste and saute for a few minutes. Add in the tomato sauce and 1/2 cup of the mushroom broth*. Heat through and simmer for a few minutes. Add in the cheese and mix well until melted and the sauce thickens a little. Add salt and pepper to taste. Garnish with herbs and serve over penne.
*save the rest of the mushroom broth to use in soups or other sauces