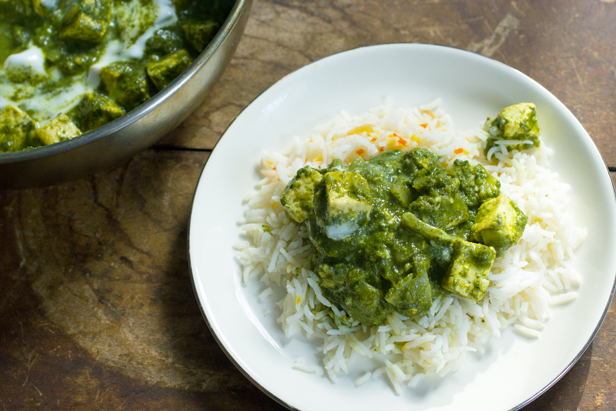 One of my father's signature dishes is his palak paneer, which is the popular dish of spinach and cheese curry served at North Indian restaurants.  I have always been fascinated with how his version is a brilliant color green and so tasty even though he uses no butter or cream in his recipe.  One thing that I've noticed from watching him make this dish several times is that he just simmers his greens in a very small quantity of water that just lines the bottom of the pot.  I like his method because you end up using all of the nutrients from the greens in your curry and it is essential in getting a creamy texture without adding cream. Using his technique for steaming spinach, I developed a recipe for saag paneer.
Many times palak paneer and saag paneer are used interchangeably, but there is a distinct difference. 'Palak' in Hindi means spinach, while 'saag' means greens and usually refers to a dish made with a combination of greens like mustard greens, fenugreek leaves, bathau (sometimes referred to as lambs quarters) and spinach.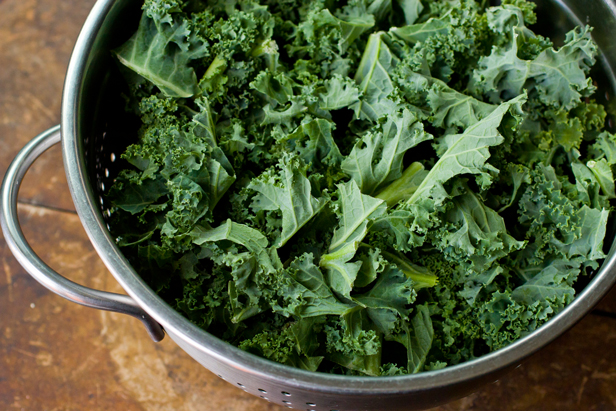 In the past, I've used mustard greens, which come out greener I realize, but this time I used kale, spinach and dried fenugreek leaves.
I feel that adding some spinach mellows out the flavor and texture of the kale: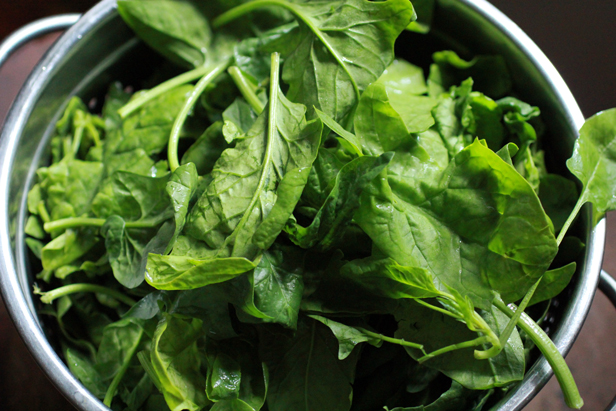 These are the dried fenugreek leaves I used at the very end, which are optional if you don't have.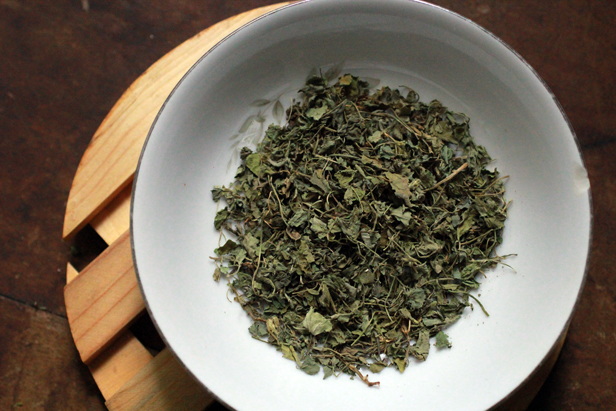 To make the dish healthier, instead of paneer, I used tofu that I lightly browned in a pan.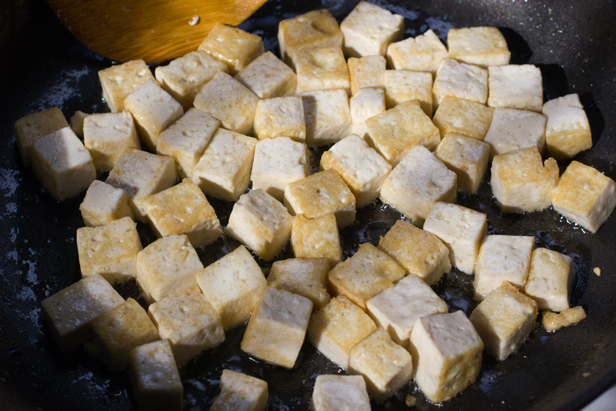 I couldn't resist adding some yogurt at the end because I love the stuff. It's a healthier alternative than cream, but I won't judge if you go decadent:)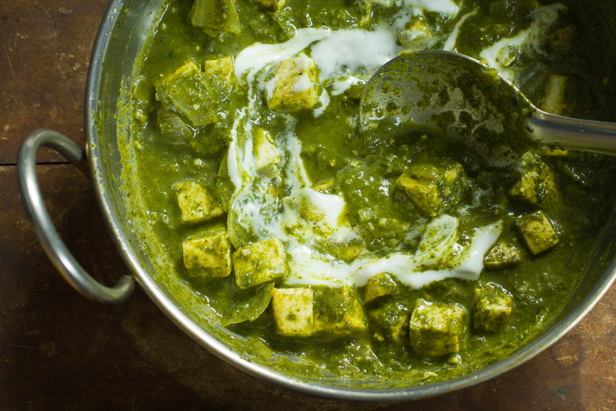 At the time when I was developing this recipe, I was also invited by McCormick, the spice company to help celebrate their 125th anniversary of bringing spice blends from all over the world to home cooks in the US.  They sent me these lovely spices from their collection to experiment with.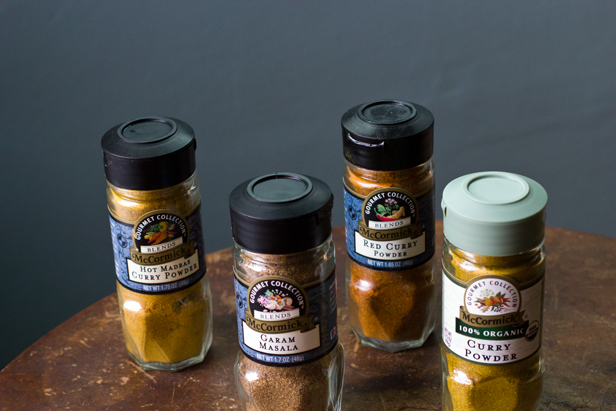 As part of their anniversary, they are also donating $1, up to $1.25 million to United Way to help feed those in need for every 'flavor story'  or comment about what flavors have been most profound for you in your life shared at their website or on their social channels.  I like this concept because on The ABCD's of Cooking, I've really enjoyed telling my family's story through the recipes that have been passed down from generations past.
McCormick is also offering my readers a chance to a win a McCormick Anniversary Pack, which includes exclusive McCormick Anniversary Edition product (both black pepper and vanilla extract – not available in stores), a McCormick recipe book and a branded canvas tote – all valued at $50.  All you have to do is comment on this post with the hashtag #flavorstory and share what a certain flavor represents for you or a memory relating to a flavor that is significant to you.
In my recipe, I used McCormick's garam masala and curry powder, along with fresh ginger, green chilies and garlic.  My saag 'paneer' tofu goes perfectly with basmati rice or roti.
Thanks to McCormick for providing the spices for the recipe and giveaway for my readers. Don't forget to comment below using #flavorstory to be entered to win.
 This giveaway is now closed and our winner has been notified. Congrats Jennifer Piejko!
Saag 'Paneer' Tofu
Ingredients
3 tablespoon ghee or canola, safflower or grape seed oil + 2 teaspoons for frying tofu
2 packed cups chopped kale
2 packed cups baby spinach
12 oz extra firm tofu, cubed
1 medium onion, diced
4 garlic cloves, minced
1 inch ginger piece, grated
2-3 Thai green chilies (can use serrano chilies, 1 jalapeño), chopped fine & to taste
1/2 teaspoon McCormick garam masala + more for sprinkling on top at end
2 teaspoons McCormick curry powder
1 teaspoon cumin powder
1/4 teaspoon paprika
1 teaspoon dried fenugreek leaves (optional)
2-3 tablespoons whole milk yogurt or cream
lemon wedges (optional)
cilantro for garnish
Method
In a non-stick frying pan under medium heat, place 2 teaspoons of oil and the tofu cubes. Cook the tofu for about 15 minutes until browned, stirring from time to time so they do not overcook. If the tofu is cooking too fast, turn the heat to medium-low. Line a bowl with a paper towl and put the browned tofu on top.  Lightly salt your tofu.
Fill a pot with the chopped kale and just line the bottom with water (should not be submerged). Bring to boil and then turn to low and cover. After five minutes, add in the spinach and cover. Check at 15 minutes and greens should be still green and become soft. At this point, take the greens and put them in a blender. If there is excess water, save it on the side to help your blending. Puree your greens with enough of the boiling water to become a smooth paste. Add more water if needed.
In a pan or wok, heat ghee or oil under medium heat. Add in onions and cook until translucent. Mix in your ginger, garlic and green chillies and fry for 30 seconds. Next add in the garam masala, curry powder, cumin powder and paprika. Mix well and then add your spinach puree and salt to taste. Add about 1/2 cup of water (if you have greens boiling water from before use that) and bring to a boil, simmer for 15 minutes. You may add more water depending on the consistency you are going for. Add your dried fenugreek leaves and cook for a couple minutes. Add your fried tofu and mix well. Cook for a couple minutes.
Turn off heat and mix in 2 tablespoons of yogurt or cream (may use less). Serve with another tablespoon of yogurt swirled in, sprinkle of garam masala & cilantro on top and lemon wedges on the side. Goes perfectly with plain basmati rice or roti/naan.