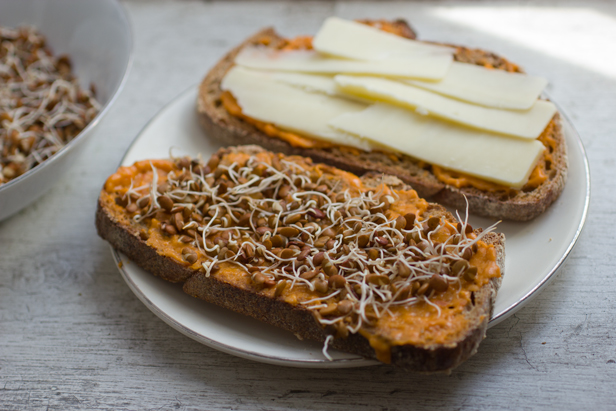 I know I know, horse gram sprouts do not sound appealing. As the name implies, these beans are actually used as cattle and horse feed, but they are also super tasty and extremely nutritious for you.   In South India, they are used to make a number of dishes and in Kannada they are referred to as 'hurali.' They can be sprouted really easily and used in salads like usali or soupy dishes like sambar and saaru.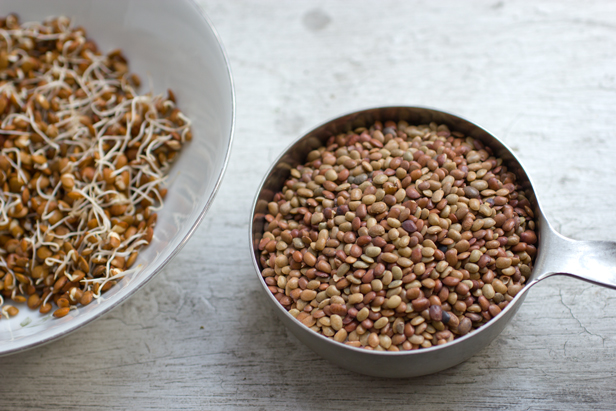 Horse gram also is great to eat in the winter and I actually have been breaking it out quite a bit during days plagued by the 'Polar Vortex.'  Not only do these sprouts have a ton of iron and help with weight loss, but they also are believed to warm your body up.
The sandwich recipe I'm going to share with you is one that I pulled together for lunch one day with sprouts I had in my refrigerator, and ended up pulling together a few lunches in a row after that. Thus, I deemed it worthy for the world to see:)  It's so easy, I feel ridiculous giving a recipe for it, but it's just toasted whole wheat bread with sun-dried tomato hummus, sharp cheddar and sprouted horse gram.  If you don't have this particular hummus, you can always just use plain hummus and cut a fresh tomato for the sandwich.
The great thing about sprouting these horse gram is that you can use it in a variety of ways and in this form it is more easily digested. After my last horse gram sandwich of the week, I ended up throwing the leftovers sprouts into a lentil soup I was making. It adds great texture and substance to stewy recipes.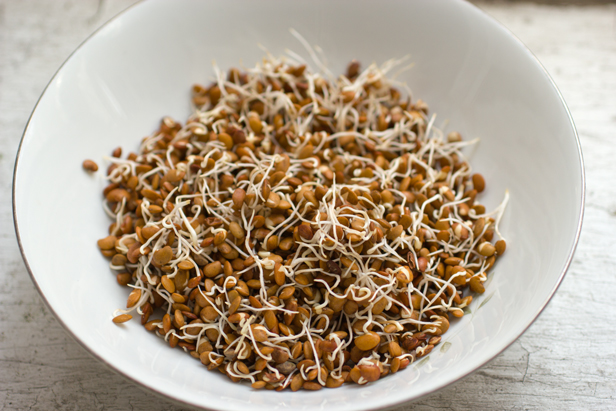 First, before we get to the recipe though, I'd like to comment a bit on the state of sprouts in the market today.  When I see those plastic containers of alfalfa sprouts lined up at the grocery store, makes me wonder why those are the sprouts that are most often used. There is a whole world out there of sprouts that most people don't even know about. Did you know you could sprout most any bean?  I've written about my love of sprouting mung bean (moong gram) before.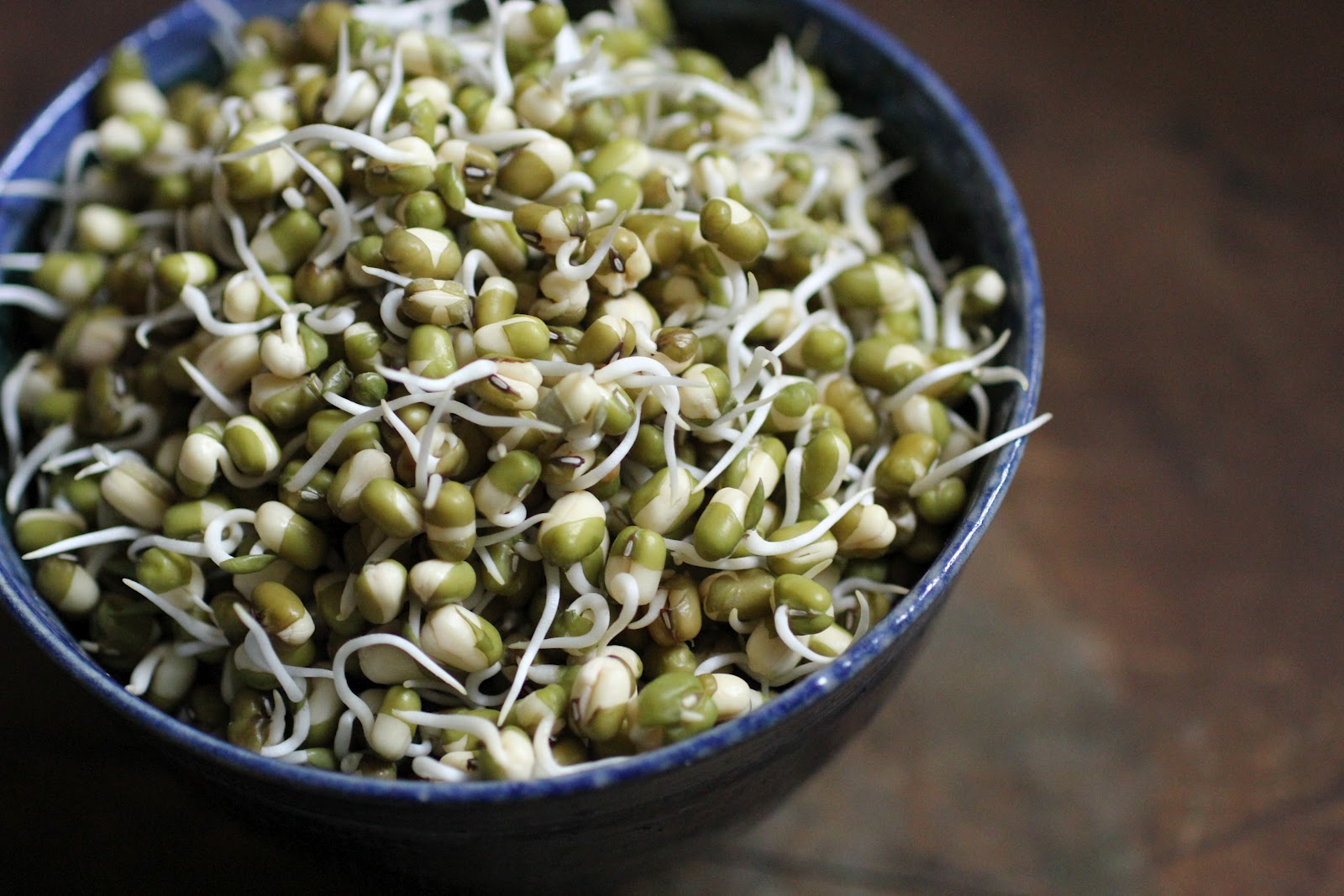 You actually sprout horse gram in the same way by soaking it, drying it and germinating it in a spot out of sunlight (I use my oven with the light on).  Although it does take time to sprout beans, it's quite passive on your part because the beans really do all the work.  I try to get beans germinating a few times a month and just keep them around to throw into different dishes for added nutrition and protein.
I hope next time when you grab for those boring alfalfa sprouts for your salad or sandwich, you'll think about subbing in my friend the neglected horse gram:)
Horse Gram Sprouts, Cheddar & Hummus Sandwich
Ingredients
2 slices whole wheat or whole grain bread, toasted
hummus (sundried tomato or roasted red pepper)
tomato (optional if you are using plain hummus)
sharp cheddar cheese, sliced
horse gram sprouts*
Method
Spread each piece of toast generously with hummus. Layer horse gram sprouts and then cheddar slices on top of one toast. Place the other toast on top.
*Directions for sprouting your horse gram:
Rinse 1 cup of horse gram.
Cover horse gram with water in a bowl overnight.
The next morning drain your horse gram and let it sit in a colander to dry (can leave it there while you go to work). It's ok if the beans are not completely dry because you need moisture for sprouting.
Place it in a dish covered with a lid or cheese cloth in your oven with the light on.
You should see sprouts the next morning and you can leave it in longer for longer sprouts, but just make sure to monitor that the beans still have some moisture. Can sprinkle a little water on top if they are dry.
When fully sprouted (1-2 days), you can store your sprouts in the refrigerator in an airtight dish.