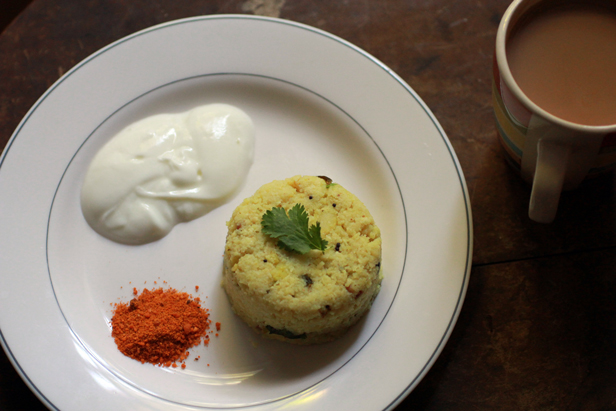 Upma is not another name for Wheaties if that's what you were thinking;) It's a savory South Indian breakfast made from cream of wheat (semolina) or labeled as 'sooji' or 'rawa' in the Indian store. Upma is also referred to as 'uppittu' in Kannada and translates as 'uppu' meaning salt and 'hittu' meaning flour.  For me, upma is a comfort food and reminds me of my family being together on weekends growing up because my mother would prepare it when she had more time to cook in the morning.  She would alternate making upma with other savory breakfast favorites like dosa, idli, poha on these days…which I'll tell you about another day.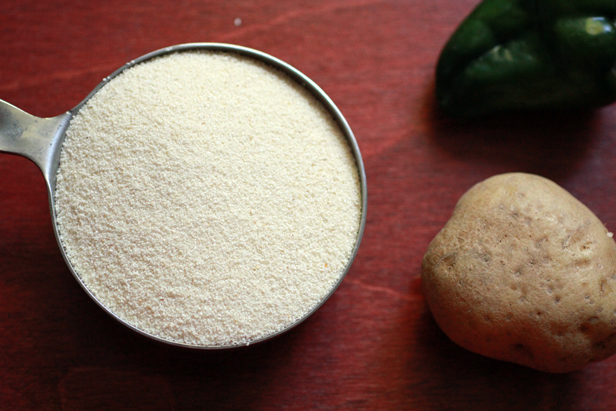 We usually serve upma with plain yogurt and 'chutney pudi,' which translates into chutney powder. My mother makes her own chutney pudi from grinding down spices and coconut that she often dries on our roof in Bangalore. It has a spicy and sweet flavor that complements most every dish. My father who comes from North India never ate chutney pudi before he met my mother.  The man loves the stuff and even puts it on his pizza to my mother's chagrin. You can also buy chutney pudi in Indian stores.
In our house, upma is most often made with different vegetables like potatoes, green pepper, onions, grated carrot, peas, lima beans or tomatoes.  You can also add nuts like cashews to the mix. In India, my mother's favorite is with the flat bean called avarekai, which kind of reminds me of a cross between lima beans and edamame.  Avarekai comes skinned in the markets in Bangalore and is found in abundance during late Dec and January: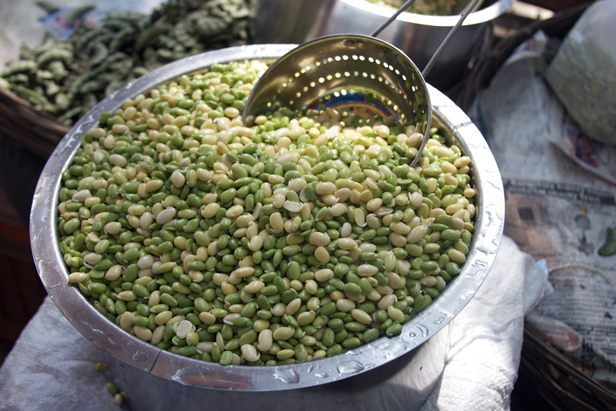 In Brooklyn, I don't have access to avarekai, but I do have potatoes and lots of them so I made my upma with one of those, green pepper and onion: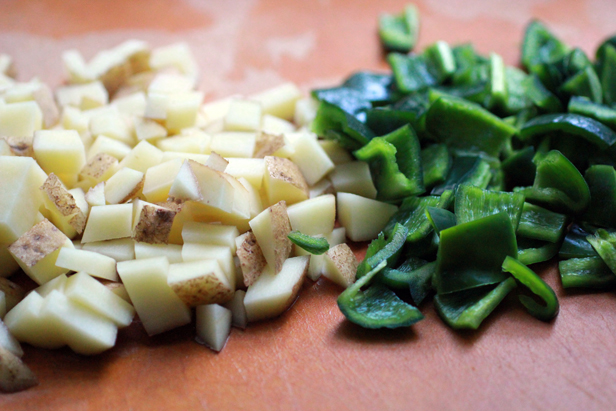 In restaurants upma is served in the shape of a katori or small bowl mold like I have photographed above – my first time making it like that! It's quite easy to do and is great for presentation if you are serving it to guests.  Upma is flavored with black mustard seeds, curry leaves, coconut and lemon.  If you don't have cream of wheat or sooji, I'm sure couscous or quinoa would also do the trick.  My recipe below is adapted from my mother's.
I'm always on the lookout for more savory breakfasts. What's your favorite?
Upma with Potatoes and Green Peppers
Ingredients
1 cup sooji or cream of wheat (semolina)
1 teaspoon + 2 tablespoons oil (corn, peanut or sunflower is best)
1/2 teaspoon black mustard seeds
1 teaspoon urad dal
1 teaspoon channa dal
4 fresh curry leaves
1/2 teaspoon turmeric powder
1 small onion, chopped
1/2 teaspoon, grated ginger
2 green chillies
1 bell pepper, chopped
1 potato, small cubes
3 tablespoons fresh grated coconut
2 1/2 cups water
1 tablespoon lemon juice
cilantro for garnish
Method
In a wok, heat 1 teaspoon of oil. Add 1 cup of cream of wheat or sooji and fry on low to medium heat until it is light brown. Mix the sooji around so that is gets processed evenly.  This will take about 5 minutes or so.  Turn off the heat and put the sooji aside on a plate.
In the wok, heat 2 tablespoons of oil. Add in your black mustard seeds, urad dal and chana dal and turn the heat to medium. When the dal turns golden and the black mustard seeds are popping, add in the curry leaves, grated ginger and green chillies. Mix around well for a few seconds and then add in your chopped onion, green pepper and turmeric powder. Mix it well and after 2 minutes mix in the potato cubes and salt.  When the potatoes are cooked, add in the water and bring to a boil.
Similar to making polenta, lower the flame and add in the roasted sooji little by little stirring all the while so you don't get lumps.  Add in the coconut and continue to stir for 4-5 minutes while its simmering until the water is absorbed and the sooji is cooked.  (During this process if it's looking dry, add a bit more water.)   Turn off the heat and add lemon juice and cilantro leaves.
Serve hot with plain yogurt or a nice pat of butter and chutney pudi or anything spicy!
*If you want to serve as a mold, just pack upma in a katori (Indian stainless steel bowl) or ramekin and turn upside down on a plate.