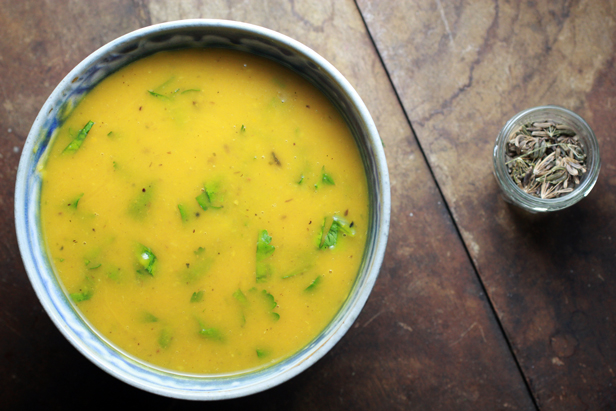 Roasting butternut squash is one of my most favorite wintertime activities, not only because my apartment is a bit lacking in heat but also because I am totally lazy when it comes to skinning a butternut squash. Roasting, I've found is the easiest way to not have to deal with that whole mess. I just cut my butternut squash into half or quarters and throw them in the oven. Two problems solved – my apartment gets warm and I don't have to obsess over how much squash I'm wasting by clumsily skinning it!
My process for roasting is simple. I just cut the squash into half or quarters, depending on how large it is, dig out the seeds, and put them face down onto an oiled baking sheet for about 30 minutes at 400 degrees.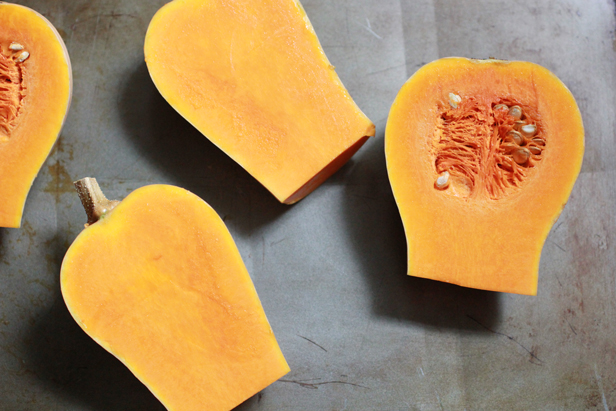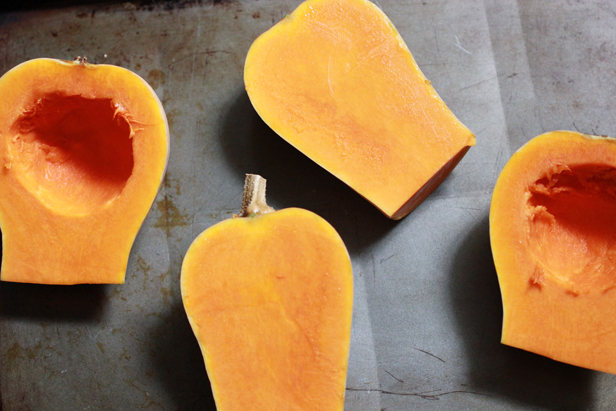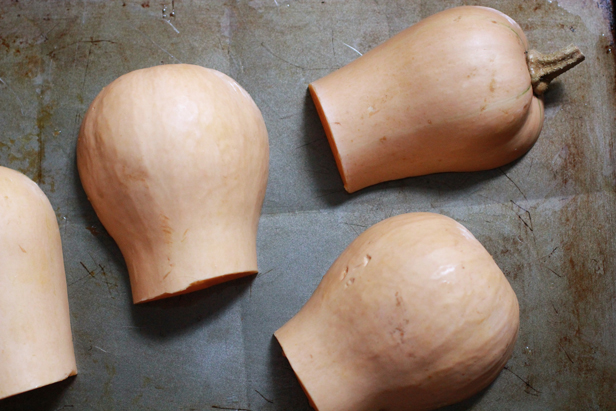 This last summer, I got to attend Eat Retreat where there was a food swap with everyone that came. I traded my first bottles of Brooklyn Delhi tomato achaar for all sorts of really great things. One of those were fennel seeds from my friend Will's backyard.  A lot of times you will see fennel seeds at Indian restaurants offered at the end of the meal because they help with digestion.  When I make a soup with fennel seeds though, I like to toast and grind them because they get a little chewy if left whole.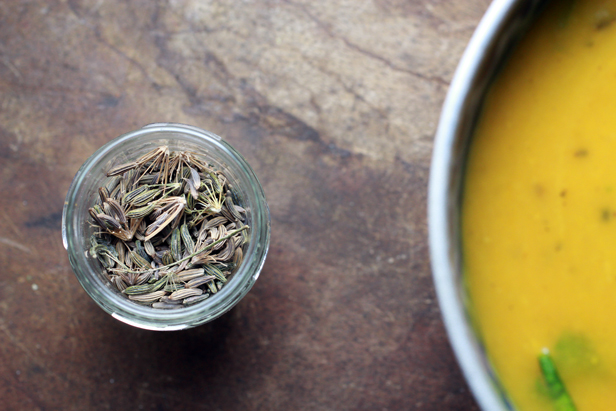 On the way out from the camp, I also got a grip load of really young ginger too. The first time I made this soup was with this ginger.  It was so fresh and pure and so easy to work with, with none of that skin to peel (I'm sure you are sensing a theme here;).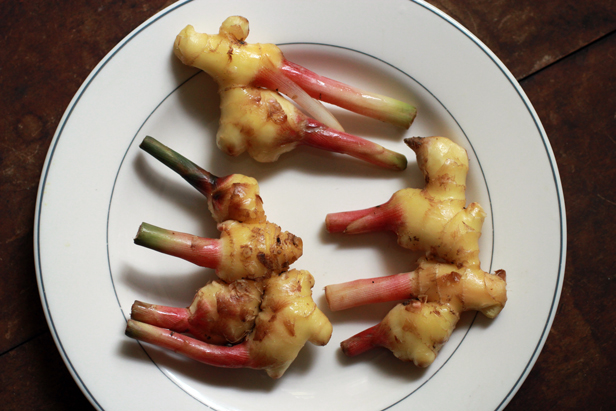 I love this soup because it has an earthy sweetness to it from the squash and fennel seeds that's balanced with ginger and the heat of the chili powder.  It goes well with a dollop of Greek yogurt and a crusty piece of bread. I hope you enjoy and are staying warm!
Roasted Butternut Squash Soup with Ginger & Fennel Seeds
Ingredients
1 butternut squash
6 cups of water or stock
1 teaspoon fennel seeds
2 tablespoons ghee, butter or vegetable oil + 1 teaspoon
1 medium onion, diced
1 tablespoon grated ginger
2 cloves garlic, minced
1 teaspoon cumin seeds
1/3 teaspoon turmeric
1/3 teaspoon red chili powder (or to taste)
1 teaspoon brown sugar
1 tablespoon lemon juice
salt and pepper to taste
cilantro for garnish, chopped
dollop of Greek yogurt (optional)
Method
To roast the squash: Preheat oven to 400 degrees fahrenheit. Cut butternut squash in half and remove the seeds and stringy stuff. Put a tablespoon of oil on a baking sheet and then place the squash pieces face down on the sheet. Move them around on the sheet so that they are all coated with oil evenly. Cook the squash for about 25-30 minutes, or until they are soft to the touch of a fork.
Scoop out the inside of the squash and set aside.
In a pan toast fennel seeds for about 2 minutes until fragrant and lightly browned. Pound in a mortar or grind in a spice grinder – I use an extra coffee grinder.
In a pot, heat ghee, butter or vegetable oil under medium heat. Add in onions. When they start to turn translucent, mix in the fennel seed powder, turmeric and red chili powder. Then mix in the ginger and garlic and fry for 30 seconds.
Add the roasted butternut squash and mix well. Add in 6 cups of water or stock, salt and bring to a boil. Simmer the soup for 20 minutes. Mix in sugar and puree the soup. At this point, you may add more water if you want a thinner consistency.
In a little pot, heat 1 teaspoon of ghee, butter or oil under medium-high heat. Add in cumin seeds. When they start to crackle after a few seconds pour them over the soup. Add lemon juice and salt and pepper to taste. Garnish the soup with chopped cilantro.
Serve with a dollop of Greek yogurt and crusty bread.