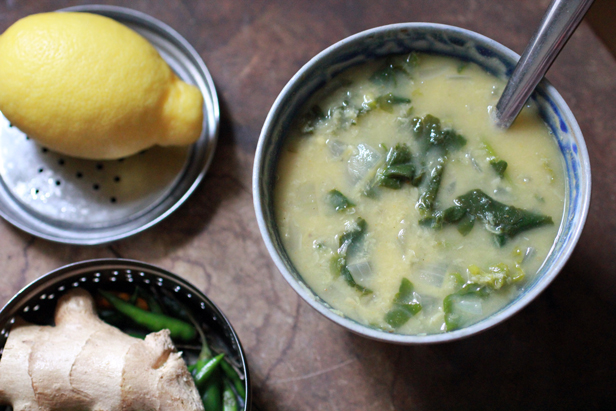 My comfort soup is a South Indian lentil soup called thove. It reminds me of Japanese miso soup in that it has that same foggy quality to it, but yet is substantial and always makes me feel better. Thove is actually not pronounced the way it is spelled but the closest approximation I can come up with is this: tho-way. I make my thove from moong dal, also referred to as split yellow gram, yellow dal or yellow lentils. It is basically a mung bean with its green skin removed and split in half. This makes for a quicker cooking time and when boiled, this dal comes apart easily.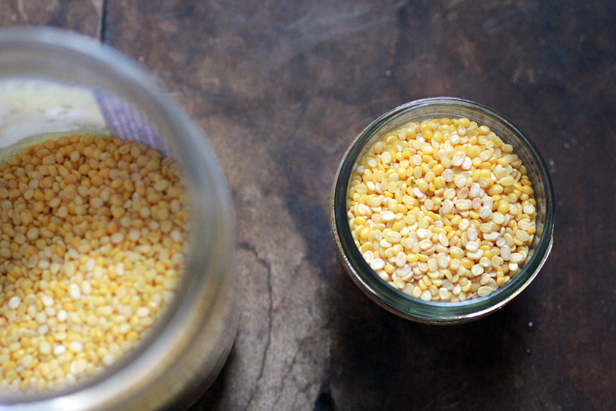 In every household, thove is prepared a little differently and can even vary with the type of dal used – some use moong dal while others may use toor dal. In the North, cumin seeds are used and in the South, black mustard seeds flavor the soup. I make a variation of my mother's recipe usually with green chilies, curry leaves, ginger, turmeric and lemon.  The soup has virtually no oil – just 2 teaspoons that you add at the end when you temper black mustard seeds and I also add onion at this point and even some garlic if I have it.
This soup traditionally is made with tomatoes in some homes or spinach, which I incorporate if I have either on hand. I've had the soup made with snake gourd and other watery Indian squashes – zucchini would be a good sub in if you want to add squash. This time I had spinach so I threw that in to the pot: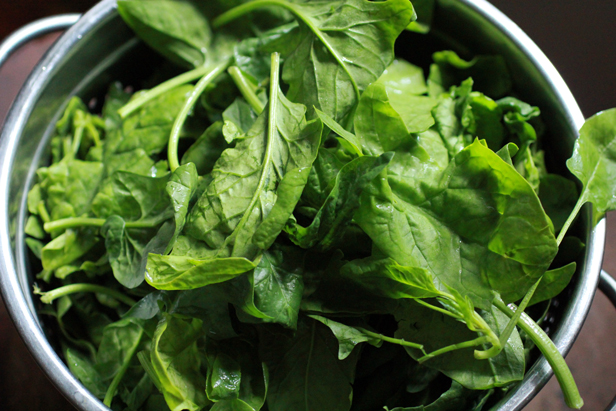 It's the perfect soup for when you are short on time or when you are feeling a bit under the weather because it's quick to make and it has ingredients that help combat illness like turmeric and ginger.  I usually eat it with basmati rice, some yogurt and a little achaar or uppinakayi on top.  It's great as a plain soup as well.
What's your comfort soup?
Thove
Ingredients
1 cup moong dal (yellow lentils)
6 cups water
1/3 teaspoon turmeric powder
6 curry leaves
*2 small green chilies, chopped (depending on heat and can use jalapeño as a substitute)
1 inch ginger, grated
2 cups chopped spinach or 1 chopped tomato (optional)
chopped cilantro for garnish
juice of half a lemon (could use more depending on how juicy your lemon is)
salt to taste
For tempering
2 teaspoons oil
pinch of hing or asafetida
1/2 teaspoon of black mustard seeds
1 chopped green chili or broken in half dried red chili (if you want more heat)
2 curry leaves (optional)
1/2 small onion chopped
1 clove garlic crushed (optional)
*You can choose to fry these green chillies in oil later with other spices.
Method
Wash your lentils very well in a fine meshed colander. Drop them in a pot with 6 cups water and turn the heat to medium. The lentils will start to foam so skim the top off until the water is bubbling clear. Add turmeric, curry leaves, chopped green chillies, ginger, tomato (if using) and salt. Cook until lentils are soft and fall apart, about 30 minutes. At this point, gage whether you want to add more water for more liquidy soup or a thicker one. Continue to cook. At this point, you can add in spinach or squash if you are using those veggies. Cook them until tender or soft. Turn off the heat.
In a small pan, heat oil under medium heat. When hot add hing or asafetida and black mustard seeds. When the mustard seeds start to pop, add in chilies and curry leaves if using. Coat them in oil and then add in the chopped onion. Fry until onion is translucent. Mix in garlic if using and fry for 20 seconds or until fragrant.
Pour the flavored oil over the soup and mix. Squeeze lemon juice into the soup. Add salt to taste and garnish with chopped cilantro.