Yams have pretty much stayed on the lowest rung of my list of favorite vegetables until I discovered the gateway to yam heaven – latkes!  Latkes are shredded potato pancakes usually made around the time of the Jewish holiday Hanukkah, which is coming up and actually coincides with Thanksgiving this year.  I guess unknowingly I came up with a 'Thanksgivukkah' recipe by making latkes out of yams, a popular Thanksgiving menu item usually paired with marshmallows.  And this is how it all began…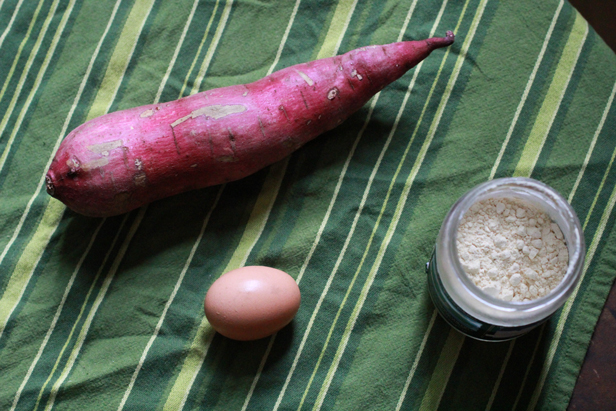 I love the original latkes recipe, but I was forced to get creative when I picked up some yams at the local market mistakenly.  In the store, they were labeled as sweet potatoes. I don't know why I believed the sign because clearly they didn't look like sweet potatoes. Upon cutting into the first one, I realized the flesh was white, which led me on a long journey on the Internet all about the difference between yams and sweet potatoes. Apparently, mislabeling and confusion about sweet potatoes and yams is rampant across the nation and people are up in arms about it….
Anyway, instead of lamenting about all of the yams I bought and didn't know how to cook – mine were Japanese purple yams I found out – I figured I couldn't go wrong with making them into latkes spiked with Kashmiri mirch, a mild and sweet Indian chili powder that resembles paprika.  Kashmiri mirch is bright red and provides the coloring for a lot of popular Indian dishes like tandoori chicken.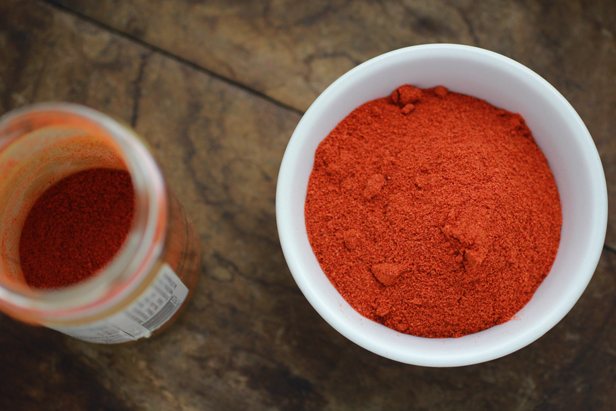 In this recipe, you can definitely use paprika if you don't have Kashmiri mirch or the other similar mild Indian red chili powder, deggi mirch.  Any of these chili powders will do the trick to make your yam latkes sweet and spicy.  I also used chickpea flour, which is usually what is used to batter fried foods in Indian cooking, but you can use all-purpose flour if that's what you have.
I served them with a dip I made of Greek yogurt, dill and lemon and a salad with my tomato achaar (part of my new condiments line Brooklyn Delhi coming soon!!) whisked into a tahini dressing.  I hope you enjoy!
Spicy and Sweet Yam Latkes
Ingredients
1 large yam (3/4 pound)
2 tablespoons oil
1 egg, beaten
1 tablespoon plain yogurt (Greek is what I used but I'm sure regular is fine)
1 tablespoon chickpea or all-purpose flour
1/2 teaspoon Kashmiri mirch, paprika or deggi mirch (more if you like hotter)
1/2 teaspoon cumin
1 tablespoon cilantro, chopped
salt & pepper to taste
Method
Peel your yam and grate it into a bowl. If there is moisture in your yams you can squeeze out with a cheese cloth. To the yams, add in your beaten egg, plain yogurt, Kashmiri mirch, cumin, salt and pepper. Next add in the chickpea flour – add more if you like your latkes more cakey and less if you like them a bit more hashy.
Place a plate lined with a paper towel on the side of the stove. Coat a non stick frying pan with oil under medium heat. When the oil is heated, put heaping teaspoons of the latke batter in the pan and flatten with your spatula. Make sure that your latkes comfortably fit in the pan because you will be flipping them. Cook until golden brown on bottom (1-2 minutes) and flip and cook until golden brown on the other side (1-2 minutes). Place the cooked latkes on the plate with the paper towel. Repeat for the remainder of your latke batter and add more oil as needed to the pan.