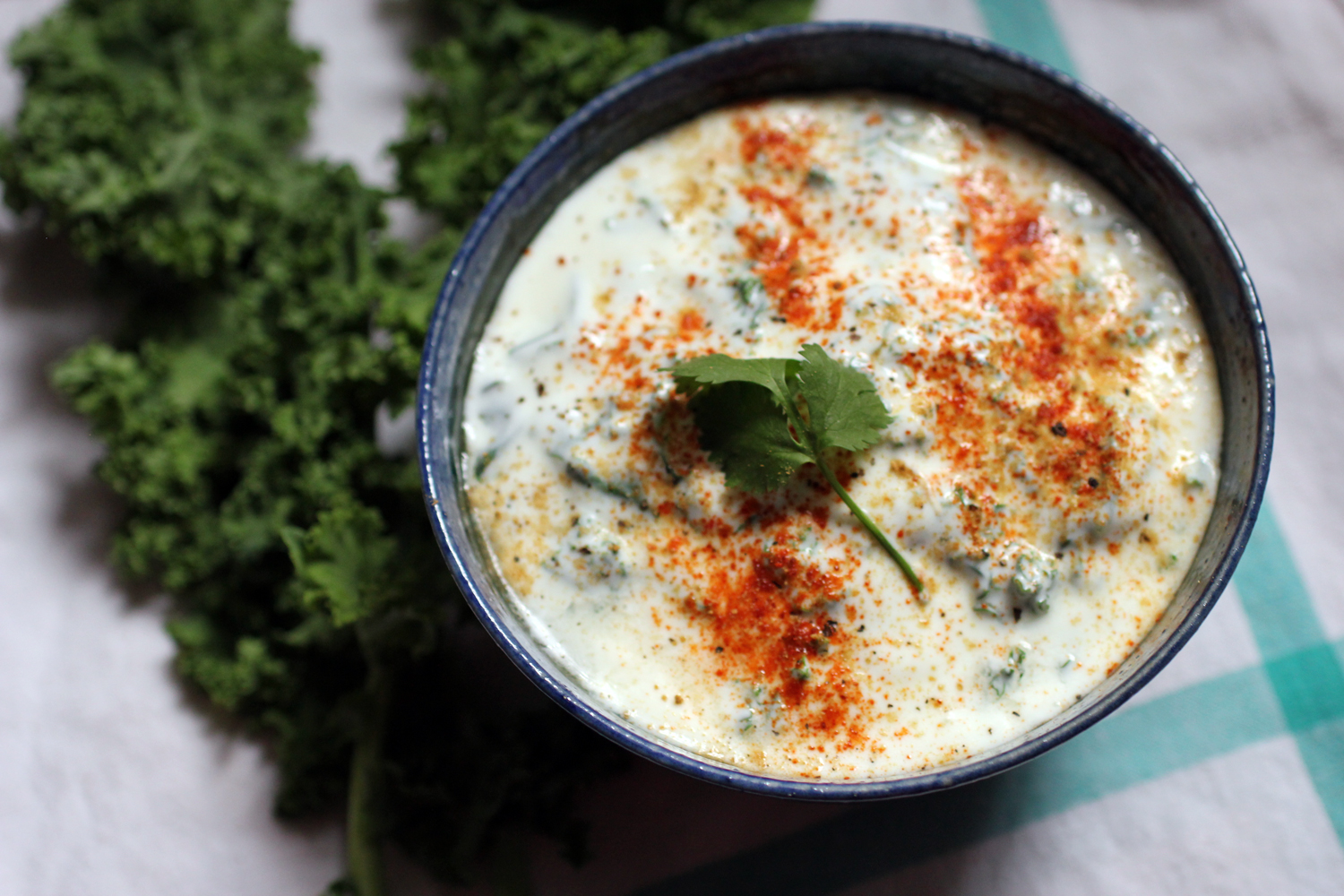 I don't know why I didn't think of this recipe sooner because I love spinach yogurt raita so much, which is a similar idea. Traditionally, yogurt raita is served as a side to go along with rice, bread, curry or lentils and helps to cool things down if there is a lot of spicy dishes.  It's one of those recipes that you can really be creative with as far as the vegetables you mix into to it. The most popular is cucumber, but my favorites are radish, tomato & onion, carrot and now kale!
What's really great about this recipe is that kale is available seasonally almost all year round, which probably also explains why it's on most every Brooklyn menu these days. It's my favorite green hands down because even when sauteed, it's still quite substantial and I just feel so healthy after eating a bunch of it.
Raita is prepared differently depending on what part of India too. In the South, where my mother is from, you can mix coconut in to it and pour tempered spices of black mustard seeds, asafetida, red chili and curry leaves on top at the end.  I made this radish raita video in that way:
In North India, where my dad is from you mix in some roasted cumin powder and red chili powder.  The roasted cumin powder is called bhuna jeera and every household has some in the cupboard to sprinkle on yogurt dishes.  In the North, sometimes, raita is made with boondi, little fried chickpea flour batter balls: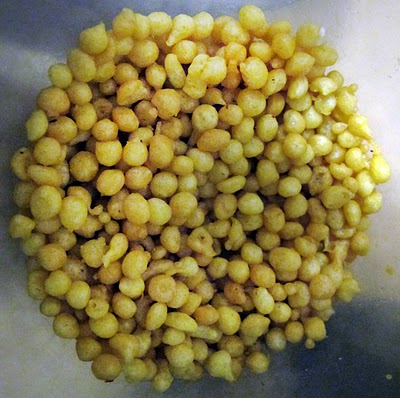 This is optional, but you can also sprinkle some black salt or kala namak in to the raita. In Hindi, kala means black and namak means salt. It is a volcanic rock salt found in India that is actually greyish/pinkish in color and has a kind of sulphuric smell to it. It's definitely an acquired taste, but it's really good for you because it's packed with iron and all sorts of minerals. I am hooked on it and put it in my yogurt, curries, kefir, fruits and in chaat. You can get this salt at the Indian store or in some health food stores.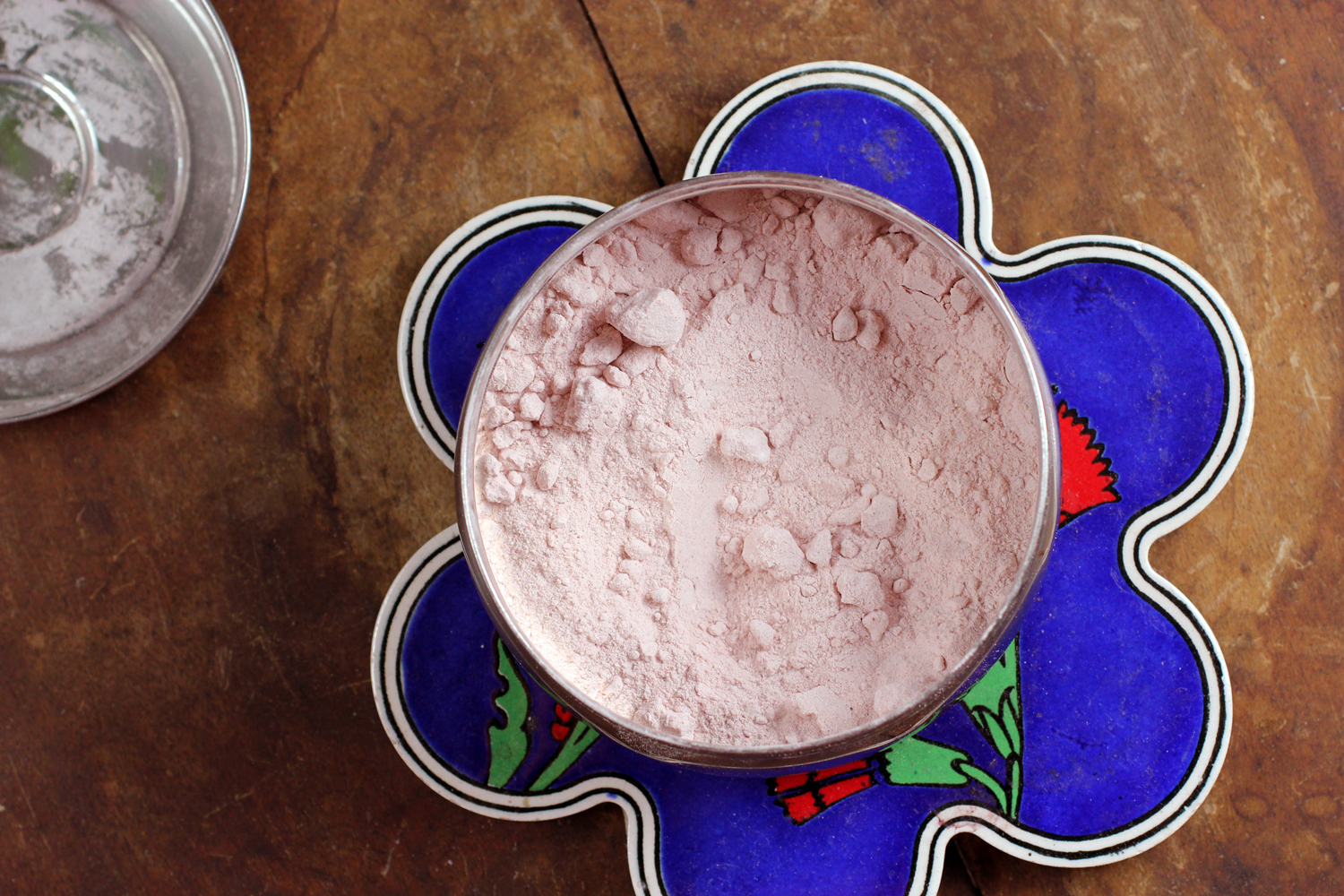 In North India there are a quite a few vendors selling fruit chaat, which is fresh fruit with a sprinkling of a chaat masala powder that tastes sweet, sour and salty. Many will be carrying their own specially made mixtures, which all contain the magical black salt.  It's the salt that gives the chaat it's unique pungent flavor. You can also ask vendors for some of their personal chaat masala to take home with you.
This is a fruit chaat vendor I photographed in Mumbai, along with a kid that has the most awesome hair:)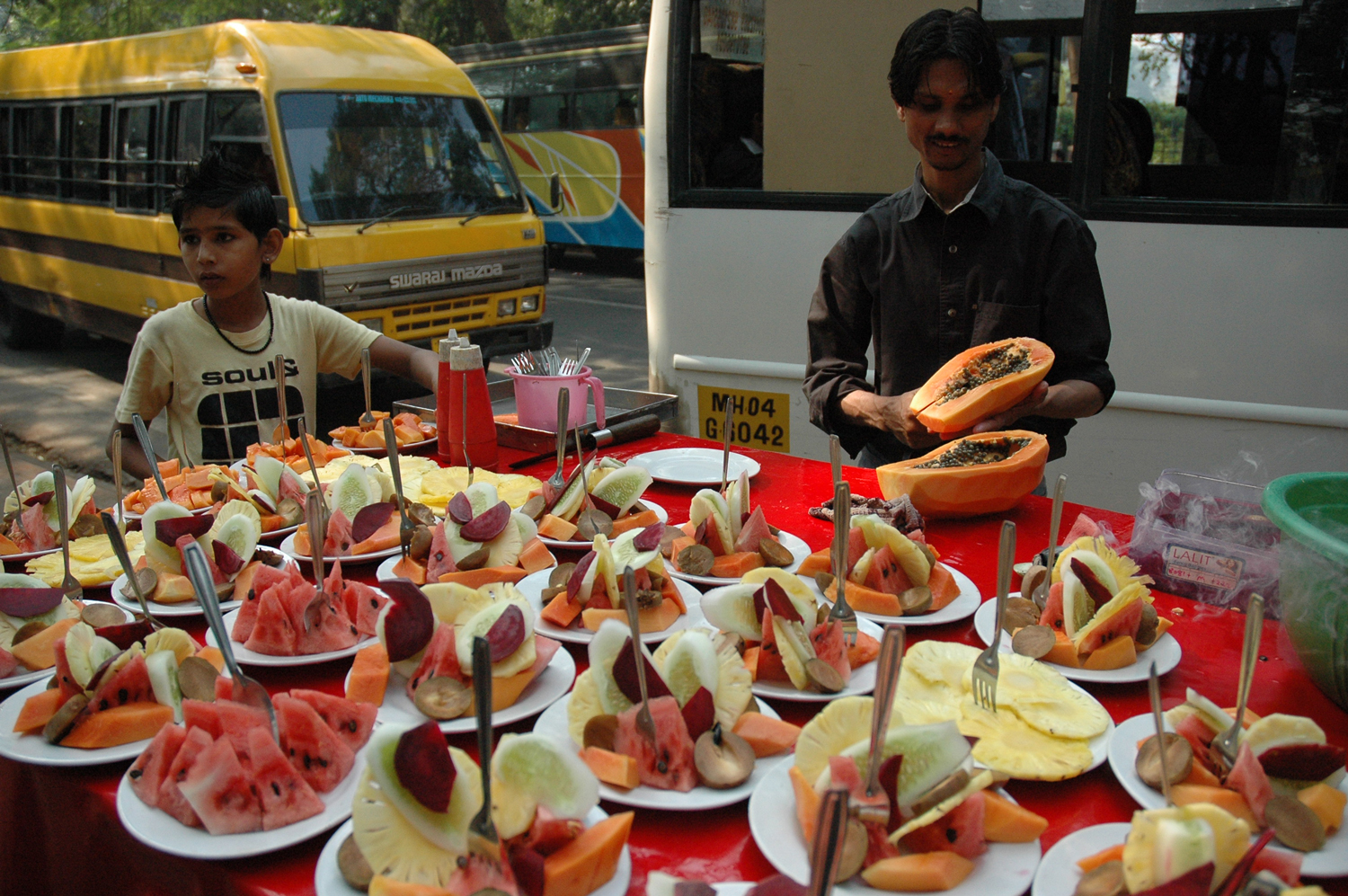 On my last trip to Delhi, my family bought guavas from this vendor in Chandni Chowk and he also was carrying his own special mix of chaat masala, which we brought home with us: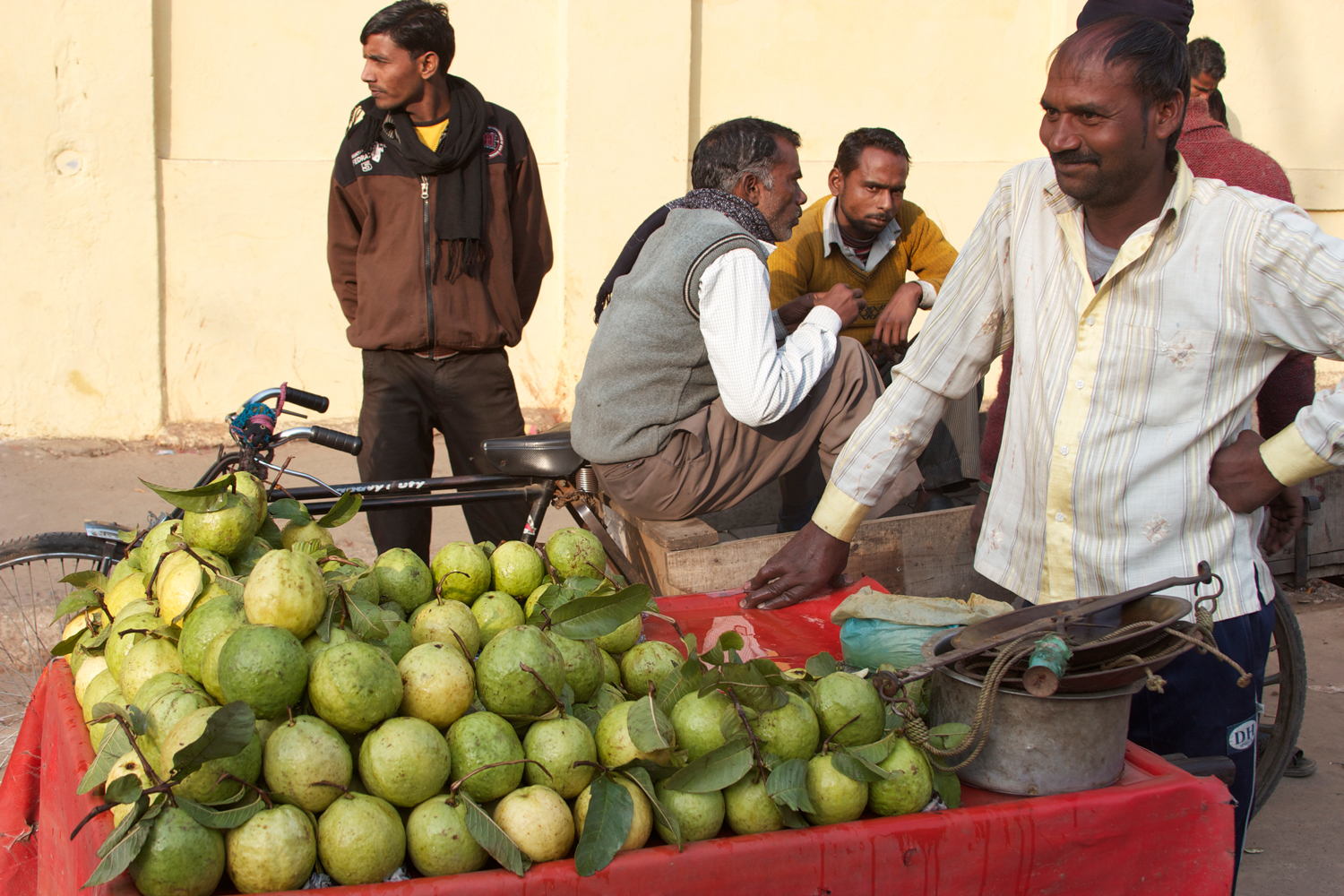 As you can see in this photo, my family gets really serious and involved when it comes to picking out produce: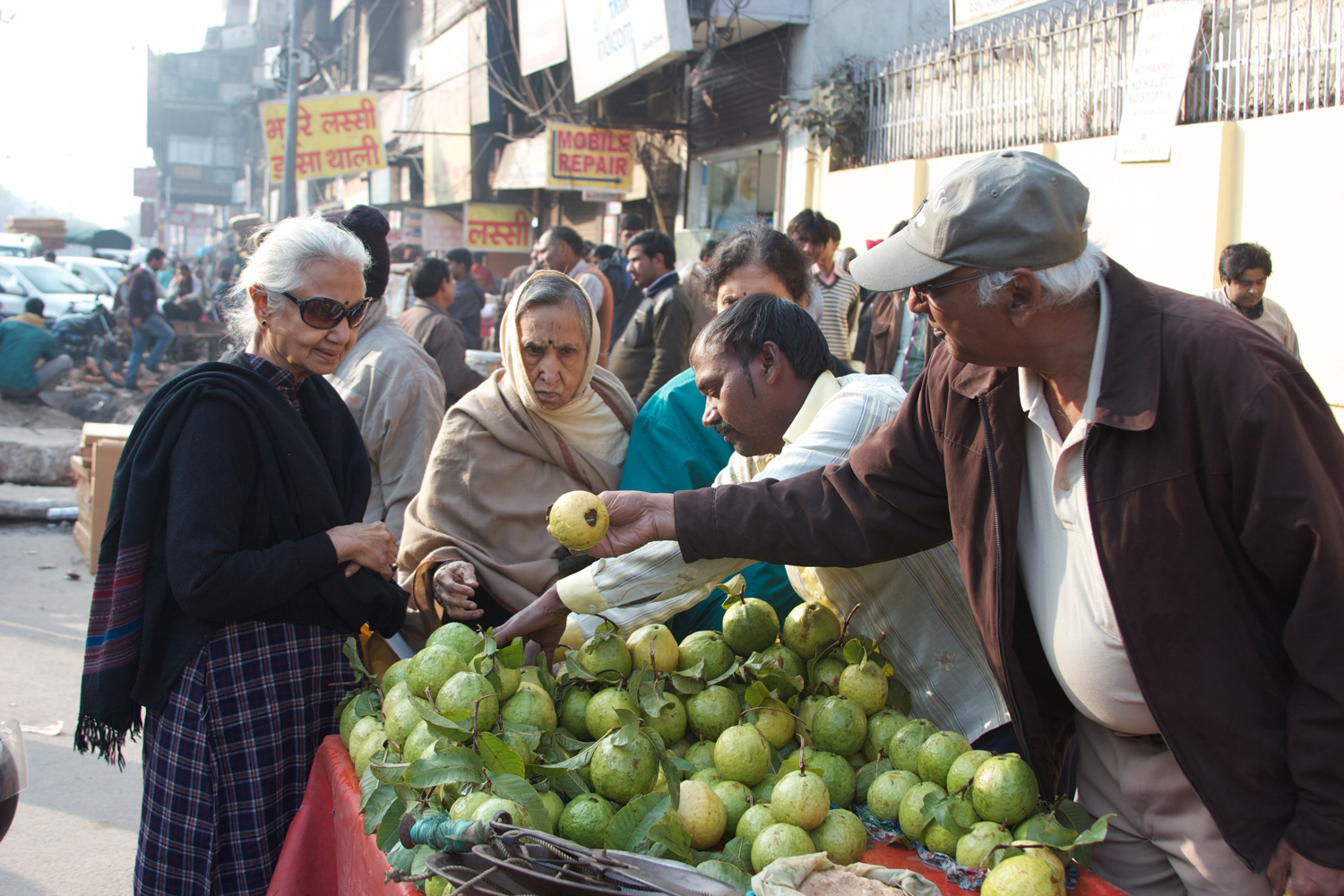 So if you have some black salt, I would try it out, but if not you can make this recipe without.  For this particular raita variation, I sauteed the kale with some garlic, cooled & mixed it in to the yogurt and added in a bit of lemon & black pepper.  This preparation gave it a kind of a Greek tzatziki (cucumber dip) taste, which was delicious.
The recipe is great to put on most anything or just snack on throughout the week if it lasts that long:) Also, part of this recipe can be done ahead by cooking the kale and then assembling the whole dish the next day. It's a great side to add on to any dinner if you are wanting one more dish on the table that will go with everything.
And if you want to try and make a tzatziki-style cucumber raita with Greek yogurt, here's a recipe for that.
Kale Yogurt Raita
Ingredients
leaves from 4 kale stems, chopped
3 cups plain yogurt, beaten
2 teaspoons oil
1 clove garlic, minced
3/4 teaspoon roasted cumin powder, bhuna jeera
1/4 teaspoon chili powder or to taste
salt or black salt to taste
black pepper to taste
lemon juice
cilantro, chopped
Method
Heat oil in a small pan under medium high heat.  When warm, add garlic. Sautee garlic for a few seconds until fragrant and throw in chopped kale.  Cook kale for a few minutes, until wilty.  Add salt and a good squeeze of lemon.  Cool kale by putting in refrigerator or in the freezer if you need it faster.
When the kale is cooled, mix in the yogurt well. Then add in the cumin powder, chili powder, salt or black salt and black pepper if you are using and mix well.  Mix in cilantro to your taste as well.  Before serving, sprinkle a little more cumin powder and chili powder on the top with a garnish of cilantro.