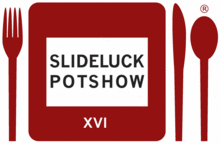 This Saturday, ABCD's will be preparing food for the Beautiful Bountiful Brooklyn Tasting Hour at Slideluck Potshow XIV, an event put on by
Slideluck Potshow
and
The New York Photo Festival
.
The tasting hour will feature sustainable farms, supper clubs and purveyors from the area.
Slideluck Potshow
is a non-profit organization, founded by Casey Kelbaugh, that holds events in about 40 cities all over the world and brings people together around food and art. The way it works is that there is a huge potluck where everyone brings a dish and then a multimedia slideshow made up of work submitted by local artists.
At Saturday's event, the tasting hour will take place at 5:30 and will be followed by the potluck and a slideshow curated by Whitney Johnson, Director of Photography for The New Yorker. So excited!
Here are the details:
When: Saturday, May 14 from 5:30 to 10:30PM
Where: St. Ann's Warehouse at 38 Water Street in Brooklyn
Price: $12 for slideshow and potluck; $25 for slideshow and potluck w/tasting hour
Learn more about the event and buy tickets here.