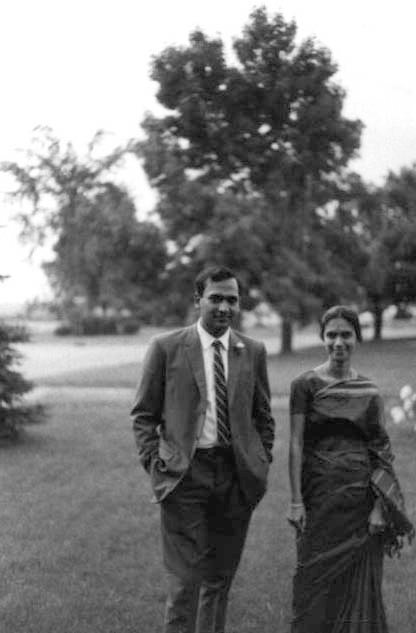 my father and mother on their wedding day, Illinois 1968

Visiting my parents in Alabama (or 'Bama as I've taken to calling it) means wearing a house dress for most of the day and cooking like mad. This trip was no different and both my mother and father taught me quite a few dishes that I will share in the coming posts. (Not to be a tease, but rice roti, wok-fried crepe of rice flour, coconut, green chilis and cilantro, will be the first recipe!)

My parents' cooking styles are quite distinct from one another, as they were brought up in different parts of India; my mother in the South in Bangalore and my father in the North in Allahabad. Since I can remember, my parents have been cooking together. My father is in charge of making the breads, yogurt and some North Indian dishes, while my mother cooks all of the South Indian foods and dabbles in North Indian as well. What makes things amusing though is that there is a friendly North/South rivalry in their kitchen. They are both so attached to the cooking they grew up on and as a result, I too have become attached to these foods.
South Indian cooking is based around rice, lentils and stews as opposed to breads and curries in the North. Such dishes as dosa (lentil/rice crepe), idli (steamed lentil/rice cakes), rasam (tomato/tamarind/lentil soup) and sambar (lentil stew) are all from the South. Much of what you eat in the restaurants like naan bread and rotis, samosas and curries such as palak paneer (spinach/cheese ), aloo ghobi (potato/cauliflower), etc. are North Indian. Each cuisine also has its own spice mixtures and powders. The hot drink of choice is even different. In the North, you finish a meal off with tea or chai and in the South, you have a special type of coffee made with chickory.
On this trip, I arrived at my parent's house around 10 at night with another colleague of theirs. They had been patiently awaiting our arrival so that we could all share a meal together. Within minutes of coming through the door, we were all seated to a feast. My father had prepared little pooris (puffed up fried bread) with a potato and pea curry and plain yogurt and my mother had made ghee (butter) rice, pumpkin curry, boondi raita (fried lentils in yogurt) and kosambri (carrot salad). I love watching my parents work together – setting the table and putting their food out as they chatter away. I feel this is when the bond they share is most apparent (and they are at their most adorable).
Related posts:
Akki Roti (Rice Flour Roti)
Pakoras (Vegetable Fritters)
Usali (Black Chickpeas)
Gobi Paratha (Cauliflower-Stuffed Flatbread)