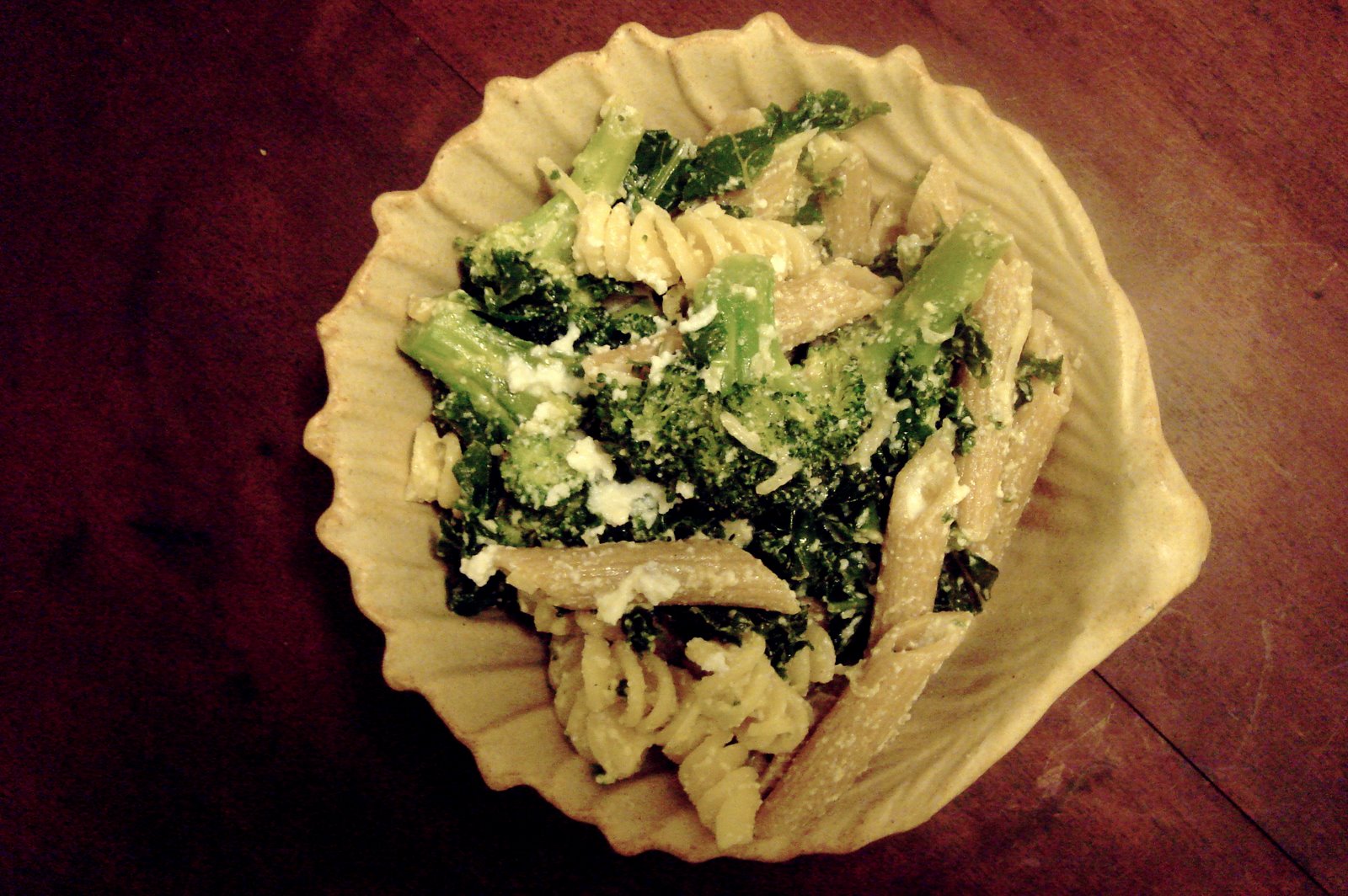 To confuse you, my first recipe is actually not an Indian one. It is vegetarian though. Recently, I have been very into the idea of ricotta and greens with pasta and have been trying many different variations. I just joined the Fort Greene CSA (Community Supported Agriculture) and it has definitely been supporting my habit by providing me with ample amounts of green vegetables. Kale and broccoli may seem like an unlikely combo, but they actually go together really well. So enough talky talky here goes:
Broccoli, Kale and Ricotta Pasta
Ingredients:
1/4 lb spiral pasta
1/4 lb whole wheat penne pasta
(you can choose any type of pasta, this is just what I had)
2 tablespoons olive oil
pinch red pepper flakes
one small bunch broccoli, just tops with some stem
one small bunch kale leaves, chopped (stems removed)
2 cloves coursely chopped garlic
1/2 cup vegetable broth
about 1 cup of ricotta
parmesan to your liking
salt/pepper
Method:
Cook pasta according to instructions. Keep some of the pasta water to mix into the pasta later.In a large frying pan, put in the olive oil under a medium heat. When hot, put in red pepper flakes and garlic.Once the garlic has been in for about a minute (should not be too brown), throw in the broccoli, kale and salt and fry for a minute. Add the broth and cook covered for about 4-5 minutes. Check to see that the kale and broccoli are tender and turn off heat.
Take a small bowl and fill it with ricotta. Add some salt and pepper to your taste. You can add a bit of milk also if it is too solid in texture for you. Mix it well.
In a large bowl or pot, mix up the vegetables and ricotta mixture. If needed add in some of the pasta cooking water so that the consistency is thinned out a bit. Mix in the pasta. Add as much parmesan as you like and stir it all up.